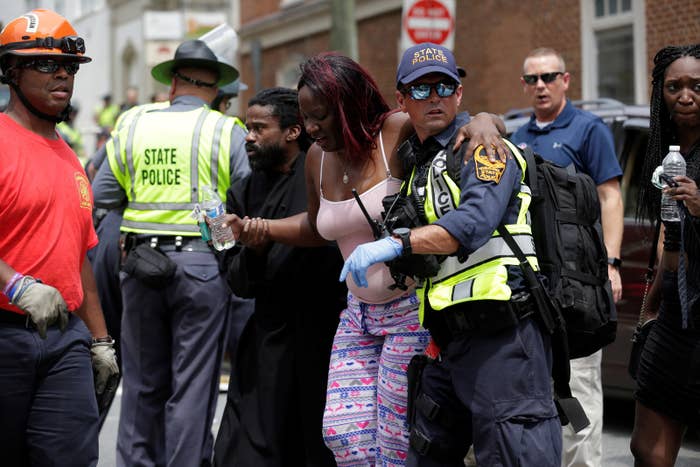 Witnesses have described seeing a car "fling people out of the way" during a counterdemonstration in Charlottesville, Virginia, on Saturday.
The University of Virginia Medical Center, which is treating the wounded, confirmed that at least one person was killed in the incident, and as many as 19 individuals were hurt after the vehicle drove through the crowd.
Wyatt Reed, who was at Water and 4th streets in downtown Charlottesville when the car ran through the crowd, described seeing the vehicle, believed to be a dark grey Dodge Challenger, driving through the crowd, "flinging people out of the way."
"There was a ton of bodies on the ground all of a sudden," Reed said.
"I pulled somebody out of the road because I didn't know if they were going to come back [and] trying to hit someone again," he said. "I didn't know if this dude wanted to kill people, what his deal was."
Asked if he thought it was intentional, Reed responded: "I would assume so. I mean, I don't see how you're flying into people at 45 mph on a side street like this [in] downtown Charlottesville. The speed limit is like 10 mph round here."
"That was somebody who was deliberately running down people," he said, adding that he stopped to help "pick people off the ground."
"I just wanted to make sure they were awake and alive and still here," he said.
A BuzzFeed News reporter on the scene spoke to two witnesses, who confirmed that the car backed up before moving toward the crowd of people again.
Dan Miller, who was sitting on the corner when the incident took place, described seeing the car drive into the crowd.
"It hit about 15 to 20 people, crashed into the two cars in front of it, and then backed up and sped away," Miller said. He claimed that "cops were sitting on the side of the road and didn't do anything."
Eli Kaye-Karan, 18, a Washington, DC, resident who was in Charlottesville for the counterprotest march, told BuzzFeed News about a gruesome, chaotic scene.

"I was in that march — I was toward the front of it," Kaye-Karan said to BuzzFeed News.
"I see this car turn the corner and start coming down the street," he said, of the moment before the car attack. "All of a sudden — I couldn't believe it — I heard wheels spin and the car floors it."

"I jump out of the way," he continued. "I yelled 'car, get out of the way!'"

Kaye-Karan said that many people were able to jump out of the way, but others who were further down the street were trapped because "there were too many of them to get out of the way in time."

"I swear to god, it was like fucking bowling pins, with bodies flying," he said of the moment the car hit.
Kaye-Karan said the car then rear-ended the vehicle in front of it. He said he and other witnesses ran toward the car to attempt to pull the suspect out, but that when they reached the car he "tried the handle once and it was locked."
"All of a sudden he throws it in reverse and speeds back down the street," he continued. "And I'm just standing there in the wreckage and there's shoes and pieces of car everywhere. There's blood splattered on the street. People with heads cracked open and with legs bent in directions they're not supposed to be bent. It all happened in the span of three seconds."
Another witness, identified only as Chris, told New York Daily News journalist Chuck Modiano that "there was no doubt it was intentional," and that it was "clear it was a hit and run."
"We saw the car whizz straight past us, full throttle," he said in a video tweeted by Modiano. "It slammed into the crowd. We started moving quickly down to try to help people and we saw it slam back through. We saw it reverse. After smashing through the crowd it came back through."

"We only saw the crowd and we saw it come smashing back through, and then we jumped out of the way as it came back past us again," he said.
He also went on to state that when the car sped away from the scene, he and others nearby chased it, shouting at nearby police officers to stop the car.
The car eventually stopped at Monticello and Blenheim avenues, around one mile from the corner where protesters had been hit in downtown Charlottesville.
Charlottesville police officers confirmed to BuzzFeed News that a man has been detained following the incident, and that he remains in police custody. He has been identified as James Alex Fields Jr., a 20-year-old resident of Ohio.