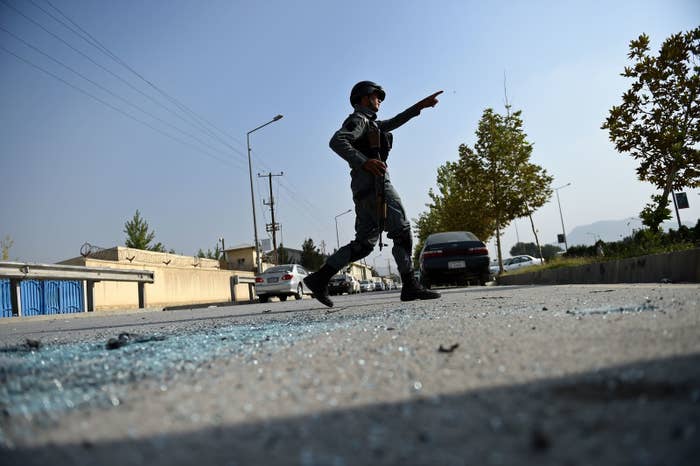 Former students and friends expressed grief and concern after two armed militants killed at least 16 people and injured 53, several of them students, in an attack on the American University of Afghanistan in Kabul on Wednesday.

Seven students and three professors were among those killed in the assault, which lasted 10 hours as hundreds of students barricaded themselves into classrooms amid gunshots and an explosion. Officials said the death toll may rise, as some of the students and police officers remain in critical conditions in the hospital.
Nearly 1,700 students, many either part-time or on scholarships, are enrolled at the American University of Afghanistan, which is locally referred to as AUAF. Afghans who spoke to BuzzFeed News said the attack took away some of the country's brightest people, who saw education as a weapon to solve Afghanistan's problems.
Among those killed was Naqib Ahmad Khpulwak, a law professor who returned to teach in Afghanistan after completing his studies at Stanford University on a Fulbright scholarship.
Ejaz Malikzada, 22, was among those who attended Khpulwak's classes. "He was one of the brave professors, and one of the best ones," Malikzada told BuzzFeed News in a phone interview from Kabul. "Besides being a professor, he was a friend to all the students. Outside the class, we were friends."
Online, many other current and former students mourned the passing of Khpulwak. "I am broken, my friend, brother, colleague Mr. Khpulwak is no more," Ezatullah Adib wrote on Twitter.
Another close friend, Bilal Nikyar, who attended Khpulwak's funeral in Jalalabad on Thursday, wrote on Twitter: "He was the finest of this country, he was so smart. He had so many great ideas/ambitions."
Khpulwak had recently applied for a PhD at the University of Oxford.

The morning after the attack, many Afghans expressed fears over what the assault would do to education in Afghanistan, and in particular, to the university that meant so much to them.

Although the school's offices in outlying provinces have remained open, the main campus in the capital has been temporarily shut. A few Western journalists based in Kabul also took classes at the campus during the evening. No group has yet claimed responsibility for the attack, although a local journalist reported that a Taliban spokesperson said the group was "investigating" the incident.

Malikzada, who started at the American University of Afghanistan when he was 17 and called it "a second home," said it was a magnet for young, ambitious, and bright Afghans.
"It was a very peaceful place. Everyone was secure and all male and female students besides each other, no discrimination," Malikzada said. "I can say [my years there] were the best years of my life."
Shaharzad Akbar, 28, who had attended classes and seminars at the university, said the assault hit close to home.
"The AUAF space symbolized a space for learning, critical thinking and Afghanistan's connectivity with the world," she told BuzzFeed News in an email. "It represented progress, hope and quality education to many of us."
Akbar continued: "The attack reiterates our understanding of Taliban: that their values do not match the values of the new Afghanistan and that they see education, tolerance and progress as enemy."
Malikzada also condemned the assailants, who attacked the university because they "thought knowledge, education, pens, books, and all these things can fight them back."

"They thought they could win by killing these people who are educating people," Malikzada said, "but I am sure of their own failure, and I am sure that we will continue fighting back by educating our people."