Here's Vogue Arabia's June cover. It features Saudi Princess Hayfa bint Abdullah Al Saud sitting in a car and it's being marketed as a celebration of "trailblazing" women of Saudi Arabia.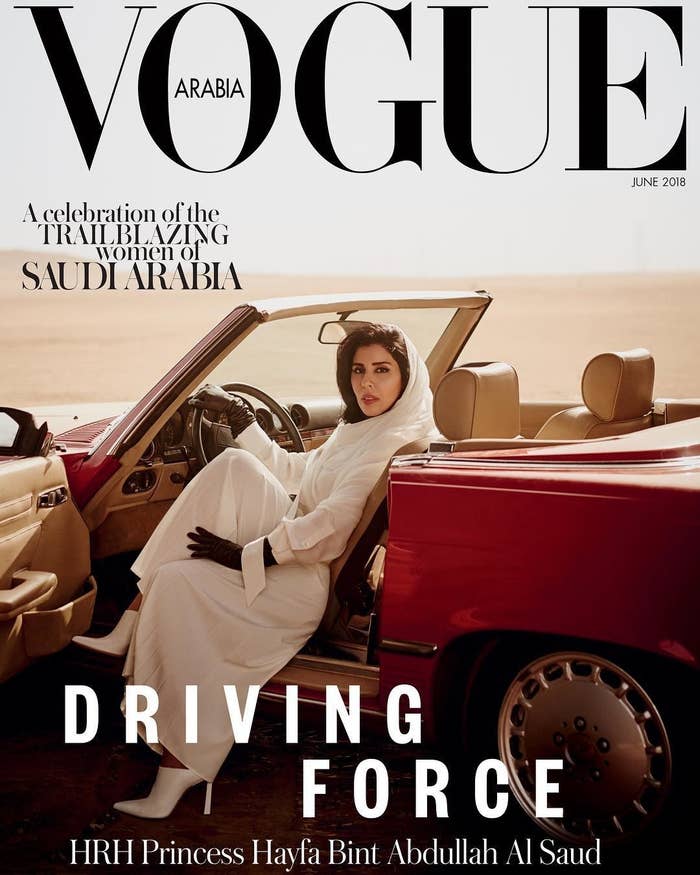 There's a small problem with the cover, though – one that many people were quick to point out online.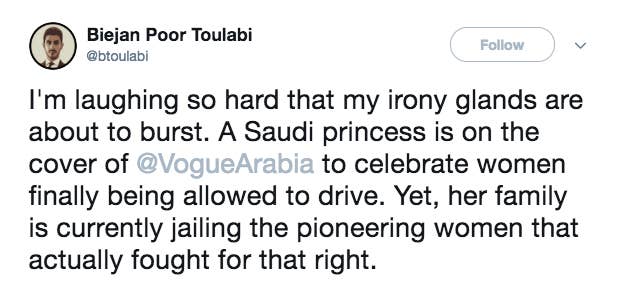 But in the past two weeks, many of the women at the forefront of the campaign for the right to drive have been detained by Saudi authorities.
The women were branded "traitors" by state media, and were accused of having "contact with foreign entities with the aim of undermining the country's stability and social fabric."
Loujain al-Hathloul, Eman al-Nafjan, and Aziza al-Yousef, all prominent campaigners against the ban, have all been detained, Amnesty International confirmed earlier this month.
"The activists have been detained incommunicado with no access to their families or lawyers since the time of their arrest. We are concerned for their welfare and call on their immediate and unconditional release," Dana Ahmed, of Amnesty, told BuzzFeed News.
She criticized the "aggressive" public relations campaign pushed by Saudi authorities: "That the real champions who fought for the driving ban to be lifted are now behind bars, shows that the authorities are trying to claim credit for the reforms and control the narrative surrounding the reforms."
And a lot of people had feelings about the cover.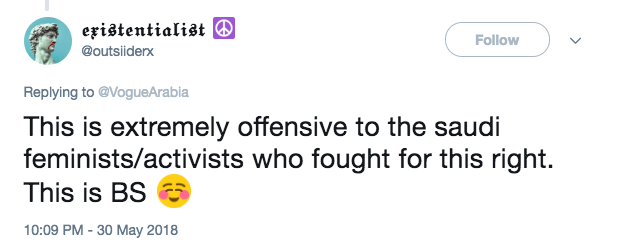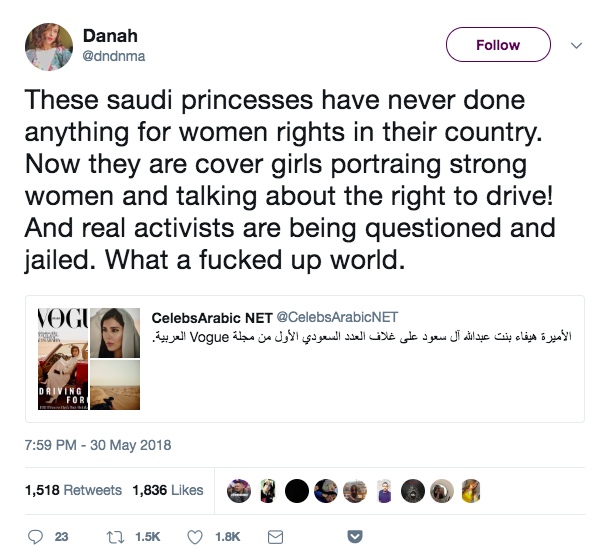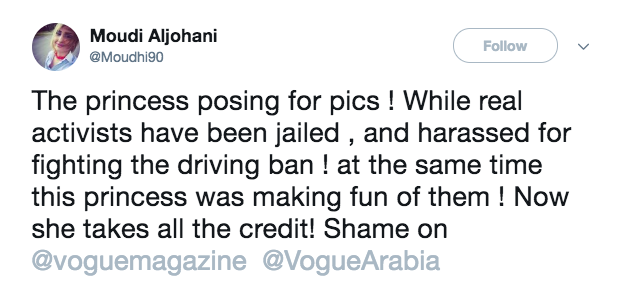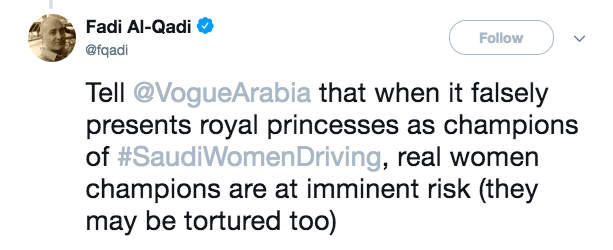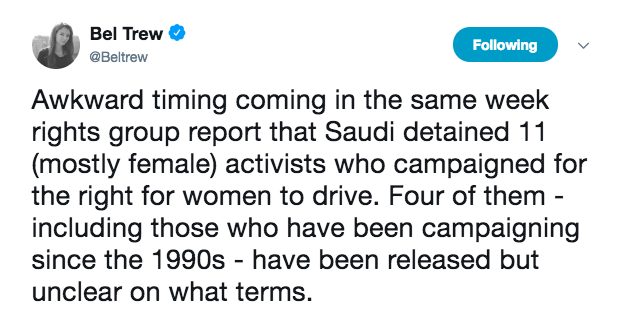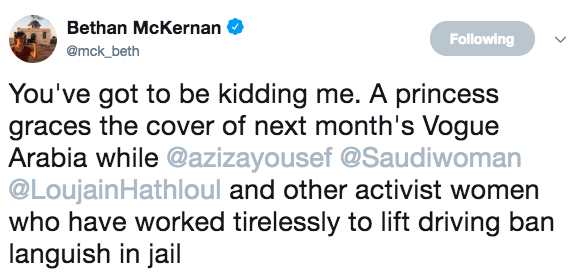 On Twitter, a number of people began "fixing" the cover, replacing the princess with women activists.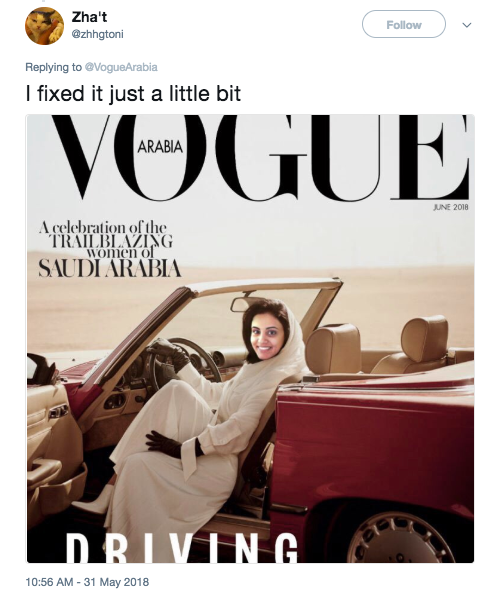 Some people even called for Vogue Arabia to issue a retraction.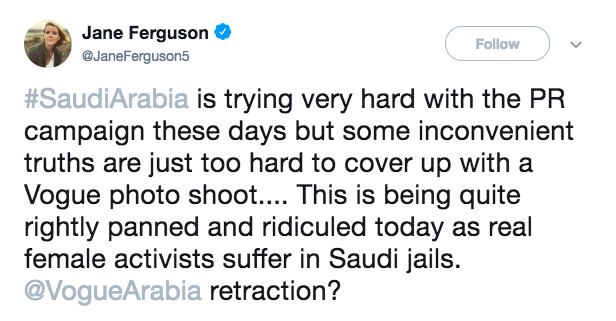 One of the campaigners, profiled in the magazine, was Manal al-Sharif.
Writing on Twitter she said although she hadn't seen the article yet, she was "so happy that my country women are being celebrated".
But, she added, "let's not forget the true heroes" and tagged campaigners Yousef, Nafjan, and Hathloul.
One of the most prominent advocates for change, Sharif has recently spoken out about how she cannot return to the kingdom for fear of arrest. Earlier this month, in an op-ed for the Washington Post, she noted that while she was celebrating the change, "my optimism has been dashed by the state-led public smearing campaign against the arrested activists. Accusing them of treason is nothing less than outrageous."
BuzzFeed News has contacted Sharif for comment.
It also wouldn't be the first time Vogue Arabia attracted controversy with a cover. Last year, it put Gigi Hadid on the its first issue, wearing a headscarf.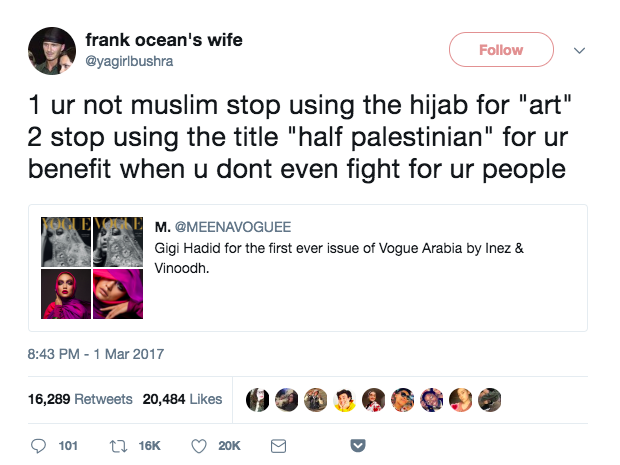 Manuel Arnaut, Editor-in-Chief of Vogue Arabia, said it was natural to "experience both positive and negative feedback".
Arnaut, responding to questions from BuzzFeed News via email, said he believed that Vogue Arabia had fulfilled its mission. "Saudi Arabia, its women, and its issues are being widely debated by the world. It is an incredible moment for the region — of drastic changes and adjustments — and I'm proud that Vogue Arabia is definitively an active voice in this debate."
He said the magazine had chosen to tackle the issue of the female driving ban as part of the key issues currently. "Fashion might be part of our core business, but informing and initiating heathy debates around meaningful topics are also a priority under my editorship. Naturally, we could not ignore the current affairs, especially when they are related to Arab women in one of the markets in the region where Vogue Arabia is especially relevant."