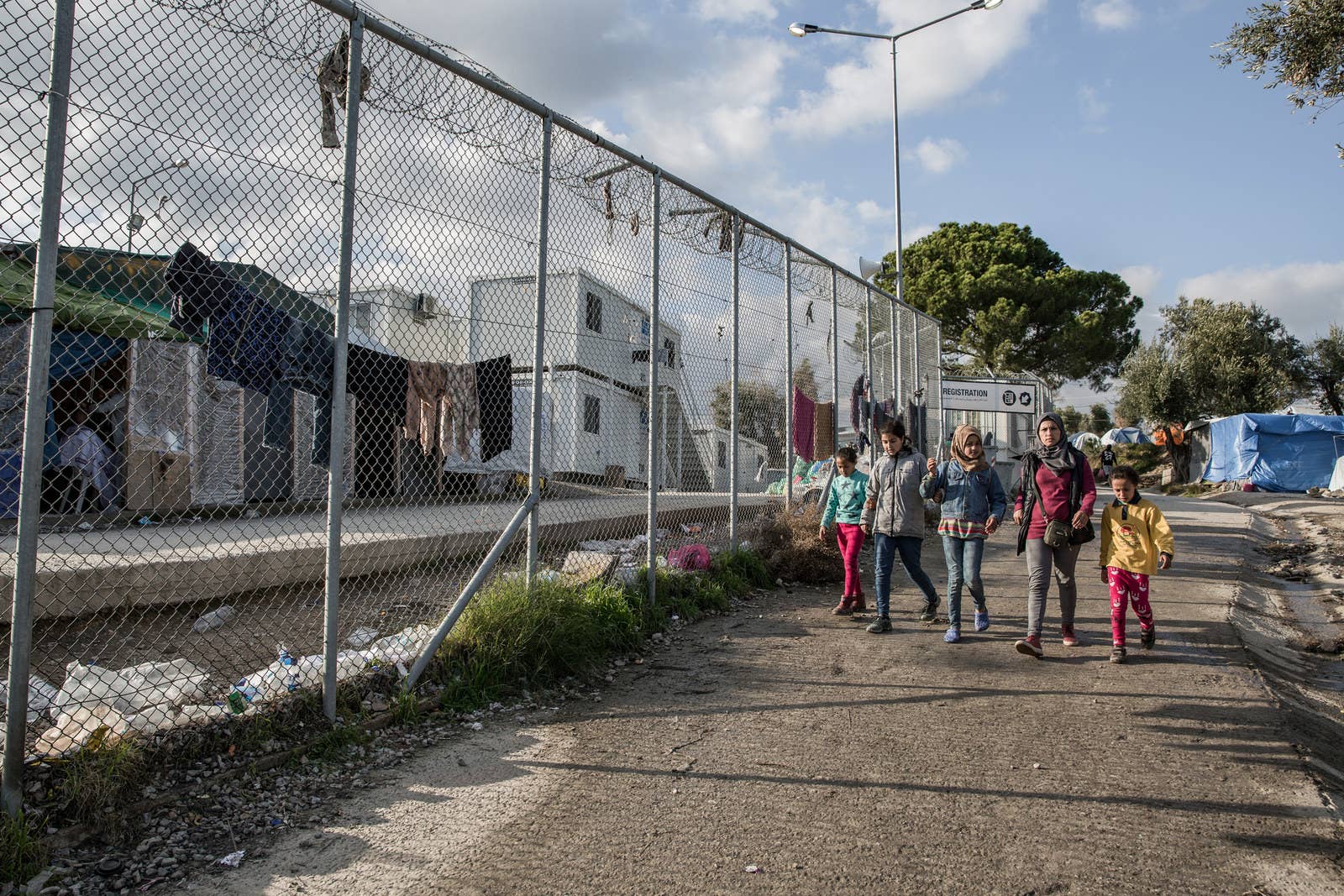 LESBOS, Greece — "I am more scared when I bleed, it is very, very hard." The 15-year-old Syrian girl standing in front of her family's tent in the warm Greek sun, hands in her pockets, doesn't smile, but looks down at the mud covering her battered, thin blue sandals.

Meervat Ali's not used to speaking to strangers, and her father, Mustafa, wearing a tartan sweater, is a constant presence, as the refugee camp spreads out around them.
"Just take a look, look at the conditions around you," she said. "Yes, I am scared. I cannot go inside because there are too many people, too many guys, too many drugs, drunk people."
The family is among at least 6,000 people stranded in and around the Moria refugee camp on Lesbos Island in Greece. Humanitarians estimate at least 40% of the new arrivals — landing just as winter sets in — are women and children. These women find nowhere is safe for them to use the toilet or clean themselves, a risk they must run every day, month after month, while they wait for Greek authorities to process their asylum applications.
"Always, always men come up to me. Always there is fighting in that area," Meervat gesticulated down the hill toward a larger tent where many of the single men — among them Afghans, Iraqis, Sri Lankans — live.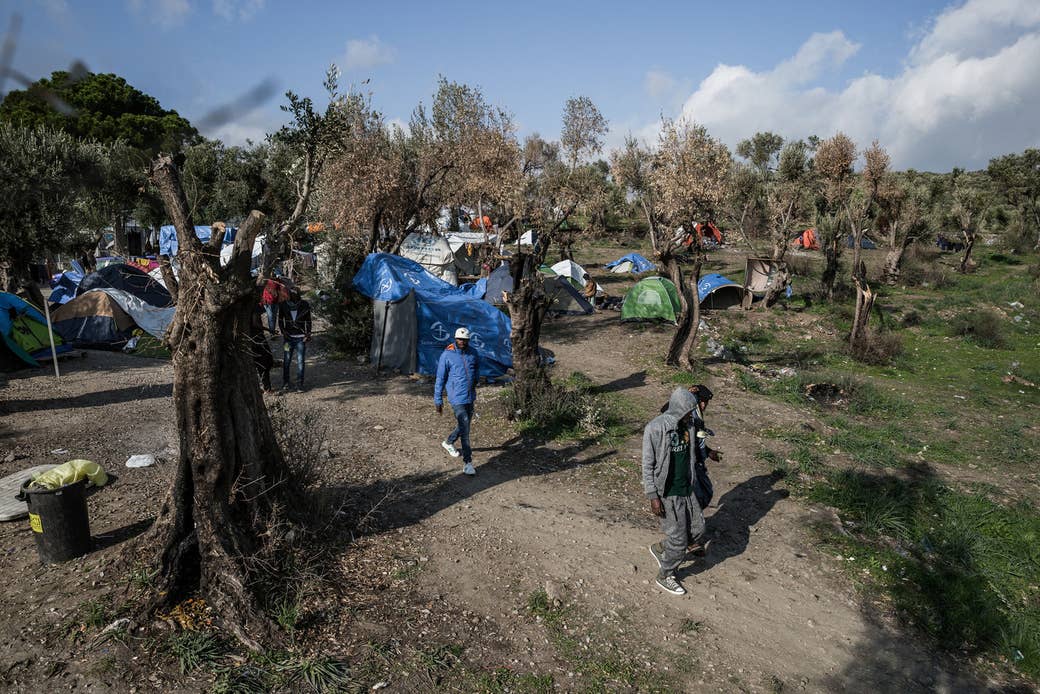 The family has been here, an overflow area beyond the main camp's borders, for 20 days. All six of them live in a tent built from tarps purchased in the nearby village of Moria, bought for 100 euros. It's still warm in the sun, reaching as high as 60 degrees, but at night temperatures plummet — and the camp's atmosphere assumes a sinister presence as women and children huddle inside their tents.

Meervat was last able to wash with her mother inside the camp four days ago, but only with cold water. The water is turned on sporadically, so there are always queues. If you want hot water then you get up before 5 a.m. "We cannot go then because the sun is not up," she said, it is "too dangerous."
When she has her period it is even worse: She has to be with her mother all the time. "We have to go to the toilet more and it is very, very dirty," she said. It was difficult to find pads, and her mother, Reem, says they have to send Mustafa into the local shop to buy them, or else try to use rags littering the camp.
They fled the city of Deir ez-Zor three months ago, after government troops assumed control, having endured three years of ISIS's reign. "I know the sounds of all the bombs," she noted. But she was the "most afraid" of ISIS, not the bombs. "ISIS wouldn't let my parents let me outside," she said.
She doesn't know what happened to her friends back home — they haven't spoken in a year. "The last time we talked, all we spoke about [was how] ISIS had surrounded everything and they could not get out. Since then, we haven't been able to speak at all."
The family left Syria and walked through the mountains. "I had to walk for hours and hours barefoot, and stones cut my feet." A smuggler took them, and 80 other people, over the sea in a rubber dingy. "It was my first time and the last time on a boat," Meervat stated very firmly. "When my mother got on the boat, I saw all the other women sit on her, all over her. I couldn't move on the boat: I was stuck between lots of people, all stuck together."
When they got to the camp, it wasn't what she expected. "I thought it would be like paradise, but here I feel like a hostage."
"I don't know any other girls [here], but I sometimes see other girls — but I cannot speak to them, because I have to stay all the time in the tent. I don't know anyone: I can't get away from my parents. [But] I prefer staying with them, because it is too scary to try and make friends."
Meervat misses her TV. Although she hadn't been able to watch TV since ISIS occupied the city, the "Syrian channel is my favorite, because it has all my favorite actors." Behind her — as the translator listens to her answer — Reem laughs for the first time, amused at what her eldest daughter misses from home.
But Meervat has exchanged one trap for another, "All the time I have to be covered up," she said, tugging on her leopard-print hijab.
Later, 39-year-old Mustafa speaks quietly and explains the family was previously living inside the camp. "My daughter is 15 years old," he said again, looking at her smiling in the sunlight, playing with her 7-year-old sister, Meisam, and 5-year-old brother, Toka. "It is a bad situation."
"When I take her inside, the men look at her, and try … to touch her. A lot of men came around our daughter and wanted to take her away."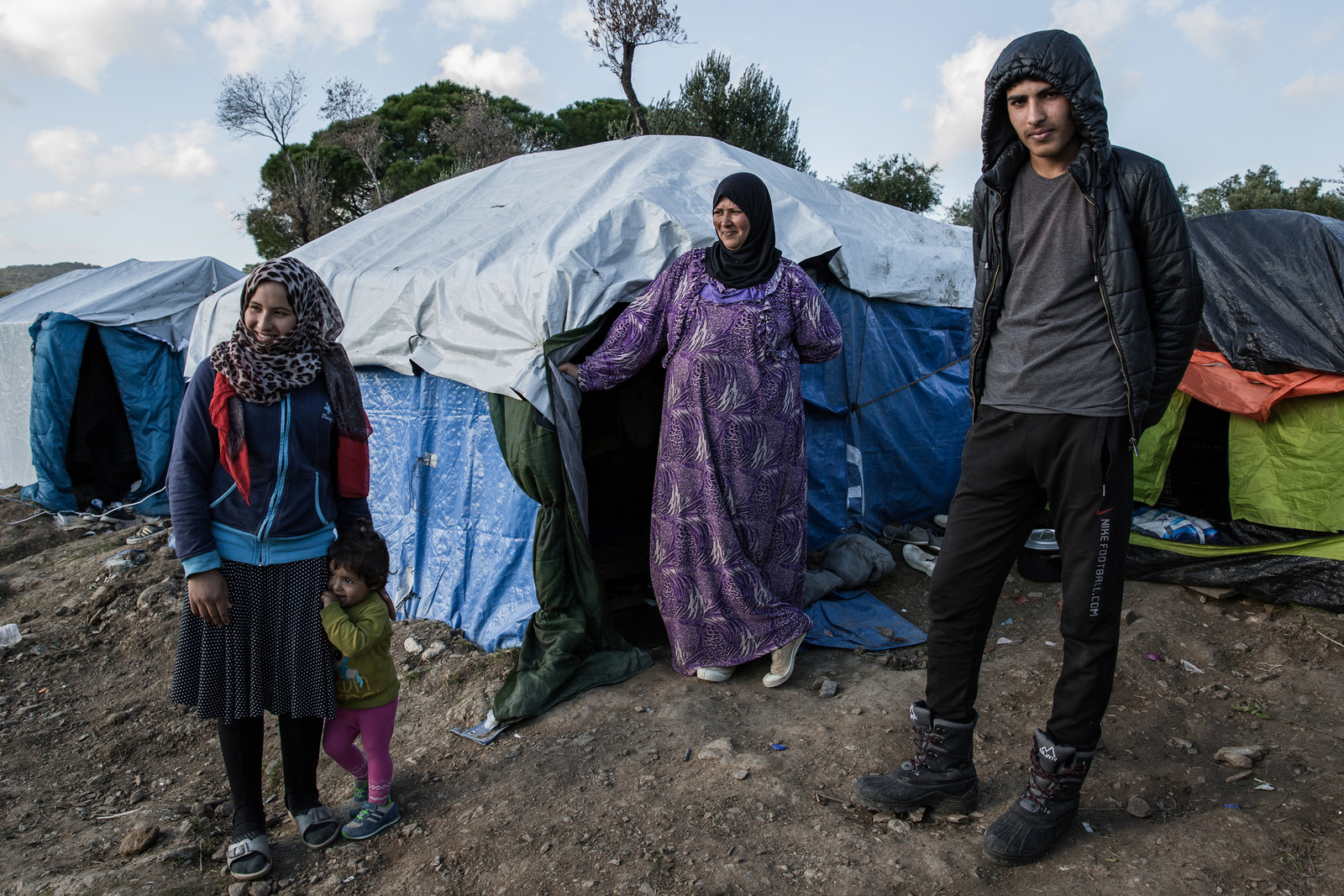 "Welcome!" screams a brightly painted archway to the olive grove overspill camp of Moria. The idyllic-sounding name belies its appearance: Strewn everywhere are plastic wrappers, containers, cigarette butts, and other trash. Little fires, surrounded by rocks, are outside many of the makeshift shelters that have been cobbled together from tarps and flimsy summer tents. The younger Syrian men have swiped olives from farmers' trees and stuffed them into cheap plastic bottles tacked to the sides of their tents to ferment olive oil infused with cut-up lemons.

The camp, 3.8 miles north of the island's capital, Mytilene, takes its name from the village. "Welcome to prison," a sign daubed in English on the wall leading up to one of the official entrances greets newcomers. It leaves you in no doubt that the refugees here believe the camp has improved little since 2014, when it first was established.
Najwa Ibrahim, 18, holding her wailing 10-month-old cousin, Moussa, has been inside Moria camp's main area for two and a half months after fleeing from the Syrian city of Kobani.
She traveled to Istanbul, Turkey, with her family, then over the sea to Greece. But Ibrahim wishes that she had not made the journey.
"The situation here is worse than Kobani. If it was not for ISIS, then I would not have left. At least there, I was in my home. I miss my school and my home. All of of my friends are in Kobani. I cannot talk to them."
Conditions inside the camp were awful, she said. The toilets overflowed regularly and it was especially bad if you were a woman and had your period. "It is very dirty from all the pads. There is no box to throw it away." When she got her period, she had no idea where to go or who to approach to get pads.
"I thought it would be like paradise, but here I feel like a hostage."
She said she later found that aid groups — who unlike reporters are allowed to enter the camp — occasionally handed them out. But "there are so many women" inside, it is an impossible task.
"The toilets are cleaned once a month, and the trash comes out into the path. We were forced to clean the toilet, but we hardly have any water to clean. There is no one cleaning anything."
The official camp is made up of large, industrial-size tents that house hundreds of people, all atop one another. Each small 'room,' about the size of two sofas back-to-back, is partitioned off with blankets. The air is close and oppressive. As Ibrahim speaks, you can hear hundreds of listless people, coughing, muttering, and trying to pass the endless hours.
Despite sharing the space with her aunt, uncle, their baby, and a Somali woman and her two children, Ibrahim is afraid to leave the confines of the blanketed areas. "Most of the time, I just stay in my tent. I never go out at night."
She doesn't know when she will leave, but knows if she does, she wants to be a hairdresser, copying the styles on TV that she used to watch. As she speaks, she plays with a chain around her neck, a present from her fiancé in Germany, who she is trying to get back to. "I always keep my necklace safe, I never take it off," she said. "I cannot part from it."
Humanitarians have warned about the lack of access to pads for women on their period. Hillary Margolis, women's rights researcher at Human Rights Watch, said, "It really is a difficult issue. These are really not being provided."
Speaking over the phone from London, she said, although some women had received pads when they first arrived on Lesbos, she had been told this distribution had stopped.
Margolis, who was in the camp in November, said, "In the context where conditions are already so challenging, and the conditions are so poor, it is just magnified when a woman or girl is faced with having her period."
Renata Rendón, of Oxfam's Greek office, said conditions were "deplorable."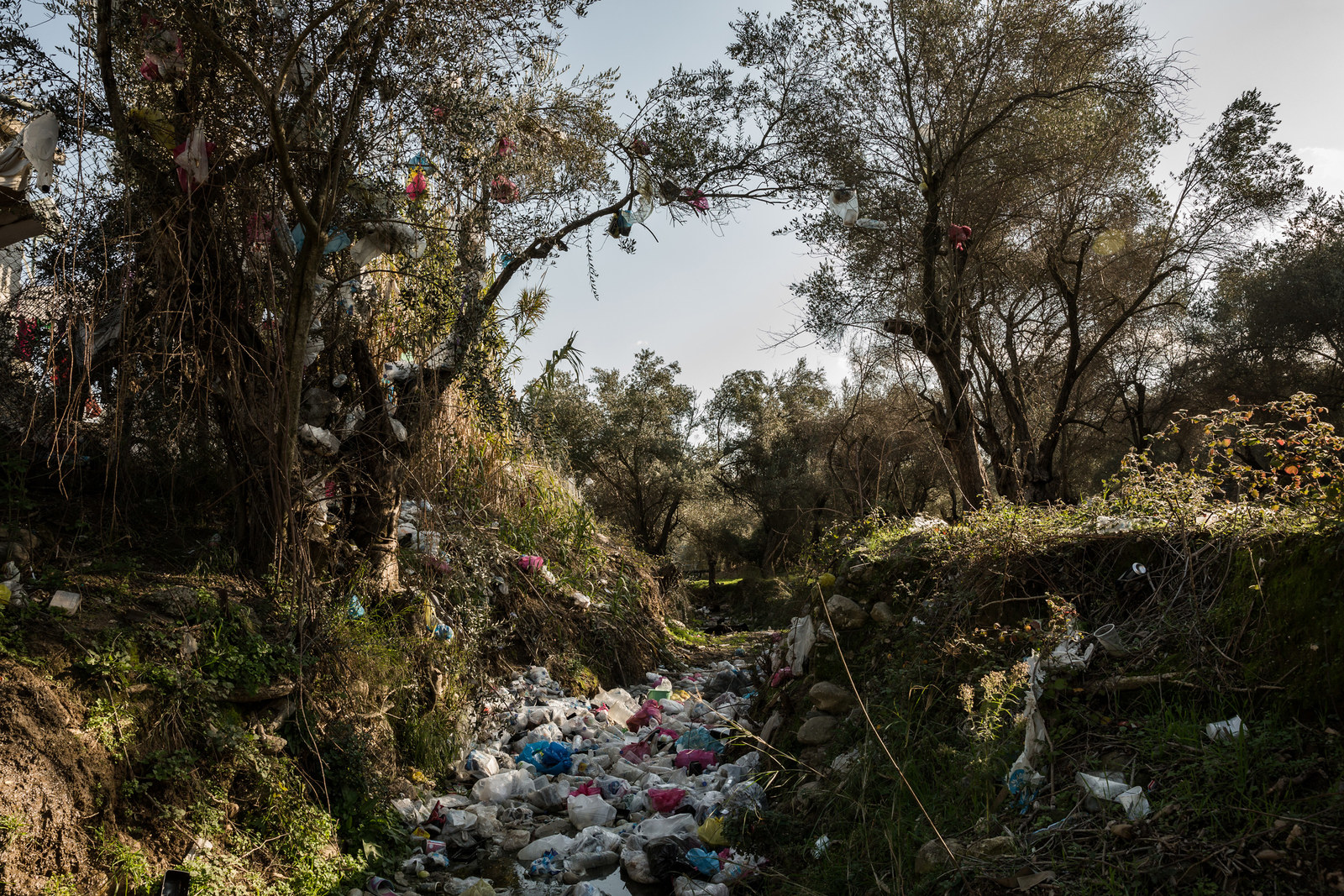 "There is really no safe space for women in the whole site," Rendón, who was at the camp in November, told BuzzFeed News over the phone from Athens. "It is unhygienic. It is unsafe. There is no reason for this."

Temperatures in Lesbos can drop to 40 degrees in January. "We are very afraid," Rendón said. "People are already becoming ill. But people could die. People could freeze to death once the temperatures hit freezing."
Sonia Andreu, program manager of the Bashira Women's Centre on the island, which offers women and children a safe space to wash and receive advice, said authorities had stopped distributing menstrual products — like pads — to women. Instead, the women were being asked to buy the products out of the 90 euros allocated each month. "It is not enough."
"In this situation they have a lot of disorders so with their periods, sometimes they have their period twice, or they are bleeding constantly because they are so stressed. Every time they are asking for sanitary pads," she said. Her center was seeing 100 women a day — mostly from Moria.
"The worst thing is the lack of information," she said. "There are some pregnant women that when they come to the centre seven months pregnant, and they have never had a test. It is unbelievable."
The lack of doctors worries 19-year-old Bushra Shekh, who is two months pregnant. Cradling her small belly, excitement about her first child wars with panic about Moria.
Shekh and a fellow refugee from Deir ez-Zor are among several who cluster together for protection. They boil water together and travel down to the woods. Forced by the lack of chemical toilets, refugees have turned a dip in the land into an open toilet. Covered with excrement and discarded paper, it is exposed and stinking. This is where many of the women are forced to come, each day, always together. There is some protection in that.
Shekh continued, "I stay in the tent all of the time, especially during the night when the men come. Sometimes in this area, with my husband and his friends around, I feel safe — but never at night."
She never moves around the camp at night. It is too dangerous because of the men fighting, she said. Often, after the men start drinking, they run up to the tents in the olive grove and throw rocks, shaking the tents. Every night, Shekh finds it difficult to sleep because she is so scared.
Her pregnancy heightens her fear about the future. "We got married two days before we got to Turkey, and we spent our honeymoon in the woods, walking," she said, making it over the sea to Greece. "Those were the worst months."
A month later, she remains shocked at how different the reality is from what she'd heard of Europe. "Even the clothes my husband wears are from three months ago because they didn't give him any clothes. His underwear say 'Made in Syria'!"
Shekh wasn't aware she was pregnant until after she'd arrived and the doctor told her. She wishes she could tell her mother she is expecting her first child. "I have not spoken to them, or been able to contact them. We don't know anything about them. I don't know where my mother and father are. I want to tell my mother I will have a baby but I can't."
Due to the lack of doctors, Shekh has been unable to get a checkup to ensure the baby is growing safely and well. The food, mostly undercooked chicken and rice, has made her sick. "I just want to take care of my baby, but I feel like I cannot."
"I wish I will have my baby in another place," she said. "My husband jokes that if I have my baby here, we will call her Moria. We were discussing a few days ago what we will call the baby, I told him if we are still here on the island after seven months, if he is a son then I will give him the name of Moria. If she is a girl, then I will call her Mytilene."
Ibrahim scoops up 2-year-old Sham, who has tumbled on unsteady legs away from her mother, and absentmindedly strokes her hair. The regrets over leaving Syria tumble from her mouth. "Deir ez-Zor is like paradise compared to this situation. This is worse than Deir ez-Zor. This place is the worst place I have ever seen."
"I feel so helpless, and I feel upset that we came here," Ibrahim said.
She doesn't know where to turn, because as far as she knows, "Nobody is in charge of this place."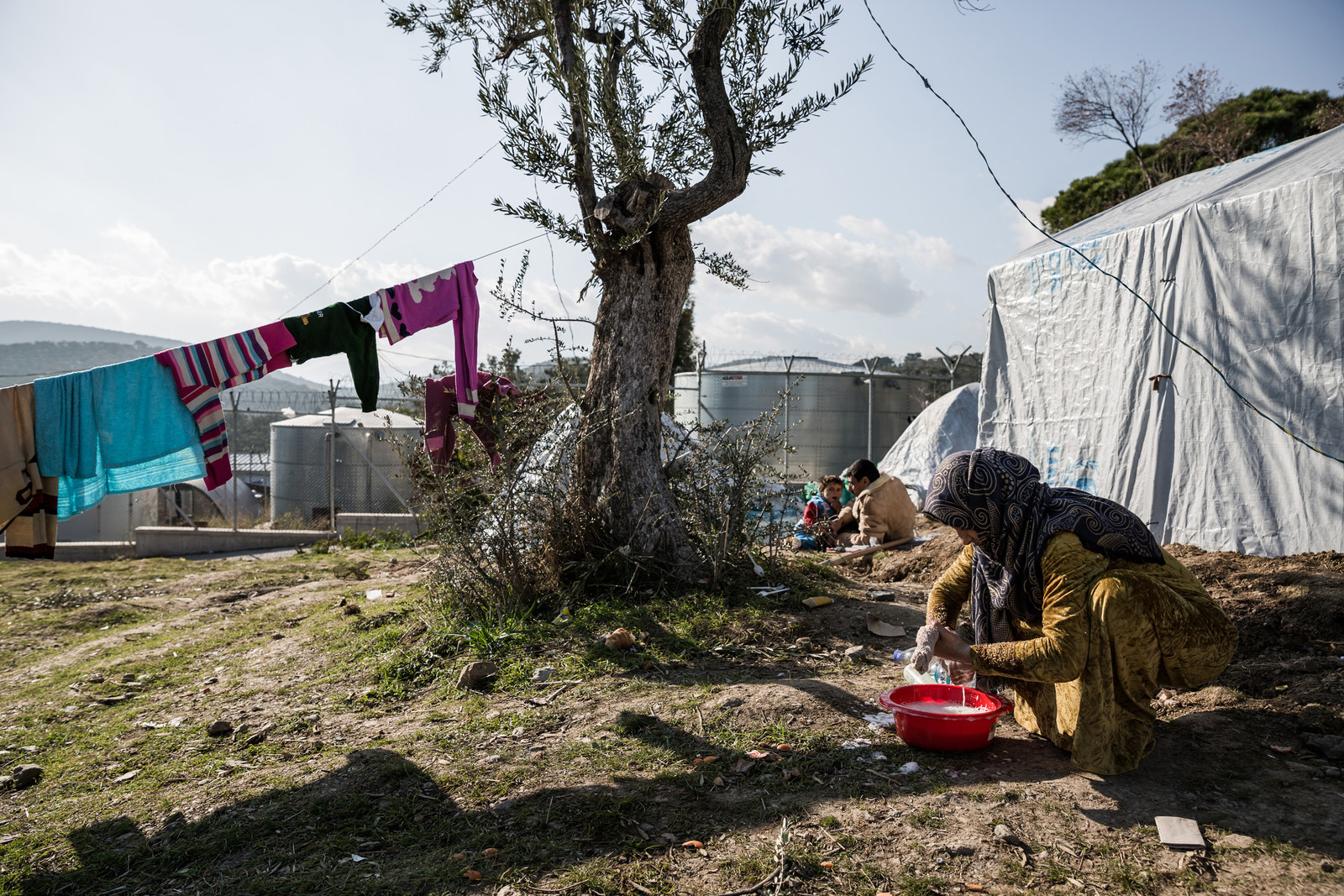 The camp, originally intended as nothing more than a processing center for identifying the most vulnerable and moving them swiftly on, is under the authority of the Greek Ministry of Migration. The ministry has, in turn, tasked the Greek military and police with much of the day-to-day running of the facility. The ministry receives assistance registering and processing asylum cases from UNHCR (United Nations High Commissioner for Refugees), EASO (European Asylum Support Office), the Greek Asylum Service (GAS), and private contractors.

The processing backlog is the root of Moria's problem: Refugees who land on the island are bound by geography, preventing them from leaving the island before their applications have been formally processed.
UNHCR scaled back their involvement at the camp in August after funds from the European Commission were reallocated from NGOs to the Greek government. They now employ only seven people on the island, who mostly provide information to refugees, but also assist with transfers after ministry approval.
EASO rejected suggestions that the backlog was partly to do with them: "The Agency has a specific mandate within the asylum procedure, namely to provide information, conduct interviews and provide opinions to our Greek colleagues. EASO does not take decisions on applications or appeals."
Repeated attempts by BuzzFeed News to contact the Ministry of Migration for comment have gone unanswered. In data released Dec. 15, the ministry stated there were just under 8,000 people waiting for their asylum cases on the island to be processed.
Many of these thousands wait inside the camp. Outside, piles of old trash and fresh human excrement, clogging a narrow stream alongside the camp, are a testament to how — rather than a processing center — the site has stagnated, leaving the entire area with a miserable and gloomy sense of permanence.
That air of subdued misery is broken only at night, when the alcohol — purchased from one of the three cafés perched around the main entrance to the camp, or the nearby market — flows. While the young men drink, their carousing reportedly sometimes only broken up by tear gas, the nights are a terrifying stretch of endurance for the women. Unable to leave their tents for the toilet, they have to wait until sunrise to relieve themselves or change their pads.
The mayor of Lesbos, Spyros Galinos, has shrugged off responsibility for the camp. Puffing on an electric cigarette, he declared the situation "tragic," but said it has nothing to do with his office: "We have no authority in the camp. The camp is run by the ministry of migration, and it is not our responsibility."
Galinos might say that it is the ministry's responsibility, but that authority isn't apparent to new arrivals, who are bewildered by the camp's officials.
Eman and Ali al-Zafir, 19 and 26, from Kuwait, arrived here 20 days ago. They were forced to flee — leaving their eldest child, and only daughter, in the care of Eman's mother — after Ali was tortured by, he said, the government. His leg is marked and pocked, and he sits stiffly on the ground inside their tent, with one lumpy foot stretched out before him.

They bought fake documents in Kuwait, then traveled over Iraq and Syria before making it to Turkey. There they found a Syrian smuggler to take them across. The tiny rubber boat terrified al-Zafir. People were "everywhere climbing on top of me," while her husband tried to shield her. When they got to the camp, they thought everything would be better — but last week, she miscarried her second child.
"I thought that Europe would be better, but here is not better. Here is worse. We see in our eyes that the Greeks treat animals better than they treat us," al-Zafir said.
Ali thinks he and wife will be stuck in the camp for seven months to a year, "There is no humanity here." The couple is scared by their lack of documents, comparing themselves to the Syrians who walk around the camp clutching plastic wallets verifying their lives. "No papers, no humanity," he said with a note of despair.
He does not know who to appeal to for help in the camp, and initially was unaware there were doctors available to treat his wife.
As al-Zafir tried to explain what happened, the words stopped, and her hands held themselves tight against her belly as tears rolled down her cheeks. "My baby was not complete."
"When it happened there was … blood … everywhere," she said, her face wet with tears that she ignored as she tried to explain what happened next.
Afterward, she was unable to clean herself because of the men around her. "It was very difficult because I could not wash," she said. "To wash me, another woman managed to boil water here and then we walk into the woods to clean. My husband has to stand with us and watch to make sure the men do not come and see. It was very difficult, and very dirty."
"I went to the doctor [after] and they gave me paracetamol," she said, an over-the-counter painkiller that did not help. "I am so tired, so tired. I feel so sad all day, day after day.
"There is no one in the camp who can help me." •