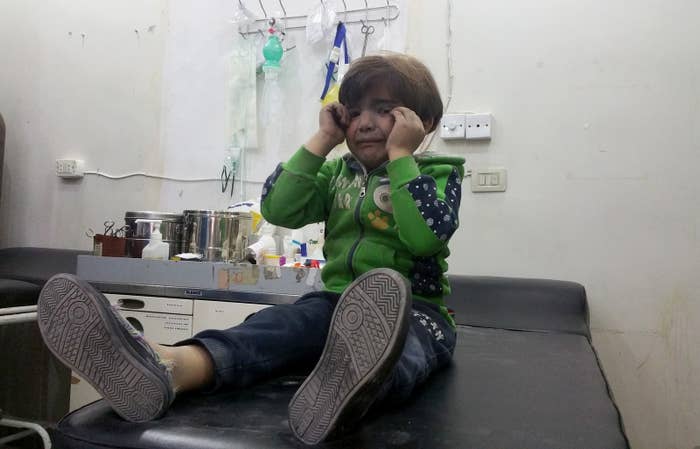 The victims of an apparent chemical weapons attack on a town in Syria were most likely poisoned with sarin, according to health authorities in Turkey.
"Based on the test results, evidence was detected in patients which leads one to think they were exposed to a chemical substance (sarin)," read a statement from Turkey's health ministry published by local paper Hurriyet Daily News.
Thirty-one injured Syrians were brought to Turkey for treatment after the attack on Tuesday, Hurriyet reported. Autopsies were performed on three patients who subsequently died, the ministry statement said; "pulmonary edema, a rise in the weight of and bleeding in the lungs were detected in the initial findings of the autopsy," the ministry statement read, noting the symptoms were indicative of chemical gas usage.
The World Health Organization (WHO) confirmed on Wednesday that the victims had shown signs of a nerve agent gas, but had not specified which one.
As many as 72 people, including 20 children and 17 women, died after a strike on Khan Sheikhoun, in the northern Idlib province. Graphic pictures showed men, women, and children choking and foaming at the mouth.
"Some cases appear to show additional signs consistent with exposure to organophosphorus chemicals, a category of chemicals that includes nerve agents," the WHO said in a statement.
Peter Salama, executive director of the WHO's health emergencies program, expressed his anger at the use of such chemicals as weapons.
"The images and reports coming from Idlib today leave me shocked, saddened, and outraged. These types of weapons are banned by international law because they represent an intolerable barbarism," he said.
A separate statement by Doctors Without Borders (MSF) has also confirmed that patients' symptoms were consistent with exposure to a neurotoxic agent.
"Eight people who were examined by MSF staff displayed symptoms consistent with exposure to an agent such as sarin gas or similar compounds, including constricted pupils, muscle spasms and involuntary defecation," the statement said.
Several unnamed US military and intelligence officials have said that Syrian aircrafts were behind the attack, and that the US picked up on their presence on radar as they bombed civilians.
US President Donald Trump has told some members of Congress that he was considering military action in Syria as a result of the attack, according to CNN, who cited a source close to the situation.
The president is reportedly seeking advice from Defense Secretary James Mattis before moving forward, and has not arrived at a decision.
Trump on Wednesday called the attack "horrific" and "an affront to humanity."
"These heinous actions by the Assad regime cannot be tolerated," he said outside the White House on Wednesday. "The United States stands with our allies, across the globe, to condemn this horrific attack."
Pressed on what the US's response would be given his prior comments advocating for non-interference, Trump declined to go into specifics. But he made it clear a line had been crossed.
"That attack on children yesterday had a big impact on me," Trump said. "My attitude toward Syria and Assad has changed."
Doctors and activists on the ground — some of whom spoke to BuzzFeed News — said civilians showed clear signs of exposure to a chemical attack.

Firas al-Jundi, a doctor at the Mara al-Nu'man hospital, about 12 miles from Khan Sheikhoun, told BuzzFeed News people were in shock and lacked awareness. They came suffocated and with "narrowing of the eyeballs".
Vladimir Putin indicated Russia would stand by the Syrian government, its ally in the region. Russian defense ministry spokesman Igor Konashenkov denied that Russian planes were in the area, instead insisting that it was a Syrian strike that had hit a warehouse filled with chemical gas, causing the injuries.
"Yesterday [Tuesday], from 11:30 a.m. to 12:30 p.m. local time, Syrian aviation made a strike on a large terrorist ammunition depot and a concentration of military hardware in the eastern outskirts of Khan Sheikhoun town," Konashenkov said, adding that the warehouses contained workshops that "produced chemical warfare munitions".
However, according to the BBC, the times given by the military spokesperson do not correspond with the time of the attack.

On Tuesday, Turkey's semi-official Anadolu Agency said President Recep Tayyip Erdogan spoke with Putin, and called the attacks "inhuman" and "unacceptable." Many of the victims are receiving treatment in Turkey.
Speaking at the United Nations on Wednesday, US ambassador, Nikki Haley, said Assad "must be held accountable for these barbaric attacks against his own people."
As she spoke, she held up pictures of child victims in the attack.
"We cannot close our eyes to those photos," she said.
In a statement on Tuesday, the Organization for the Prohibition of Chemical Weapons said it was "seriously concerned". A fact-finding mission to establish the details of the attack has been launched. A spokesperson declined to comment on further action when contacted by BuzzFeed News.