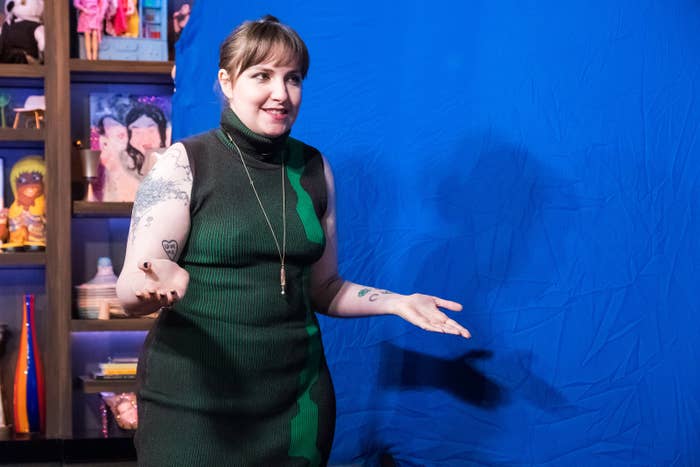 Lena Dunham was criticized after it was announced she would write the film adaption of a book detailing the journey of a Syrian refugee to Europe.
Dunham was picked by J.J. Abrams and Steven Spielberg to write the script of A Hope More Powerful Than the Sea: One Refugee's Incredible Story of Love, Loss, and Survival, by the United Nations refugee agency's chief spokesperson Melissa Fleming, Variety reported.
Fleming's book tells the story of Doaa al-Zamel, who fled Syria with her fiancé to Europe over the Mediterranean. When it was released last year, Fleming's book attracted criticism for the absence of al-Zamel's voice.
Following the announcement, Dunham wrote she was "Very lucky to have this job, to tell this story, to support this truth with these people." Echoing her, Fleming also said she felt "very lucky" to have Dunham working on the script.
But many people disagreed with the choice. Alia Malek, a Syrian American author of a critically acclaimed memoir of Syria, wrote a thread detailing the problems with the decision. She told BuzzFeed News her first reaction was "honestly, is this actually a real headline?"
Malek, the director of the international reporting program at the Craig Newmark Graduate School of Journalism, said the success of Moonlight and Crazy Rich Asians demonstrated that "these stories are better told by people who are intimately aware of these communities." But Hollywood has yet to apply the same principles across the board, so "each group has to struggle individually."
Dunham's acceptance of the job, Malek said, shows "really little self-awareness, indicates she doesn't listen to Syrian voices, that we are voiceless. Because plenty of Syrians would have and have spoken."

She continued, "The idea that Lena Dunham is better situated to tell the story of a Syrian than somebody else ... implicit in that is a kind of hierarchy."
The silencing of Syrian voices was compounded by the book chosen for adaption, she added. "The book is not written by a Syrian or a journalist or a journalist who knows how to tell the stories of other people. This is written by the UNHCR spokesperson," she said. "Dunham's script will only add more layers between the authentic Syrian voice the book and now film purports to portray.
"Despite the intentions, from a place of good intentions or bad intentions, you are still making Syrians themselves mute and are chasing to speak for them, which is an act of silencing. They are not mute."
Other people online agreed, and were upset that there were not Syrian voices representing the stories of those fleeing the country.
However, others did point out there was nothing new about Dunham — as a screenwriter — being chosen to adapt a story of which she had no personal experience, despite the changing understanding around these projects. They also noted neither Spielberg nor Abrams was coming under the same criticism.

As criticism mounted, Dunham responded to Syrian Cuban author Suzanne Sainwood's tweets, by tweeting that she would be donating her salary from the project, and added, "If you'd ever like to discuss the project, I like to receive perspectives and engage in dialogue."

But Sainwood told BuzzFeed News that she hadn't heard from Dunham since then, although she "wasn't super surprised" by that.
"I was really disappointed and frankly pissed off that Lena, J.J. Abrams, and Steven Spielberg felt like this was an OK route to pursue," she said via Twitter DMs. "It feels like they're profiting off of Syrian pain."
She added that it was especially important for the film to be created with an expert who understood Syrian government, customs, religion, and family structures. "To be honest, I think Doaa Al Zamel deserves someone who can not only appreciate the pain and hardship she went through as a refugee, but also understands the place she was leaving."
Too often, she said, Syrians — and others in the Middle East — have watched their stories be reduced to what amounts as a "torture porn narrative."
Sainwood added, "Lena has been repeatedly called out for being out of her lane and not being intersectional and this just makes it clear that she still doesn't get it."
BuzzFeed News has contacted Paramount Pictures and Dunham for comment.