Over the weekend, a suburb near the Syrian capital of Damascus was hit by an alleged chemical weapons attack.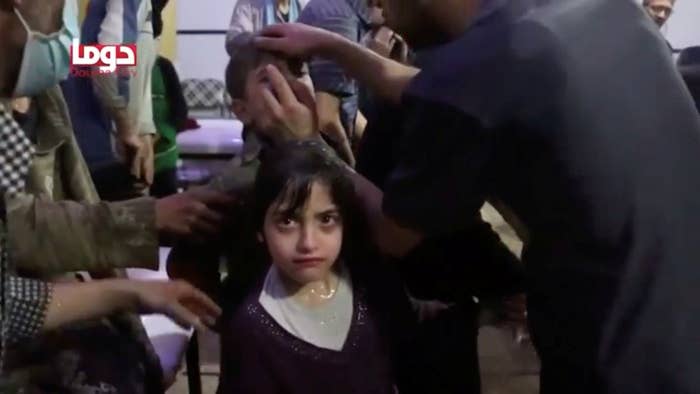 At first, when it looked like "No" was winning, right-wing and far-right internet personalities were pretty happy about it.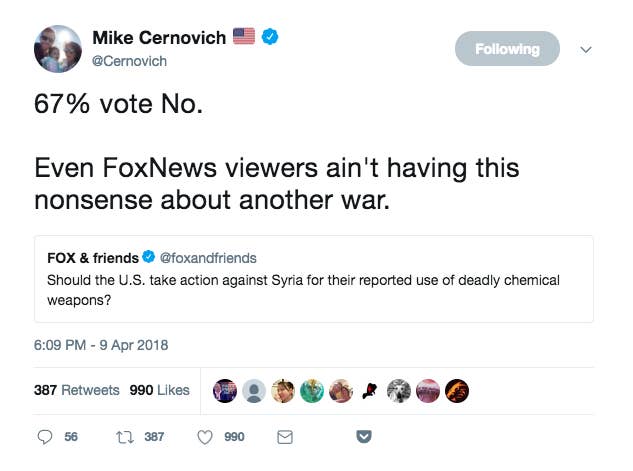 Parts of the US far right — as well as parts of the far left — believe that President Bashar al-Assad is the rightful ruler of Syria.
On Monday night, the Fox & Friends poll was dropped into a fairly large WhatsApp group used by Syrian anti-Assad activists.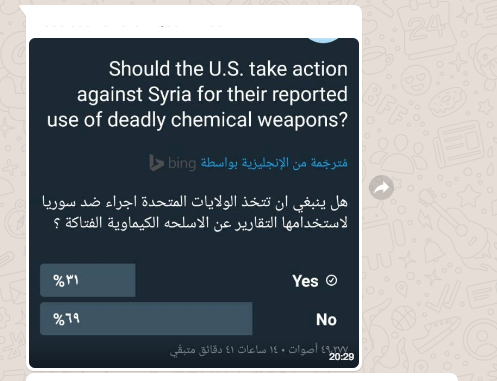 Some members of the WhatsApp group decided to go vote "Yes" on the poll.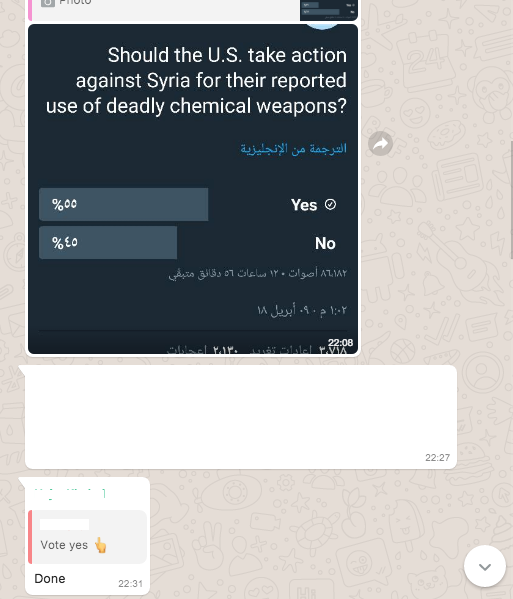 Around the same time, the poll was catching the attention of Syrian survivors of previous chemical attacks.
Who started tweeting their support for action.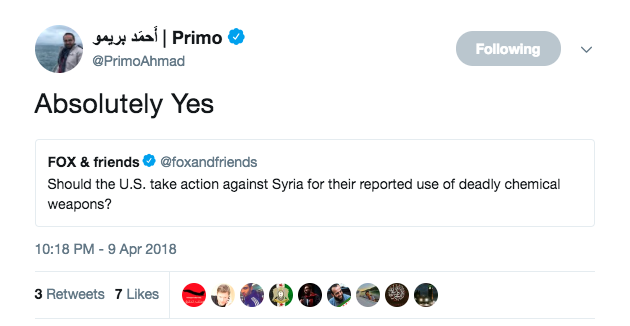 As did Syrian activist reporters. Hadi Alabdallah tweeted that it was important to vote "Yes" because he believed Russians were trying to move the poll to "No."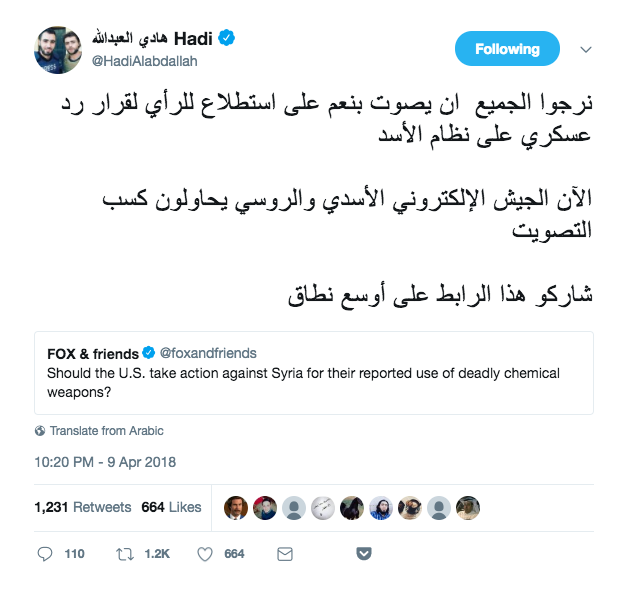 As the poll went from being against military action to overwhelmingly for action, far-right personalities in the US started freaking out.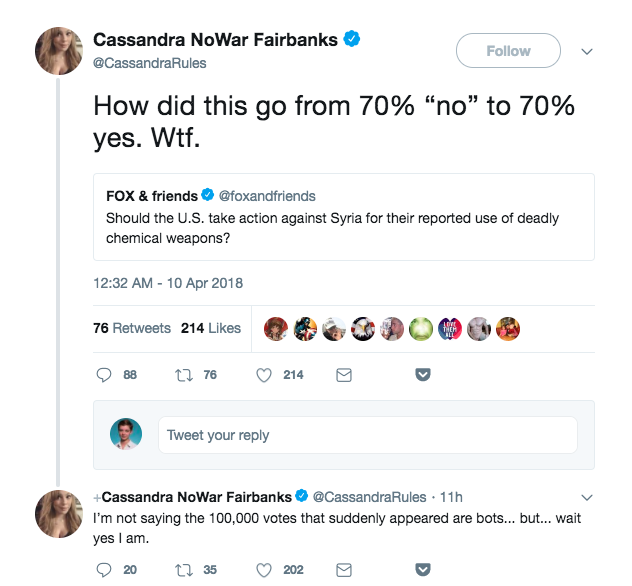 US far-right and pro-Assad accounts attempted to tip the poll back against intervention.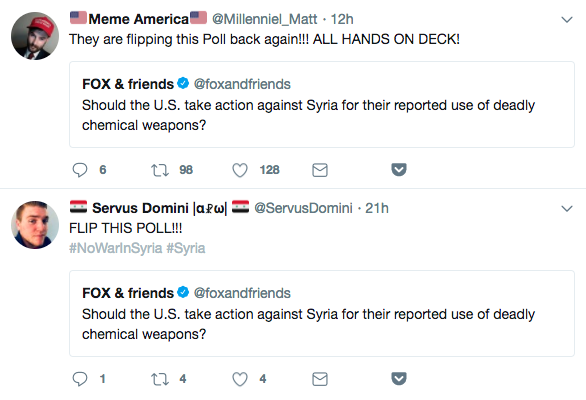 Some users, who claimed not to be affiliated with either the left or the right, noted the apparent sudden shift.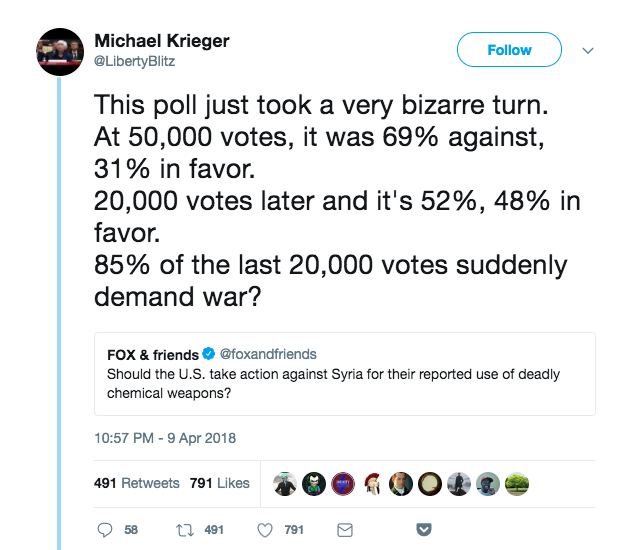 And they said the poll had been "rigged."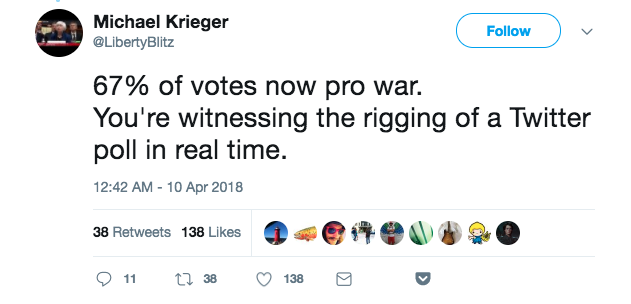 As the polling shifted, there were some theories online about who had done it and why.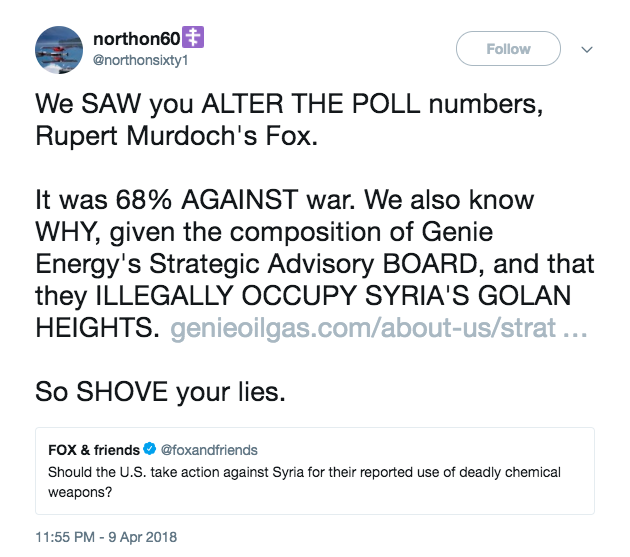 The poll closed on Tuesday morning with the "Yes" votes at 69%.
One Syrian activist from the WhatsApp group who wished to remain anonymous sent "Yes 🙆‍♂" to BuzzFeed News after hearing about the result of the poll.
Zaher Sahloul, the admin of the WhatsApp group, wondered how much impact they may have had.
"I doubt that [they had that much impact]," he told BuzzFeed News from Chicago, where he is now based. "Syrians in general are small in number, so even if they all responded, I wonder if it would be enough."
"Polls can be affected in many ways," he said, "but many activists have always been supporting stronger support from the US."
BuzzFeed News has reached out to Fox & Friends for comment.