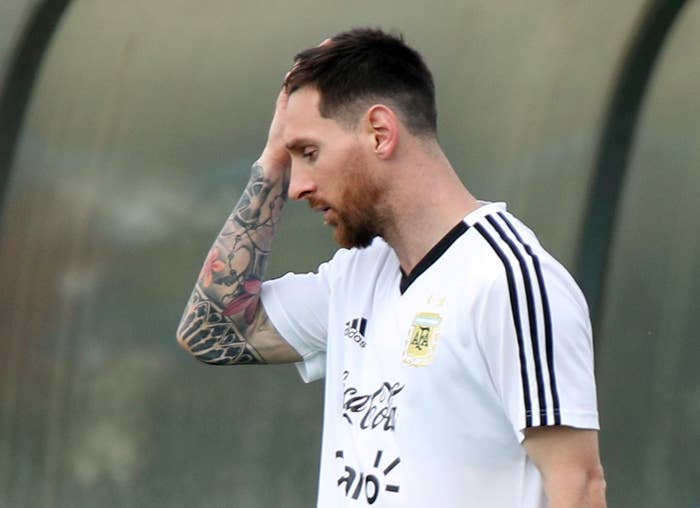 The Argentinian soccer team has cancelled a hugely controversial match with Israel.
A warm-up game had been scheduled Saturday at the Teddy Kollek Stadium in West Jerusalem. The stadium was built on land that once held a Palestinian village.
The cancellation was confirmed by Israel's Argentine Embassy, which said the match was abandoned after threats against player Lionel "Leo" Messi. Earlier, pro-Palestinian protesters had gathered outside the team's training session in Barcelona, some with blue-and-white striped jerseys covered in red paint.
"Not going was the right thing to do," Argentine striker Gonzalo "Pipa" Higuaín, one of the few players to comment, told ESPN. "Rationale and health come before everything else. We think it's best not go to Israel."
Messi — a Unicef ambassador known for his work supporting children's education and sport — told Paper Magazine earlier this month, "Helping those most at need is a good way of giving back what I have received from society."
"I am very proud to be a Unicef Goodwill Ambassador and to collaborate with other projects where I can put in my grain of sand," Messi said. "So that we can live in a world that is better for everyone."
Avigdor Lieberman, Israel's defense minister, wrote on Twitter that canceling the game was giving in to hate. There were also reports that Israel's leader, Benjamin Netanyahu, had made calls to his Argentine counterpart, Mauricio Macri, in an unsuccessful effort to resurrect the match.

But Jibril Rajoub, head of the Palestinian Football Association, welcomed the decision: "Values, morals, and sport have secured a victory today and a red card was raised at Israel through the cancellation of the game."
The decision to cancel was applauded by Palestinians and supporters.

On Twitter, #ArgentinaNotGoing was a celebration of the decision, following the successful campaign by the BDS (Boycott, Divestment, Sanctions) movement.
"Don't play Israel until Palestinians' human rights are respected," the BDS movement had said, calling the match an attempt to draw attention away from human rights abuses.

Since the beginning of what Palestinians have called the #GreatReturnMarch from March 30, protesting for their rights to land, international observers have warned that the situation inside Gaza has dramatically deteriorated.

At least 119 Palestinians — including medics and reporters — have been killed in the recent demonstrations, with an estimated 13,000 injured.
One of those appealing for Argentina not to play was Palestinian footballer Mohammed Khalil.
He was shot in the legs during the first day of the #GreatReturnMarch and had both kneecaps removed as a result, ending his career as an athlete.

In a video, he said: "I call on the Argentinian team and especially captain Lionel Messi — because he is very popular in Palestine, particularly in the Gaza Strip — to stand in solidarity with Palestinians and to boycott the scheduled game with Israel, which is occupying our land."