Hundreds Of People Are Stuck On A Migrant Rescue Boat After Italy Shut Its Ports
UPDATE: MSF confirmed the vessel, after transferring hundreds of people off it, would sail for Valencia.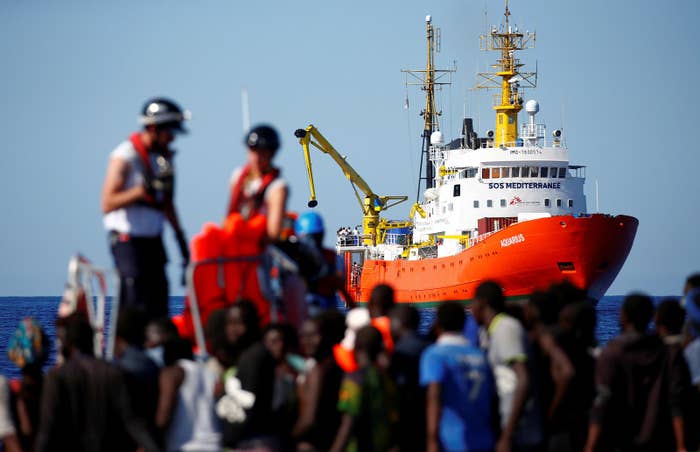 More than 600 people — among them unaccompanied children — were stranded on a migrant rescue ship in the Mediterranean for hours after Italy closed its ports.
In total, 629 men, women and children are on board the MV Aquarius. There are 123 unaccompanied children, aged between 13 and 17, who are believed to be from Eritrea, Ghana, Nigeria, and Sudan. There are also seven pregnant women on the ship, which is run by SOS Mediterranée and Médecins Sans Frontières (MSF).
After Italy then Malta both rejected requests for the ship to dock, the new Spanish leader Pedro Sanchez said in a statement the MV Aquarius would be welcome to dock in Valencia, bringing this stalemate to an end.
Italian and Maltese authorities have transferred supplies to the ship ahead of the journey. The journey, according to the Italian coastguard, is expected to take four days.
Aloys Vimard, MSF's project coordinator, told BuzzFeed News on Monday that there was a serious risk that the situation on board could worsen.

"Currently we have enough food for today, but by tonight we will run out of food," he said from the Aquarius. "People are getting anxious because they see that the boat is not moving and we are currently giving a speech to everyone what is the situation."
Before she can sail, the MV Aquarius – which usually has a maximum capacity of 500, and is currently holding more than 600 people – will transfer 400 migrants and refugees onto Italian navy ships. It's crew had said previously the voyage to Valencia would be too dangerous with that many people on board.
"The situation onboard is quite over-crowded," Vimard said. "People are getting anxious because they can see that we are not moving forward for more than 12 hours now and they are asking why, and what is happening."
Roughly 400 people were picked up on Saturday by the Italian navy and coastguard, as well as merchant ships, before they were transferred to the MV Aquarius for safety.
The ship then plucked another 229 people from the sea after one of two fragile dinghies they were using disintegrated during the night — provoking a frantic but successful rescue in the dark.
On Monday, the Aquarius remained 35 nautical miles off the Italian coast and unable to land after Matteo Salvini, Italy's new interior minister, said the country's ports were shut to the vessel, and that it was the responsibility of Malta to help the people on board.
People on board the boat seemed unaware of their situation.
Journalists onboard said the mood remained calm, but as of Monday people were beginning to ask when they would reach land.
"MSF is concerned that again politics are being placed above people's lives. The priority must be the importance of the wellbeing and safety of the people on board," a spokesperson for MSF said in a statement to BuzzFeed News.
More than 30,000 people have made the crossing from North Africa to Europe this year. Just over 700 have died in the attempt, according to data from the United Nations High Commissioner for Refugees (UNHCR).
The UN has condemned the latest inaction, calling on either Italy or Malta to bring the people to safety first. "People are in distress, are running out of provisions, and need help quickly," Vincent Cochetel of UNHCR said.
On Monday, Salvini reiterated his refusal in a statement on his official Facebook page.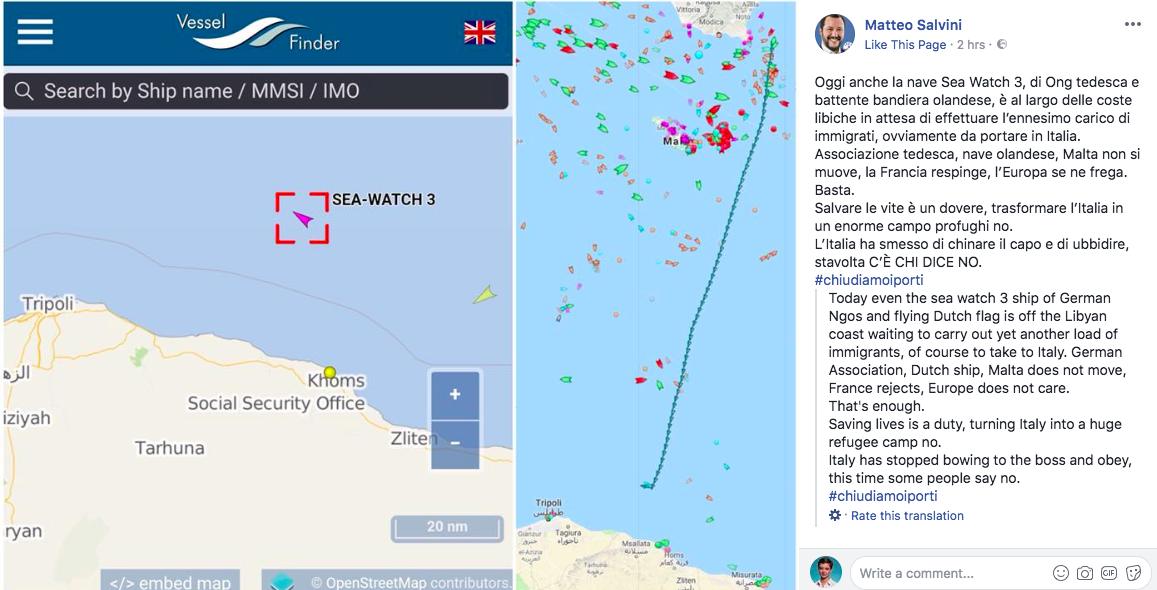 "Saving lives is a duty, turning Italy into a huge refugee camp is not. Italy has stopped bowing its head and obeying, this time THERE IS SOMEONE WHO SAYS NO," he wrote.
Salvini, who leads the right-wing and anti-immigration Lega Nord party, said the boat should land in Malta, but the Maltese government said helping the vessel does not fall under its jurisdiction.

Malta's leader Joseph Muscat said the people should be accepted by the port nearest their rescue — not Malta.
In a later statement Muscat said, "the Maltese government is concerned at the Italian authorities' directions being given to Aquarius on the high seas, which go against international rules and risk creating a dangerous situation for all those involved."
After the Spanish leader accepted the vessel, Muscat tweeted to express his thanks and said that Maltese authorities would send supplies to the MV Aquarius ahead of its voyage. The food will be much needed, a Spanish reporter on board MV Aquarius tweeted, as the journey was hundreds of nautical miles and would take "several" days.
Italy's local southern leaders had criticized Salvini's decision over the weekend. Palermo's Mayor Leoluca Orlando said the ship would be welcome, condemning Salvini and the "extreme far-right government" for flouting international law.
"Palermo in ancient Greek meant 'complete port,'" he said. "We have always welcomed rescue boats and vessels who saved lives at sea. We will not stop now."

But rescue workers said Orlando's words couldn't help the vessel, as the ship required the Italian coastguard — under the control of the government — to grant permission to dock. "Nice but not practical," they told the Guardian.
With the ship preparing to set sail, European Council officials welcomed the end of the stalemate. Dunja Mijatovic, of the Commissioner for Human Rights, tweeting: "Saving lives at sea is an obligation that states must always uphold."
But humanitarian organizations condemned the delay and the Italian and Maltese authorities actions. "By closing their ports the Italian and Maltese governments are trampling the principle of rescue at sea and undermining the entire search and rescue system," Elisa De Pieri, Amnesty International's Italy researcher said in a statement. "This sets a precedent that will inevitably cost lives."