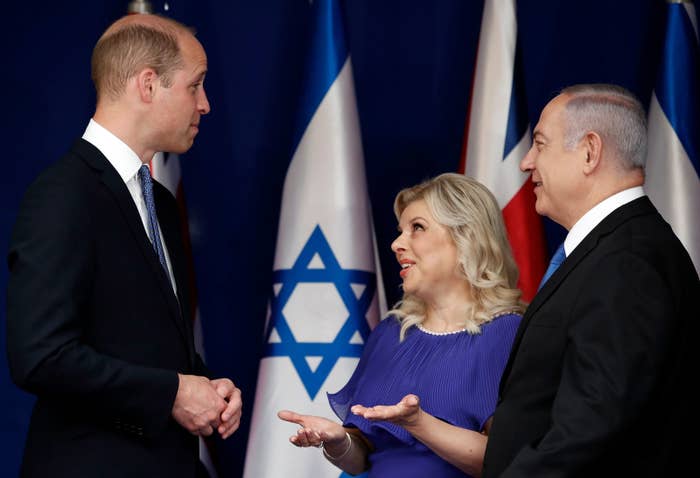 An Associated Press journalist was denied access to a meeting between the UK's Prince William and Israeli Prime Minister Benjamin Netanyahu after Israeli security officials questioned whether he was "Muslim."
AP's chief TV producer Nebi Qena was repeatedly asked about his "extraction," while colleagues of his were asked about his religion, specifically whether he was Muslim.
Qena, who is originally from Albania, has lived and worked in Israel for three years and has been with AP for 10.

Before the meeting — part of Prince William's historic tour of the Middle East — Qena had confirmed all his credentials, arriving with photographer Moshe Edri two hours ahead of the event, held in Netanyahu's official residence in Jerusalem.
Edri, who was allowed into the event, confirmed to Haaretz that security officials "asked Qena whether he was Muslim."
In a statement to BuzzFeed News, an AP spokesperson said: "The Associated Press decries this blatant ethnic and religious profiling of an AP journalist and calls on the prime minister's office to cease such biased practices immediately."
The Foreign Press Association, an organization that works to help journalists covering the region, condemned the "disgraceful and indefensible behavior" of the Israeli PM's security staff and called the incident a "blatant case of ethnic profiling."
"Unfortunately, this is just the latest in a long line of offensive and unprecedented behavior by security staff, including inappropriate personal questions and strip searches of journalists trying to cover the news," they said.
The FPA also urged Prince William to condemn the incident.
A spokesperson for Netanyahu's office said: "We regret any distress or discomfort," but added that access to such events requires a "stringent security examination."
"This incident was caused by human error and will be investigated and the necessary changes will be made immediately," the spokesperson said in a statement to BuzzFeed News.
The incident was widely shared online, with many reporters working in the region condemning the actions of the security officials.
BuzzFeed News contacted a spokesperson for Prince William for comment but was deferred to the British Embassy in Tel Aviv. It did not respond by the time of publication.

CORRECTION
The FPA called the incident a "blatant case of ethnic profiling." An earlier version of this post misattributed this quote to the AP in the subhead.