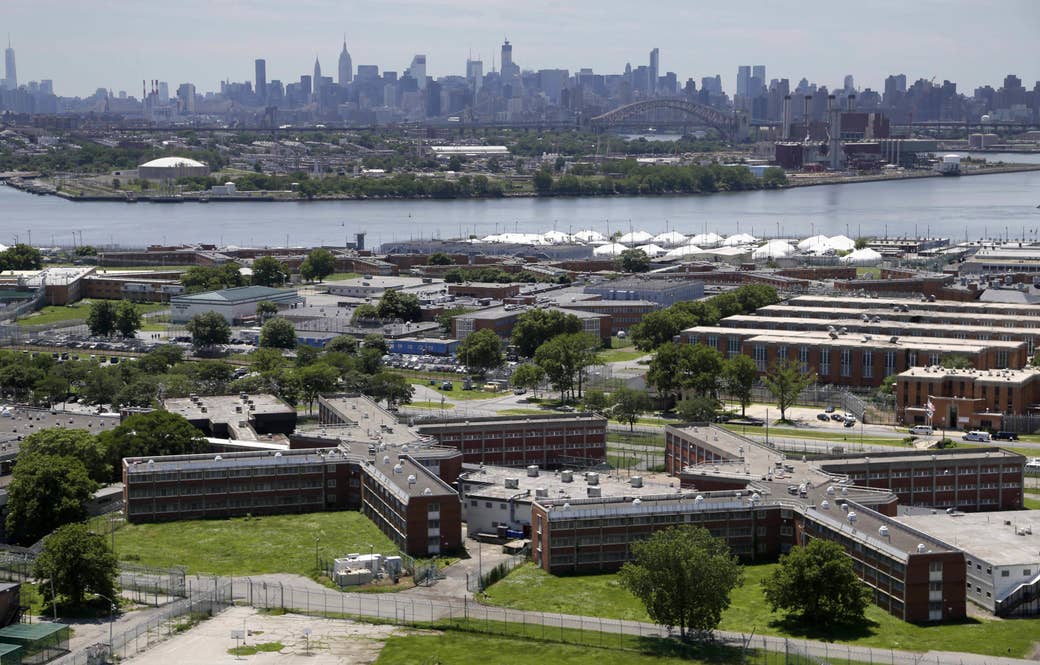 The journalists at BuzzFeed News are proud to bring you trustworthy and relevant reporting about the coronavirus. To help keep this news free, become a member and sign up for our newsletter, Outbreak Today.

On one of their numerous phone calls this week, R.W. listened to her husband, who is incarcerated at Rikers and sick with COVID-19, pound against the walls of the isolation cell begging unsuccessfully for medical attention. "I don't feel well," he moaned. "I feel lightheaded." He tested positive for the coronavirus last week, she said; since then, no one has taken his temperature. He's only received water and tea bags, he told his wife.
His sentence is less than a year, she said, but "he's scared he's not going to make it out of there."
On Friday, 103 people held in the city's jails and 80 staffers had tested positive, according to the New York City Department of Correction. The majority of the city's detainees are held at Rikers Island.
Last Saturday, the New York City Board of Correction recommended releasing people over 50, people serving low-level offenses with sentences of under a year, people held for technical reasons like a parole violation, and those with underlying health issues. At Rikers, that would mean about 2,000 people. But so far, little has happened.
Meanwhile, inside Rikers Island, information on the pandemic is scarce and fear is rising, according to interviews with people currently incarcerated at the jail as well as their family members. One man told BuzzFeed News that he had received only a one-page pamphlet on how to protect yourself. It recommended staying 6 feet away from others, which is impossible in the setting, and frequent handwashing, which is a challenge. The facility provides a bar of soap for bathroom sinks, and more is available for purchase at the commissary once a week. There's no hand sanitizer.
Prisoners and their advocates said that a backlog of people with symptoms like coughing and sneezing haven't been able to get seen, let alone tested. While some correctional officers wear gloves or a mask, others have nothing.
"I'm living in constant fear," said Daniel, who is currently incarcerated on Rikers Island. The 46-year old said he fears he may have the virus; he's been feeling weak and feverish but hasn't been able to get seen by medical staff at all. (His publicly appointed lawyer asked that his last name not be published since he is awaiting a hearing.)
"They pretty much said, 'Don't even go down to the clinic, there's a bunch of people who are there with the virus and you're walking right into it,'" he said, referring to the correctional officers.
"Conditions are really deteriorating here," added Semaj, another detainee who is also being held on a parole violation. (His publicly appointed lawyer requested that just his first name be used since he is awaiting a hearing as well.) The 41-year-old was arrested in February by his parole officer for allegedly driving a car — a violation of his release conditions. In his housing unit, he and others have tried to make everyone wash their hands before entering the sleeping quarters where they sleep just a couple of feet apart.
Semaj also said prison officials cut articles about the coronavirus out of the newspapers before detainees get to see them. He said he tries to glean what information he can from TV.
This week, he learned his mother, who has heart disease and diabetes, has been hospitalized with COVID-19.
Do you have questions you want answered? You can always get in touch. And if you're someone who is seeing the impact of this firsthand, we'd also love to hear from you (you can reach out to us via one of our tip line channels).

The New York City Department of Correction did not immediately respond to a request for comment on the conditions at the prison.
New York Gov. Andrew Cuomo and New York City Mayor Bill de Blasio have argued with each other about which entity — the state or the city — is responsible for letting people out. While a parole violation is a state charge, people are incarcerated on Rikers, a city property.
Earlier this week, De Blasio said parole violators were a group he'd like to see released but that the state had to ultimately give approval. On Wednesday, Cuomo said Rikers is the city's responsibility but the state would help if needed. Late on Friday afternoon, Legal Aid Society won the release of 106 incarcerated clients for parole holds.
A spokesperson for the Mayor's Office of Criminal Justice told BuzzFeed News that it's continuing to work with the state on this plan. Cuomo's office did not respond to a request for comment.
"They are wasting time. This has been a ticking time bomb for weeks," said Kelsey De Avila, the project director for jail services for Brooklyn Defender Services, an organization of public defenders.
Stephanny Abdelhadi wrote to the mayor's office, begging for her husband's release from Rikers. "I urge you to release him as he is a sitting duck waiting to catch this virus as he also suffers from breathing issues," she wrote in a contact form seen by BuzzFeed News. Abdelhadi is 38 weeks pregnant and due April 4, she said.
"I literally am only leaving my cell, going to eat, and trying not to touch anything, and then going back to my cell so I don't get sick," her husband, Mohamed, said, speaking from Rikers. "I'm feeling congested, though, to be honest with you."
"He already might not be here for the birth of the baby, but what if he gets it?" his wife told BuzzFeed News.
Lawyers are frustrated too, watching their clients sit behind bars for small infractions. "The delay is going to cost New Yorkers; it's going to contribute to a deluge of our medical infrastructure," said Robert Jereski, an attorney for Legal Aid Society who represents clients with parole violations.
On Friday afternoon, the New York State Department of Corrections and Community Supervision said it had been directed to release low-level parole offenders, which could mean as many as 400 more people in New York City and 700 in the rest of the state, following a review to ensure they have adequate housing and are not a threat to the public. The details of the release are so far unclear.
Across the country, jails are already releasing people. On Tuesday, Los Angeles County released 1,700 people early. A county in Washington state released 200 people early. And a county jail in Ohio released hundreds of people early as well.
A group of bipartisan senators including Chuck Grassley, an Iowa Republican, wrote a letter on Wednesday to Attorney General Bill Barr asking for similar measures for inmates at federal prison facilities. "It is important that consistent with law and taking into account public safety and health concerns, that the most vulnerable inmates are released or transferred to home confinement, if possible," said the letter.
Junior Wilson, 57, is in one of the dormitory halls at North Infirmary Command. People in the building were tested last week for COVID-19 last week, Wilson said, while Harvey Weinstein was also being held in the facility. The building holds many of the jail's older and more vulnerable detainees. Because of his age, Wilson would also be eligible for release under the Board of Correction guidelines.
Wilson tested negative, but many others tested positive, he learned, and the shared dormitory setting makes him worried he may still become infected. "I woke up this morning with the chills," he said, speaking from Rikers Island. So far, he hasn't been able to get tested a second time.
"It's like we're waiting here to die."