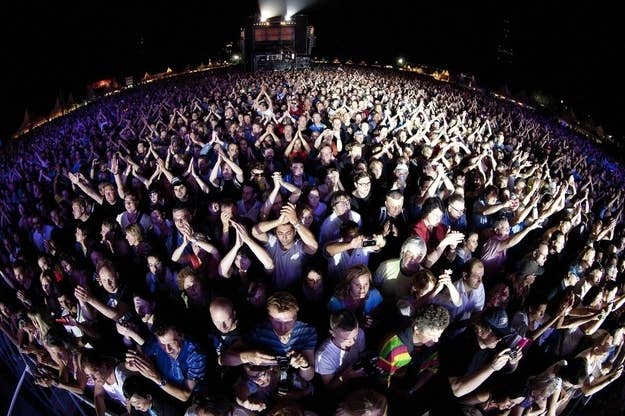 Last week, ICANN revealed the tally of possible new top level domain names (TLDs), the result of a four-month application window —1,930 proposals for 1,409 different domain name suffixes. These will be the new dot-coms and dot-govs, the largest expansion since the Internet's creation.
But from the get-go, this venture has been troubled and a closer look at the fight over one domain in particular, ".music," shows the pitfalls of a privately controlled landscape.
"It's a clusterfuck," said Brian Zisk, digital strategist and founder of the SF MusicTech Summit.
After spending years figuring out the protocols for the new domains, the system had to be shut down for six weeks during the application window, pushing the deadline from April to May. During the unveiling of the applicants and potential names, ICANN accidentally released private info along with the list of applicants. And the 338-page manual — which lays out the application requirements, eye-popping fees ($185,000 per application plus $25,000 a year to operate if selected) and process for navigating — is headache-inducing. The price for resolving an objection can involve paying a three-person panel up to $122,000 an hour.
Take this flow-chart, for instance. The registry claims that if an applicant passes through three layers of oversight without anyone raising serious concerns in the public comment period (open now) or filing a counterclaim, they could claim their domain in as little as nine months. However, their diagrams make even a simple, three-way race for a domain look very hard: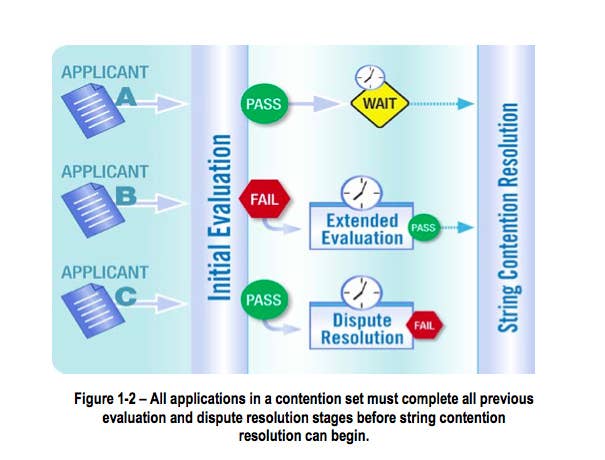 But beyond the technical difficulties, contentious discussion has sprung up around who should own domains as broad as ".app" (13 applied) and .music (eight contenders). Many of the applications are for companies to be able, essentially, to control their branding, as whoever owns a TDL will control and set pricing for second and third levels (think maps.google.com). For those who are deemed a "community controlled" TDL and subject to hearings from the community (however that it defined), the process looks interminable.
The situation with .music is particularly revealing. Of the eight applicants, three are American. Google and Amazon threw their hats in — they're feeling land-grabby — along with a company called Donuts, whose website boasts applications for more than 300 new TDLs. For such a general domain, though, community support would seem to be necessary —and only two applicants, confusingly both claiming .Music as their name, have claimed that status.
But what if community support means private control? Far Farther, the group behind .Music LLC, is backed by dozens of top music organizations, including the publisher ASCAP and the powerful RIAA, the trade organization usually found suing over piracy. In documents found by Digital Music News, an online trade magazine, Far Farther seems to want an iron grip on anyone looking to use a ".music." domain. To wit:
"Domain registrations may be accepted, but will not resolve until the registrant has been identified and validated as a member of the music community via their membership in at least one existing association related to the creation and support of music."
Also:
"Should the registrant fail to meet the eligibility criteria, they risk the suspension and ultimately deletion or loss of their domain name. Verification of continued membership is required for renewal, to ensure ongoing eligibility."
Basically, this means that if you are a musician who does not belong to the trade organizations supporting Far Farther, you will not have access to the domain. As Digital Music News pointed out, what would that mean for someone early in their career who has no need to join a trade group? Creating a web site usually doesn't require people to pay membership dues.
"That strikes me as really bad because honestly, technology has made it so that many of these organizations are obsolete," said digital music expert Zisk. "What the Internet is about is disintermediation — musicians being able to connect with fans directly. Not to go through some old-school organizations. That's not fair."
The other contender coming out of the music world, .Music, offers a different take on what's possible with enhanced domain registry. Springing from a 2001 project by an entrepreneur named Constantine Ruossos, .Music has the support of multiple governments and web-based music businesses like Reverb Nation—and unlike Far Farther, does not require membership to any particular group to have access to a domain name. But the entrance of Far Farther into the fray, with the industry trade group support, has hurt .Music's chances for winning the domain.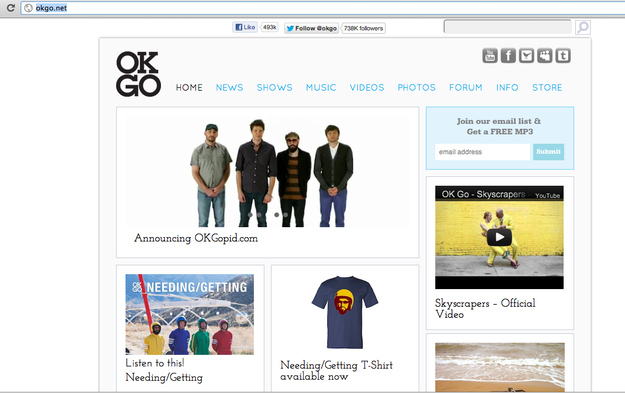 For musicians, the appeal of .music has yet to be tested. "It seems stupid that .music would be limited to members of any professional organization, but I don't think it's an issue that will affect working class musicians. I don't think anyone cares what your website address is. That's what Google's for," said Ryan Browne, an SF-based musician.
Damian Kulash, of the band OK Go said he hadn't heard of this domain development but proclaimed it "very interesting."
"My gut response is that a huge categorical or conceptual idea shouldn't be private property. No one person or company or consortium of companies can own music (no matter how hard they try), so why would we let someone effectively own that category of names online?," he wrote an email, "If they're super restrictive about who can get a .music address, then they won't be standard and no one will want one."
It could be years before .music hits your browser, but these issues are far from academic. If the new TDLs end up becoming the industry standard, it could crush the open web. Whoever controls ".music" will control all the secondary and tertiary domains, thereby subjecting whoever wants to participate in it to their fees and rules. Digital music platforms are already criticized for not paying independent artists: if an exclusive infrastructure around .music takes off, it could be truly gated community.