Two Artists, A Double Suicide And A Tumblr
When groundbreaking videogame creator Theresa Duncan and her boyfriend, video artist Jeremy Blake, killed themselves in 2007, no one understood why. Now, the couple's friend is trying to put the pieces together using Tumblr.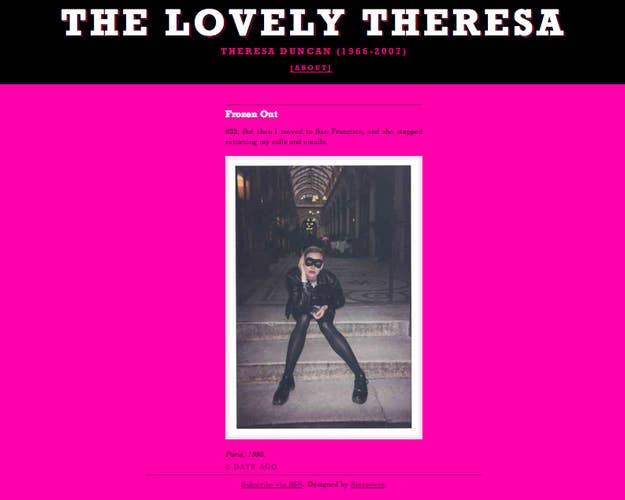 When writer, filmmaker and videogame creator Teresa Duncan killed herself in July 2007 — and her boyfriend, video artist Jeremy Blake followed suit a few days later — their deaths shocked strangers and close friends alike. Now, five years later, Blake Robin, a close friend and musician, is trying to make sense of the chain of events through The Lovely Theresa, a blog that he began last week and plans to update three times daily for three weeks.
Part art project, part Legacy.com, the site traces his friendship with Duncan, in the hopes that it can "contribute to a better understanding of their story." The effort will culminate in the release of a video of a song that Robin, who performs under the name Baron Von Luxxury, wrote in Duncan's memory.
Blake went missing a few days after he had found Duncan dead from an overdose of Tylenol in their shared downtown Manhattan apartment. Evading friends who were keeping a watch over him, he had walked into the ocean. Robin begins his posts with vivid recollections of the days following Duncan's death. "I didn't understand what I was reading, it literally made no sense. I had just seen them," Robin wrote. "It was impossible, they would never do this…they were too brilliant, successful, smart."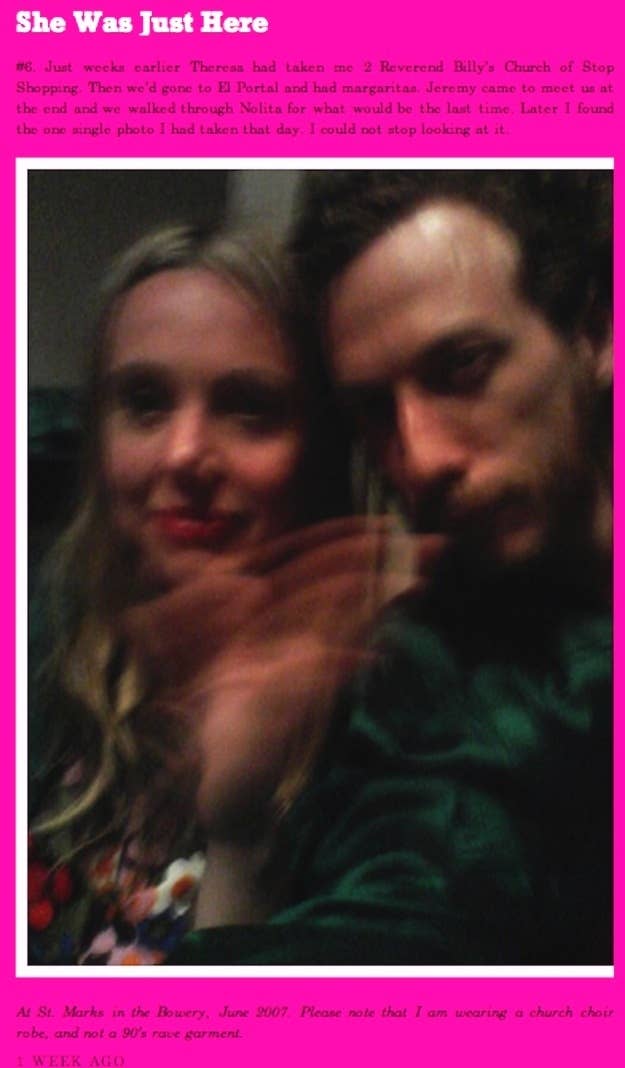 So who were Duncan and Blake? Duncan, a tall blonde, was a writer and filmmaker who produced some of the first successful video games aimed at young girls. Parlaying a mid-'90s job as an assistant at a company called Magnet Interactive into that of a game creator, she and a coworker developed Chop Suey, a CD-ROM affair about two girls who eat too much Chinese food and drift into a dream world. Duncan enlisted hip collaborators and put them to work in this new medium: David Sedaris narrates and Nation of Ulysses rocker Ian Svenonius contributed animation. It won awards and she did two more CD-ROM games, although the format's popularity proved to be fleeting.
Around the time of Chop Suey, Duncan met Jeremy Blake, who was pioneering a kind of slowed-down entrancing video style — color-saturated, haunting. The pair moved from New York to Los Angeles after Duncan sold a screenplay and Blake ended up doing the credits to Punch Drunk Love before embarking on a series of fine art installations.
From all accounts (including Robin's) the pair had a rare, all-consuming love. From the time they met until their deaths, they were rarely apart.
But also, according to stories written in Vanity Fair and New York magazine after their deaths, a darkness descended. Press accounts paint a picture of Duncan and Blake as paranoid and unstable, as a failed movie project with Beck, a Scientologist, led them to suspect that Scientologists had tapped their phones and were following them. They claimed a dead cat was found on their roof and began fighting with neighbors.
And then, after they moved back to New York in 2006, some say that their fears and obsessions followed them back East. But in the snippets Robin has posted thus far, he indicates that those reports were overblown.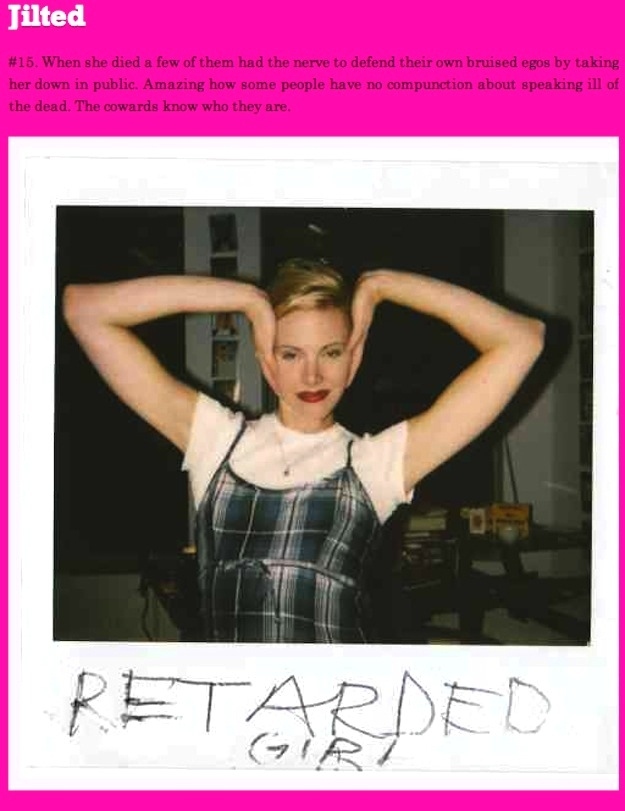 Much of what Robin posts don't relate to Duncan's death: they are about her life. The format he's chosen is very appropriate to the experience of remembering someone: the memories pop up in bits and pieces, not unfolding like a feature film.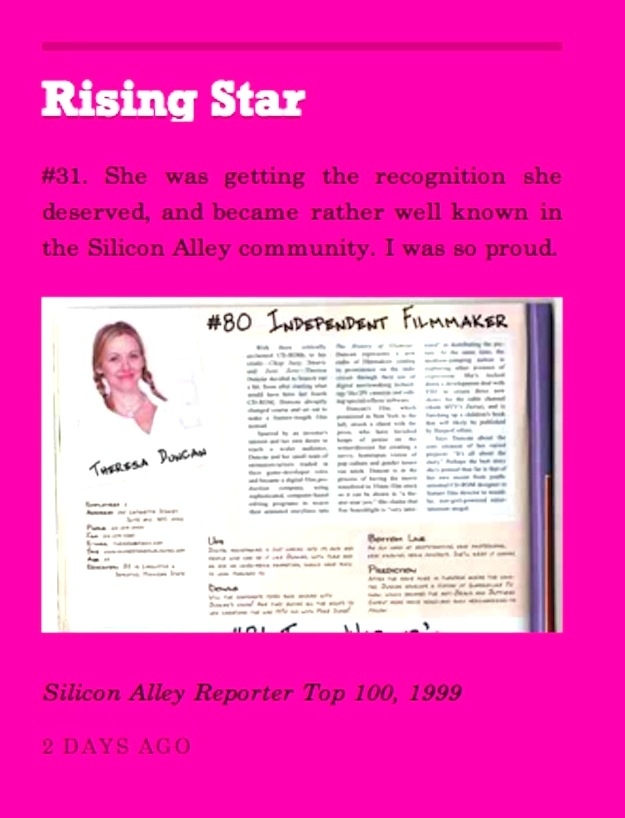 After Hollywood frustrated Duncan, she became a blogger: her literate and funny writings led to freelance gigs at Art Forum and other publications. The press coverage of the couple pegs them as part of the "art world" but their real genius was fusing the art world and the tech world. (Kara Swisher, for instance, mourned Duncan). Robin has only begun posting on the most controversial part of their story — their relationship with Beck and Scientology — which should be interesting, particularly the divorce of Tom Cruise and Katie Holmes throws Scientology and its practices back in the spotlight.
Robin's site reminded me of what McSweeney's put up after writer Amanda Davis' untimely death. Both use the additive, episodic qualities of posting to great effect: I didn't know Davis but I was a fan of her work and I remember sobbing as people posted their memories. I have to believe that Duncan and Blake, two intrepid digital experimenters, would approve of this new project.