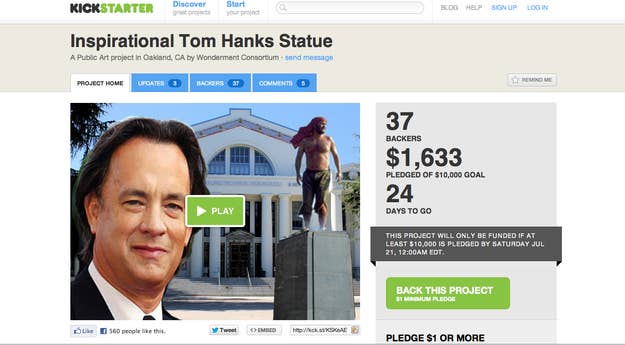 "Inspirational Tom Hanks Statue" is a Kickstarter project that popped up on my Facebook feed a few weeks ago, and has been in the news ever since. Every time I saw it mentioned, I figured it had to be a joke: Conceived of by a trio called the Wonderment Consortium, the campaign promises that with $10,000, they will make a nine-foot tall Tom Hanks paper-mache statue of Hanks circa Castaway.
With each additional $10,000, they will make other Tom Hanks' effigies —including Forrest Gump and the inspiring hero of "You've Got Mail." It's amusing, a great candidate for virality, but no one really thinks making these not-at-all lifelike pieces to be placed outside Oakland public schools will really, as promised in the campaign explanation, "make Oakland students the best they can be"?
But if it's a prank, who's the target?
It's possible it's Kickstarter itself. There seems to be a growing unease about the site's power, influence and aesthetic; Gizmodo banned Kickstarter stories outright. Commercial entities like stores and restaurants and established companies kickstart, as do entertainment stars like Amanda Palmer. If the appeal videos look increasingly professionally produced, it's because they are — some people are even hiring consultants to make the perfect Kickstarter campaign.
And so, knowing that at least one of the three guys behind the Tom Hanks project is an artist and wicked culture-jammer, perhaps best known for dropping anarchist action figures into stores around the holidays, it seems that the Kickstarter project page isn't the mechanism to get an art project funded: it IS the art project.
First all, there's the video. It's a perfect simulacrum of a well-produced Kickstarter video:
Except that the action they are discussing is creating papier-mâché replicas of Tom Hanks.
Then, there's the list of incentives to give. The $25 award is perhaps the most interesting: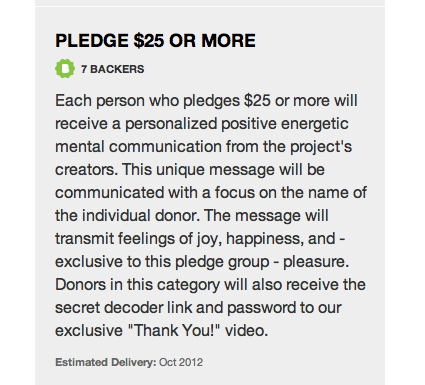 I emailed the Wonderment Consortium's Packard Jennings, who solicited answers from the group (Steuart Pittman and Scott Vermeire), to find out what was going on. They did not break character.
What inspired this project?
Tom Hanks and compelling research data about the decline of High School student morale.
Why Tom Hanks? Why now?
Tom Hanks spoke for all of us when he said, "I understand the concept of optimism. But I think with me what you get is a lack of cynicism."
So do Oakland schools know about this campaign? What if they won't let you put the statues up?
We understand that Troy Flint of the Oakland Unified School District is aware of the project and looking forward to talking with us. Who could blame him? We fully intend to contact the school at the appropriate time to congratulate them with this wonderful news. At no cost to the school, and with the tremendous inspirational potential at hand, what institution wouldn't want this remarkable work of art gracing its commons?
How did you determine the funding target amounts?
We ball-parked the costs of enough old newspapers, chicken wire, Tempera paints, and fixative to build a massive, 9-foot-tall Hanks that was durable enough to stand the test of time. I think we nailed it. In the event that our estimate is off and we end up with extra funds we have some amazing secret plans for the glorious conclusion of the project. They are shockingly good plans.
When did you learn Tom Hanks is from Oakland?
Packard: I've known it all my life because I was born and raised in Oakland.
Steuart: I moved to Oakland five years ago and that was one of the first things I learned about my adopted home.
Scott: He's from Oakland?
I can't help but feel like the real target of this campaign is Kickstarter itself, with its precious videos and elaborate "offerings" to people who give money. Are you punking Kickstarter?
There are many worthwhile projects on Kickstarter that deserve to be funded. Kickstarter prides itself on the notion that creativity is the core requirement for a campaign. That is why our distinct, Tom Hanks-related vision to help combat the most dire challenge facing students of Oakland Public High Schools really shouldn't come as a shock to anyone. In fact, we're sort of surprised we're not a Kickstarter "Staff Pick" by this point.
*
Kickstarter did not respond to questions about the Tom Hanks project. Thus far, the Wonderment Consortium has raised around $1,600 of the $10,000 they ask for — but there is almost a month left. The trio is adamant that will actually make the statues if they are funded, although whether Oakland public schools allow them to be placed on public property seems rather unlikely. Either way, the point has been made: Kickstarter has arrived as a cultural icon and it's bound to be mocked as well as admired.
Correction: This post originally said that Jennings put altered barbies back on store shelves; in fact, it was anarchist action figures.