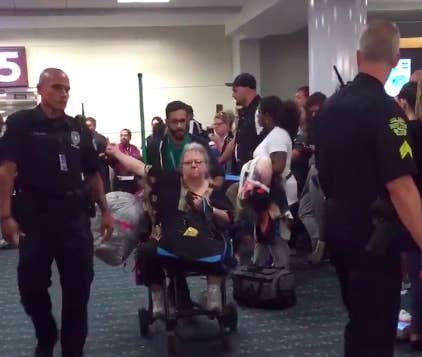 There was some drama on Flight 1612 from Orlando to Cleveland on Tuesday evening when a woman boarded the plane with a squirrel and then refused to get off.

The passenger "boarded the aircraft with a squirrel saying it was an emotional support animal," Frontier Airlines told BuzzFeed News in a statement.
The woman had said that she was going to travel with an "emotional support animal," but never told the airline what species of animal, according to Frontier.

"Rodents, including squirrels, are not allowed on Frontier flights," the airline said. "The passenger was advised of the policy and was asked to deplane."

But the woman refused to disembark, and Orlando police were soon brought in to handle the squirrel situation.

"Police eventually escorted the passenger off the aircraft and returned her to the main terminal," the statement read.
One passenger, Julia Papesch, a 22-year-old Cleveland resident, told BuzzFeed News everyone on board was told to deplane.

"I had no idea why. I thought it was a mechanical issue but when we were in the airport, I kept hearing people mention a squirrel," she said.

In footage captured of the incident, the woman with the squirrel flipped off fellow passengers, some of who clapped as she was wheeled from the plane, carrying what appeared to be a holding bag for animals on her lap.
Another video showed people crowded around the gate entrance, chatting, with the sound of a siren blaring.
"HERE SHE COMES," wrote Papesch in a caption of this video showing applause.

"Everyone was just cheering and filming her with their phones. A lot of people were laughing," she told BuzzFeed News.
Another passenger, Brandon Nixon. a 24-year-old and from Stow, Ohio, used the word "unimaginable," to sum up the experience in an interview with BuzzFeed News.
Nixon said that he saw the woman flip passengers off. "That was interesting," he said.

"Right when she exited the plane, I believe a passenger said something to her which made her react that way."

Earlier this month, the airline released a "new policy for emotional support animals and trained service animals."
However, "rodents are not permitted on Frontier flights under both the original and new policy."

Don't try to travel with rodents!