Lil Tay is a bad-mouthed character being played by a 9-year-old girl online. She has 2 million followers on Instagram.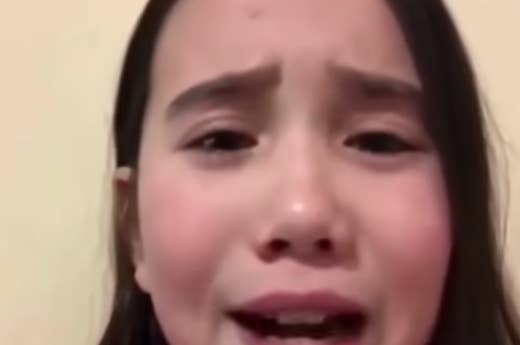 Lil Tay's brand consists of videos in which she says the word "bitch" a lot and waves around wads of cash in fancy cars and homes. In some footage, she says the n-word.
Lil Tay has predictably created outrage, which has led to a lot of media attention.
Now, the 9-year-old is on the receiving end of a massive amount of internet vitriol.
"Her birth certificate should be an apology letter to the condom company," one person said on Twitter.
"With all due respect SUCK MY DICK LIL TAY," another tweet read.
"Fuck you Lil tay, what the fuck do you do besides flex in houses that ain't yours and talk shit?" someone else said.
Both Lil Tay's mom, Angela Tian, and the family's representative told BuzzFeed News that Jason Tian, Lil Tay's 16-year-old brother, is the main person guiding the girl's controversial internet presence.
Diomi Cordero, the Tian family's representative, called Jason the "mastermind" behind Lil Tay, while at the same time insisting that the siblings are collaborators.
"It's like Jake Paul and Logan Paul," he said Wednesday, stressing that the siblings work as a team.
Angela Tian told BuzzFeed News in April that Jason is the one who "guided" his little sister.
"He is the one, only one [who] did an excellent job for her, he guided her, did everything for her without anybody else involved," she wrote in a text.
The mom, who told BuzzFeed News last month that she is a single parent and a real estate agent in Vancouver, has since reportedly resigned from her job after her boss's car was used without permission to film Lil Tay.
On Thursday she told BuzzFeed News that her daughter is now home-schooled.
Recently, footage that shows Jason appearing to coach his little sister has been the focus of internet backlash.
"What do I say?" Lil Tay says in the footage, after a heavy sigh, apparently to her brother.
The footage was obtained by Keemstar, a YouTuber who regularly breaks news about the goings-on in the world of internet celebrity.
Another video is circulating in which someone encourages the little girl to parrot profanities.
People are now directing more outrage to the adults and teen behind the persona, tweeting that they want to "save" the little girl, under the hashtag "#SaveLilTay."
A petition is also circulating to have Lil Tay's account removed from Instagram.
Cordero said that Jason Tian has no comment about the footage and the backlash to it. He said that the siblings will "continue to work together."
"It's a family business, they will continue to work together," he said.
Through her representative Thursday, Angela Tian also commented on her children's working relationship, saying that she is okay with it.
"I love that they are working together," the mom said in an email to BuzzFeed News sent by Cordero. "They're very smart and super creative and I'm glad it's staying in the family."
When asked about those who say she is exploiting her daughter, she responded: "Influencers in the social media don't care about what happens to my daughter. All they care about is getting views, likes, and comments."
"My daughter is the most fascinating person in the internet right now," she continued. "Everyone is going to have an opinion. Welcome to the internet."
While Lil Tay's character has been a presence on social platforms for months, her brand blew up in April following a viral fight with other social media stars.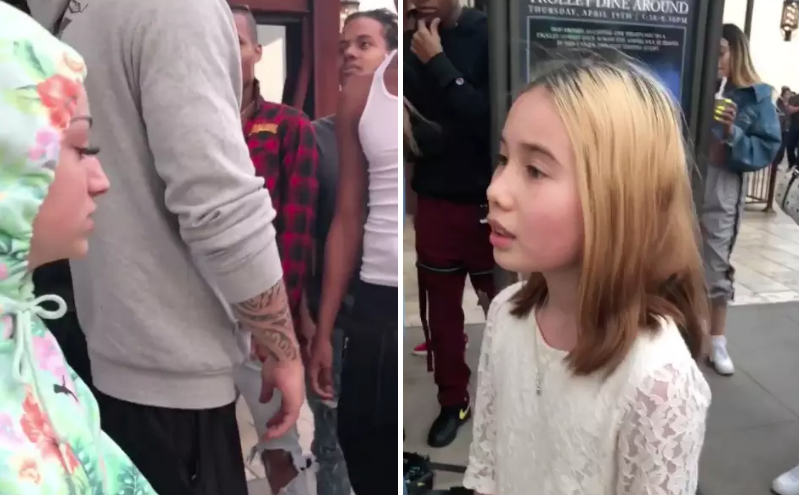 These include Woah Vicky, a teenager who has made a music video where she says "Ching Chong, Ching Chong, Ching Chong Bitch," and Bhad Babie, the infamous "cash me ousside" teen who became meme'd for behaving badly on Dr. Phil and is now on a major music tour across the country.
Some have speculated the fight was a stunt.
Lil Tay has also been filmed or photographed with rappers like Chief Keef and Lil Pump, appeared in a Jake Paul YouTube video, and was most recently interviewed by Good Morning America.
The team behind Lil Tay also has an apparent brand deal with Tunes Audio.

Representatives for the company did not respond to a request for comment from BuzzFeed News about the apparent partnership.
Lil Tay's leap to prominence has led to even more haters attacking her brand.
"You are uglyyyyy you blind me w/ this crap you spoiled fake girl," one comment on an Instagram of her holding up a stack of money read.
"Why are you such a Thot?" someone else wrote.
Other comments include one that read "Kill your self," and another, "ugly ass chines."
"I am not worried, we have a very strong family foundation and I always remind her that this is part of the entertainment industry," Angela Tian said when asked in general if she was worried about the vitriol being directed at her daughter.
In a recent interview, ABC News' Juju Chang showed Lil Tay the video of her looking visibly upset. "You don't look very happy," Chang said.
"I mean that was before," the girl responded. "Like now, I'm happier than before."
As for whether any of the money being made is being set aside for Lil Tay, Angela Tian, responding via Cordero, said that it's "not anyone's business."
"If my daughter is making income, I will make sure that she has everything she needs to further her career," she said.