PARKLAND, Florida — On a quiet street lined with peach-colored houses and plants that thrive in warmth, 16-year-old Sara Giovanello and her boyfriend Jared Burns were sitting on a couch, their hands clasped together, the morning after a gunman massacred their classmates with a rifle.
It was at first an oddly quiet day spent — where else — on social media, looking for the latest updates on their friends. After nightfall, they attended an emotional vigil with the community, lighting candles and listening to the grief of people who lost loved ones.
Sara survived the shooting hiding in a closet, "face to face" with students in her trigonometry class. "There was no ventilation. No air. It's crammed with the body heat of nine pubescent children," she told BuzzFeed News.
Like other students, Sara thought the fire alarm was a drill. When they first heard the shots, Sara's teacher "tried to convince [them] it was firecrackers."
Both Jared and Sara recalled the horror of hearing their peers, panicking, yelling, "please let me in!" as they banged on the locked doors of classrooms, looking for a place to hide.
Last night, she slept in her mom's bed, "like a little kid," she remarked.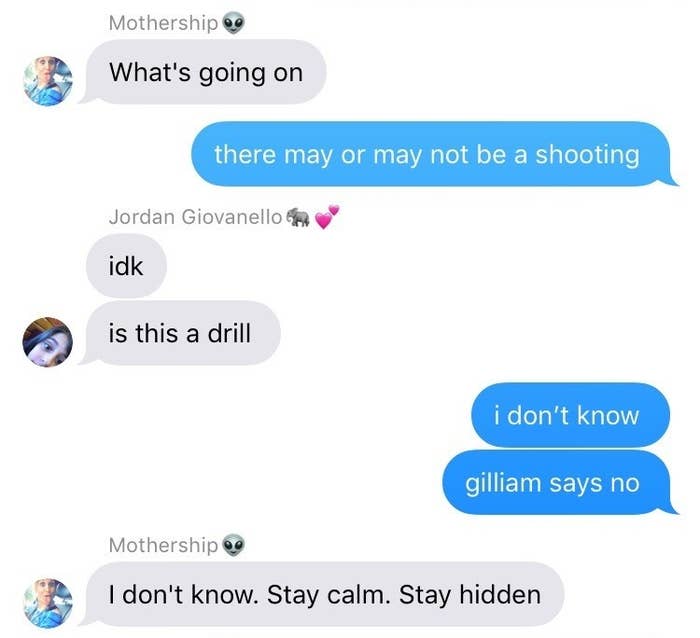 Sheltering in the closet, teens were making calls and mining social media, searching for any kernel of information. Sara, against her better judgment, watched gruesome Snapchats, and on Twitter scanned for which of her classmates had been harmed. Sara was especially worried about her 15-year-old sister, Jordan, who is a freshman at Marjory Stoneman Douglas.
"Everybody's on the phone with their parents saying if this is the last time I hear your voice, know that I love you," Sara recalled. Rumors were rampant. Sara said she heard whispers such as "This person got shot in the arm. This person's arm got grazed."
Thursday morning, Sara woke up early and texted Jared. She wanted to eat, but she couldn't. Jared also hadn't eaten. Both were glued to their phones.
When a SWAT team freed her and her classmates after two and a half hours, she was told to put her hands up. She did so, with one. The other held on to her AP art project, an iPad, and a fuchsia carnation that Jared gave her for Valentine's Day. Sara heard a rumor that they could bring "small things," with them when authorities came.
This proved untrue. She exited only with her phone, which she was instructed to keep in her pocket. Sara was particularly bummed to leave behind the flower.
"It made my heart hurt," she said.
Jared balled up his fist, beginning to cry as he thought of his friend Alaina Petty, who died. He had just spent the period before the shooting with her, in an ROTC class.
"I didn't think that was the last time I'd see her," he said of Alaina. "We were just being kids. I said goodbye, of course. I gave her a hug, of course," he said, as if searching for some way he might have parted with her differently. Sara wiped away his tears as he spoke. The two of them lost a mutual friend, too, Helena Ramsay.
Jared found out Alaina died soon after he woke up, when he saw a post on Instagram. "I sat there with my phone in my hand. I just threw it, not caring where it landed or anything. I'm just sitting there. I saw her yesterday."
Sara was checking her phone when a new list came in — the identities of the deceased. They looked over the names together, Jared's head resting on Sara's shoulder. Sara read the names out loud, as she rubbed her fingers together.
"I just can't imagine what it's going to be going back to school," Jared said, and looked at Sara.
"I don't know," she responded.
"There's going to be two more empty seats in our classroom," Jared said.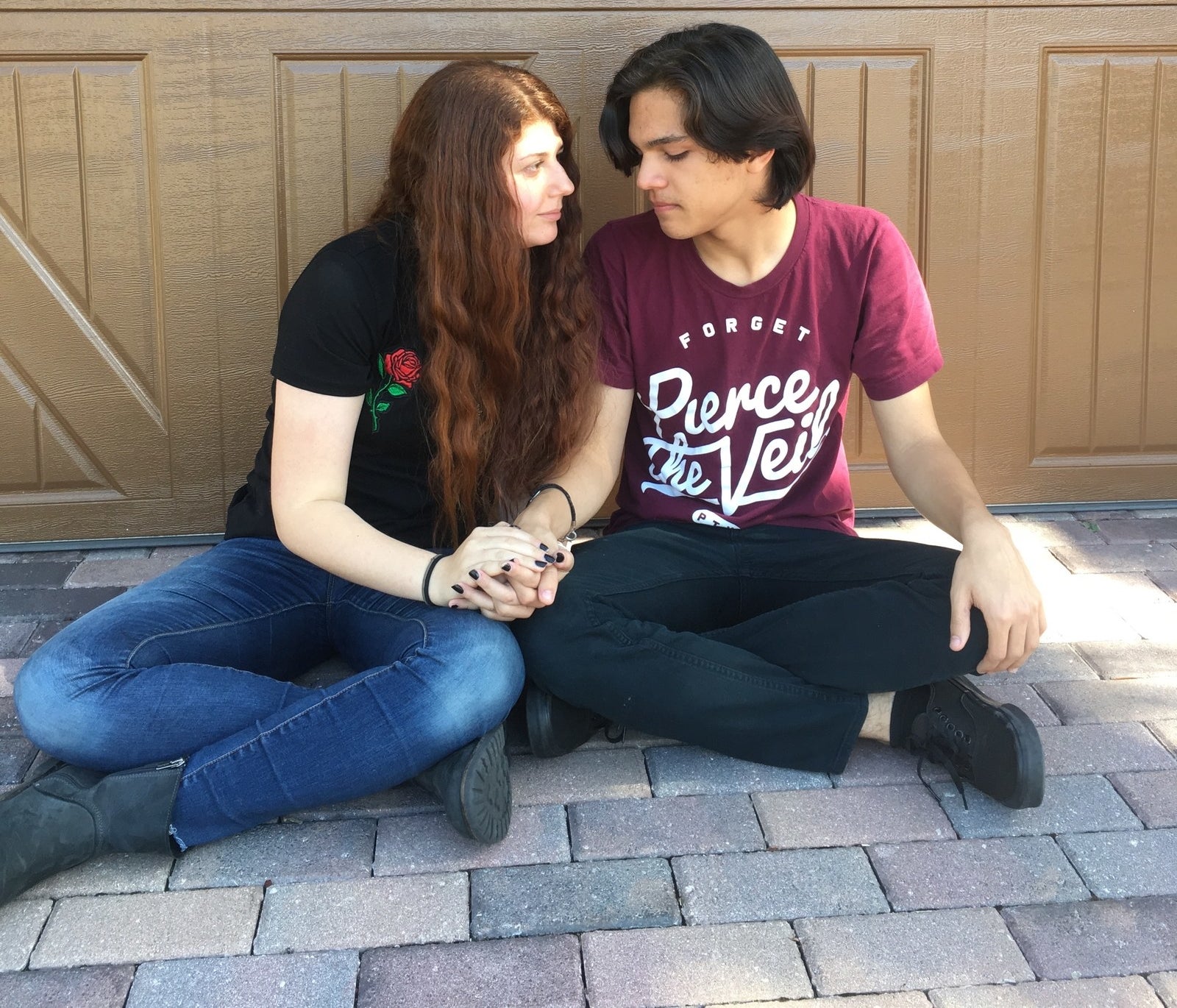 The two of them, after I left, tried to forget by watching the show Modern Family. But both spent most of the afternoon on social media, their feeds a barrage of information, posts, and rumor. They then checked on a friend, and headed to the park for free grief counseling.
Later that night, the park became the site of a vigil. Crosses were scattered through the field with tissue boxes placed under them as the white wood dripped with wax. The weather was perfect, the sky opalescent, and everything smelled so sweet in the way that only humid places can. Sara called the vigil "absolutely beautiful."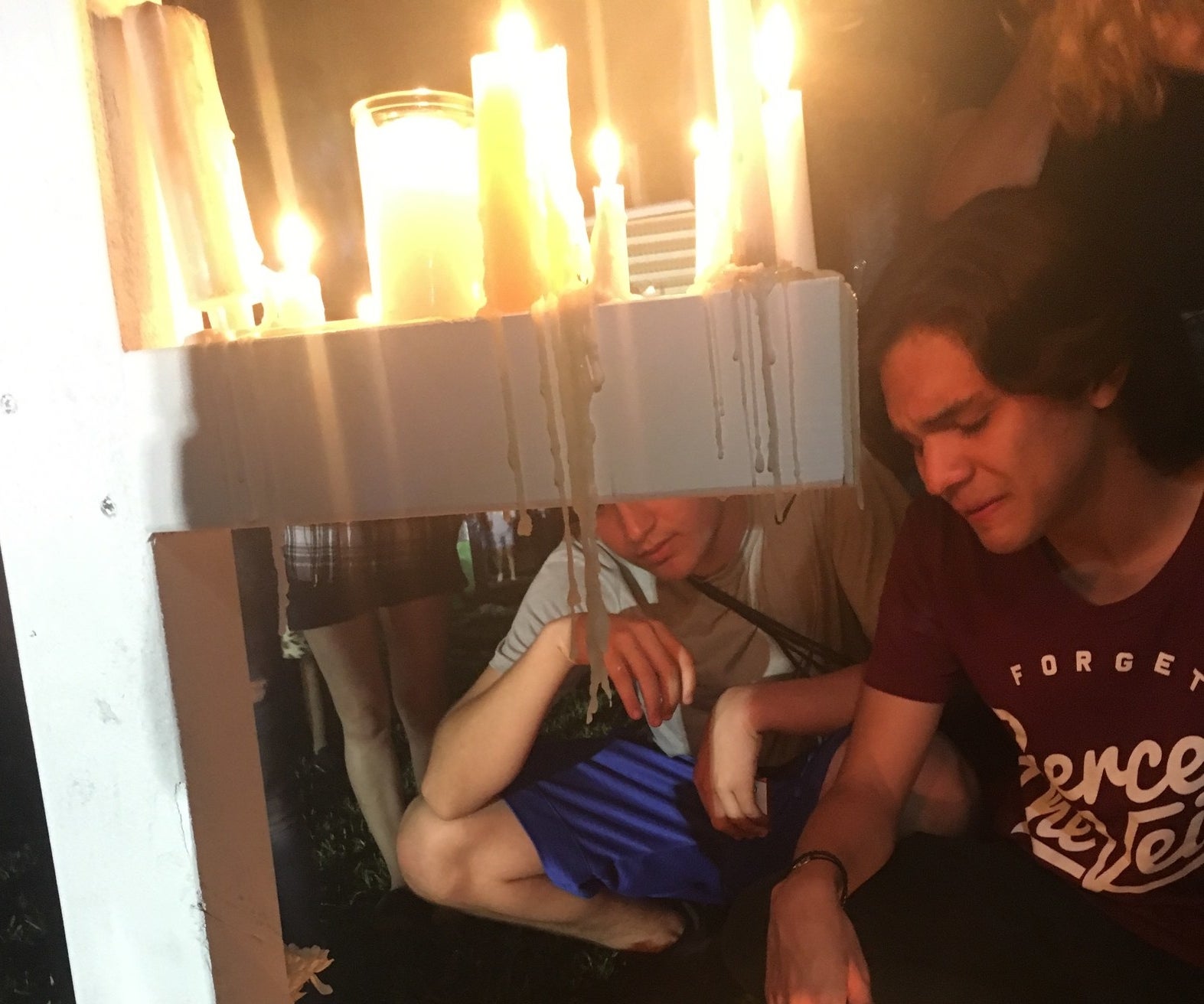 As it grew dark, and people began to light candles, a crowd filled with teens, kids, parents, grandparents, and strangers alike looked to an amphitheater straddled by palm trees as mourners spoke. One of them was Fred Guttenberg, whose daughter Jaime Guttenberg was killed in the attack. He couldn't remember if he told his daughter "I love you" before she went to school that day.
Young girls gasped and cried as the names of the victims of the shooting were read aloud by the senior class president. A boy, who had a skateboard propped under his foot, held a candle jointly with the girl next to him while she intermittently cried on his shoulder. A woman held up a bouquet of purple daisies.
As white balloons floated into the sky, the vigil concluded. "Oh, there you are," one girl said to another, who burst into tears and collapsed into her friend's arms.
Sara and Jared were also embracing their friends, forming a circle with their arms around one another. Sara, asked what she planned to do after the vigil, replied, "I don't know what I'm supposed to do."