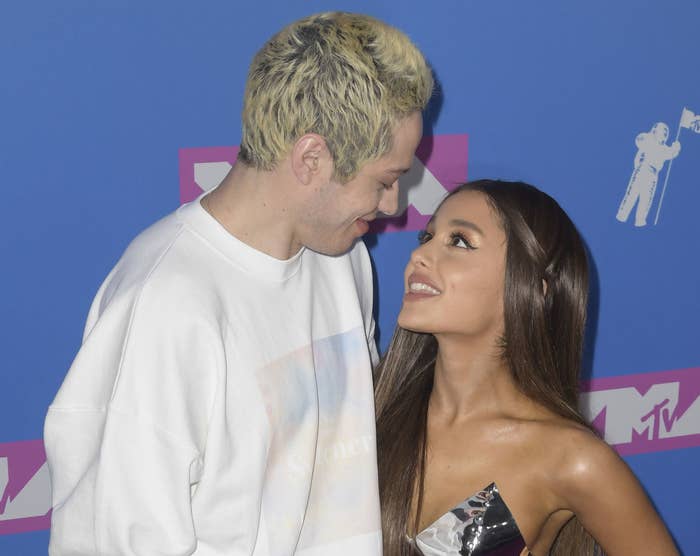 After pop superstar Ariana Grande and SNL cast member Pete Davidson's breakup, a guy named Tim Cigelske, a 37-year-old social media director and adjunct professor at Marquette University, tweeted a link that promised gossip about why the relationship ended.

"Wow I can't believe this is why Ariana Grande and Pete Davidson split up," Cigelske, who lives in Milwaukee, wrote.

Other people subsequently hyped Cigelske's intel in a series of quote tweets. "U HAVE to read this omg," someone else added.
However, when people clicked on the link, they were directed to the voter registration page for Vote.org instead of gossip.

The scheme has spread across Twitter in recent days, with even Elle magazine using its official account to trick people into visiting a voter registration website. The magazine tweeted the link along with fake news about Kim Kardashian West and Kanye West breaking up Thursday afternoon, which of course threw Twitter into a tizzy.

The outlet apologized for the tweet by Thursday evening, writing: "We made a bad joke. Our passion for voter registration clouded our judgement and we are sincerely sorry."

It's unclear how successful this trick has been overall.

However, BuzzFeed News spoke to people who said the Davidson-Grande bait actually did inspire their voter registration or encouraged their participation in the midterm elections.

Tony, a 29-year-old from Victorville, California, said he "laughed for a good two minutes" about the trick and registered to vote.
"I always put off registering but once I was already there I figured might as well. I'm glad I did it though," Tony told BuzzFeed News. "It's just a shame to know that the only way to get people to pay attention is through celebrity gossip."
On Twitter, Tony wrote that it was "well played."
Tory from Lexington, Kentucky, told BuzzFeed News that he was thankful for the trick.

"I don't live at the address of that precinct anymore, so I'm not sure what would have happened," the 27-year-old said. He tweeted about the change in his address.

"I'd have been screwed," he said, expressing gratitude for the clickbait.
Another person who clicked was Jared, a 19-year-old who lives in Chico, California. He was properly registered, he told BuzzFeed News, but the strategy reminded him to vote on Nov. 6.

The link, he said, "persuaded [him] to get back into the voting process."

"I had pre-registered to vote when I was 17, so it's not like I wouldn't have been able to," he said. "It just reminded me that as a young person in the US I should really embrace my power to choose in politics."
Another 20-year-old said that she would have forgotten about voting, if not for her attempt to learn more about the Davidson-Grande breakup.

"I'm grateful for the link," Azarian, a 20-year-old from New Orleans, told BuzzFeed News. "I think it's a clever way to get people to vote since everyone is so caught up and distracted by the media, but find it hard to participate in things that matter. Honestly, if it wasn't for the link, I would've forgot about voting, distracted by everyday life."
"You got me," she wrote on Twitter. "I registered."

Christine Lebiecki who, like Cigelske, works at Marquette University, also registered to vote because of the link. "I am not going to lie, I clicked on the initial link he posted and literally laughed to myself as it took me to the voter registration page," she told BuzzFeed News. "I was his target market for his post."
Lebiecki said that she had "recently moved and had not yet registered to vote under [her] new address."
Other people, who didn't return BuzzFeed News' request for comment, also tweeted that the false promise of Davidson-Grande gossip led them to register to vote.
"I have to admit," this person tweeted. "I registered to vote through a tweet that I thought was about Ariana and Pete's break up."
They said that the tweet is what inspired them to "actually" register.

"This tweet is the one that finally got me to stop fucking around n actually do it," one person wrote.
"Damn..." someone else began, before saying it was what "actually" what caused him to register.
This person said it "actually" got him to register, too.
Although many responded positively to the clickbait intended to boost participation in the democratic process, some seemed less than thrilled about the new voters the link might have created.

"I don't want the kind of people who would click on this link to vote," someone commented.

As for those who responded negatively to the strategy Cigelske used, he said: "Every meme life cycle on the Internet eventually has a backlash, but the feedback I've received so far has been overwhelmingly positive."

He also made a distinction between his own tweet and the one from Elle magazine. "When Elle tweeted the same thing today it changed the dynamic," he said. "It's different when a brand tries to capitalize on a trend, as opposed to a 'random tweeter' like myself."
Lots of people also took issue with Elle magazine participating in the trend. The tweet from the magazine was called "trash nonsense" by Roxane Gay and someone else said that it wasn't "ethical or appropriate." The outlet did not immediately respond to BuzzFeed News' request for comment about the backlash.

A spokesperson for Vote.org said that more than 100,000 people under the age of 30 have registered to vote since Oct. 12.

Referring to the memes, the spokesperson said, "While we can't suggest they caused all the registrations, we can say all of the cultural conversations surrounding voting certainly correlate to spikes in young voters engagement."
The Pete-Ariana tweet is not the only one using the promise of celebrity breakup gossip to encourage voter registration.

In fact, Cigelske wrote that the below tweet, which directs to Vote.gov, is what inspired his own.
As for the real reason for Pete and Ariana's breakup, many people still want to know.

Cigelske responded to one person, saying: "We'll find out after midterms."