Medical professionals are sharing gruesome photos of what it's like to treat shooting victims in response to a tweet by the National Rifle Association that admonished doctors who were advocating for tighter gun restrictions to "stay in their lane."
"Someone should tell self-important anti-gun doctors to stay in their lane," the NRA tweeted last week, the same week a gunman opened fire inside a bar in Thousands Oaks, California, killing 12 people.
The NRA was criticizing a new paper by the American College of Physicians that details suggestions for addressing gun violence, but it set off a firestorm of responses from doctors who regularly treat shooting victims.

"Do you have any idea how many bullets I pull out of corpses weekly? This isn't just my lane," Judy Melinek, a forensic pathologist, responded on Twitter. "It's my fucking highway."

Other medical professionals also challenged the NRA, sharing gruesome photos and anecdotes about what it's like to be on the front line of gun violence. Four of them told BuzzFeed News on Monday via email that the toughest part of their jobs is speaking to the families of victims.

Robert Lyons, a cardiothoracic surgery fellow at the University of California, Los Angeles, told BuzzFeed News that "the raw emotion of that moment stays with every physician for the rest of their life."
"The death affects that family and all of those that tried to save them forever," he added.

"16 y/o GSW to the Aorta. @NRA his mother is in the waiting room," Lyons wrote on Twitter with a photo of blood spattered on his face mask. "Should you tell her he didnt make it? Didnt think so. #stayinmylane #ThisISMyLane"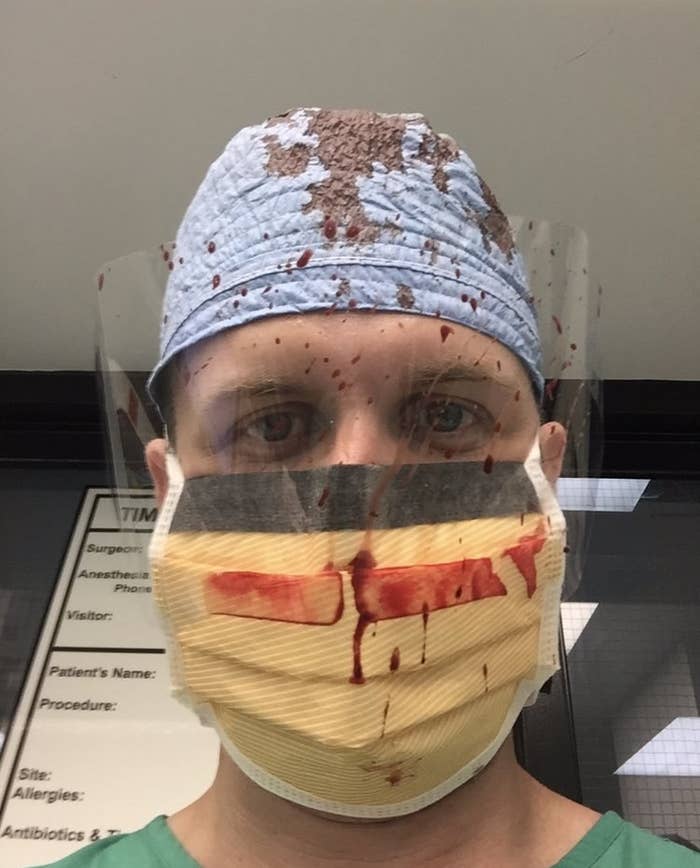 "What the photo doesn't show is the vast number of nurses, doctors, techs, [and] staff that poured their heart and soul into treating not only this victim of violence, but every victim that comes in," he said.
Adam Shiroff, the director of the Penn Center for Chest Trauma in Philadelphia, told BuzzFeed News he has treated shooting victims for more than 10 years.
"Without question, the most difficult part, as has been echoed recently by friends and colleagues on Twitter, is not the technical aspects of complicated and high-risk operations, it's the human aspect," he said. "It's having to change your bloody scrubs before you go talk to the family to tell them that their son is dead."
"It's standing at the sink after someone didn't make it to wash your hands six times to get the blood off because there was no time to change the glove with a hole in it. The realization that it could have been your son, daughter, father, mother who was shot because bullets don't care if you are black or white or rich or poor."
"It's devastating to the health care team and we do it every single day."
Another apparent medical professional also responded by sharing a photo of a bloodied hospital room, tweeting: "She didn't make it."
Esther Choo, an associate professor at Oregon Health & Science University, told BuzzFeed News she has worked as an emergency physician in urban trauma centers her entire career and has treated "countless patients" with firearm injuries.
"I've never gotten used to telling a mother their child is lost to gun violence," Choo said. "I hope I never do. And I'll never forgive all of us for failing to advance science and public health measures in this area."
Melinek, the forensic pathologist in San Francisco whose tweet response to the NRA took off on social media, told BuzzFeed News she has performed autopsies for more than 300 gunshot wound cases.
"Some have as few as one gunshot wound and others as many as 43," she said. "I have autopsied children accidentally caught in the crossfire and even intentionally killed by their own parents."
But Melinek wants Americans to know "that there is a solution."

"The doctors and scientists told us how to mitigate auto vehicle deaths and deaths from smoking," she said. "We should listen to them and fund gun violence research if we want to see a drop in gun deaths."

Shiroff also wants people in the US "to understand the breadth of this problem."

"Mass casualties, like the ones recently in Thousand Oaks and Pittsburgh, are unquestionably horrific events, but the truth is that each major city in the US sees a mass casualty of gunshot violence every week," he said. "The public should understand that the majority of us in the medical community are not anti-gun; we are anti-meaningless, preventable deaths."