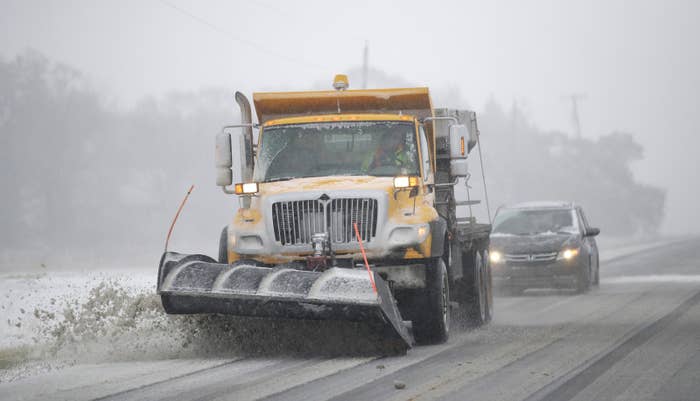 A winter storm has hit the Midwest with strong winds and snow, stranding some travelers heading home after the holiday.

The National Weather Service called traveling on Sunday "very dangerous." By Sunday afternoon, hundreds of flights had been canceled, according to FlightAware.

The agency expected the storm to develop through Sunday night and warned of blizzard conditions for the zones marked in red on this map.
The NWS said Sunday afternoon that "very heavy snow and strong winds" were expected through Sunday night in parts of Illinois, Iowa, and Missouri. More than 8 inches of snowfall were predicted in the impacted areas.

Given the force of the winds and the heavy snowfall, power outages were possible, the agency said, and added that "very cold temperatures" — roughly 12 to 25 degrees lower than average — could follow the storm.

Kansas Gov. Jeff Colyer issued a "disaster emergency declaration" for the state, which, like Nebraska, reported blizzard conditions Sunday morning.

People shared photos and videos of the winter storm Sunday, like this footage of a barely visible highway in Kansas.
Or these pics of a patio transformed by snow. "#WinterStormBruce has crashed Thanksgiving Break," this person said.
In Kansas City, Missouri, where winds of 50 and 60 mph were possible Sunday afternoon, the NWS discouraged people from traveling. "Best to stay inside today," the agency said.
"If you don't have to drive right now, don't," the Nebraska State Patrol said on Twitter Sunday morning.

While the storm has meant many that people begrudgingly accepted their trapped fate, not everyone seemed that bothered by it. This person seemed delighted to have more time with this "teddy bear of a dog."

"At least I'll be with this buttface for two more days," another person said.

"Perfect day in Kansas to stay off the roads and build a snowman instead," someone else said, sharing a picture of a little girl with a newly built snowman.