A Man Threatened "People Offended By Christmas" And It Totally Backfired
"If this country loses its identity, the rest is meaningless."
On Saturday, Twitter user "Anish Patel" wished everyone an early Merry Christmas, and then told those "offended by Christmas" that he will drive them to the airport.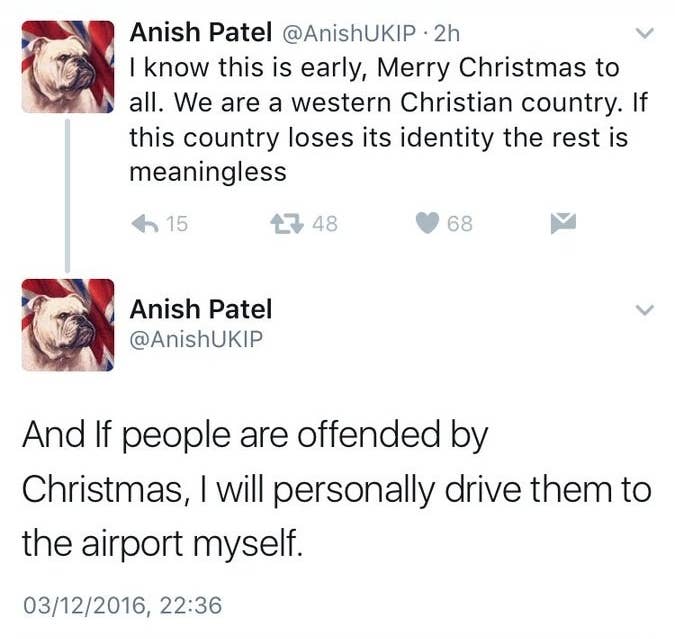 Londoner Tim Emanuel, 44, felt compelled to respond to the Twitter "threat." He told BuzzFeed News that he thinks the so-called war on Christmas is "ridiculous."
"Nobody is offended by anyone talking about Christmas," he said, "but reactionary types seem to invent that people are so they can be angry at it."
"Hi Anish," Emanuel responded to the tweets, "I'm offended by Christmas and I'm flying out of Luton on Thursday. Pick me up at about 10:15am?"
And a bunch of other people then requested rides as well. "I am v v v offended by xmas," this person assured. "I fly to Luton on 5th and out again on 13th, can you help?"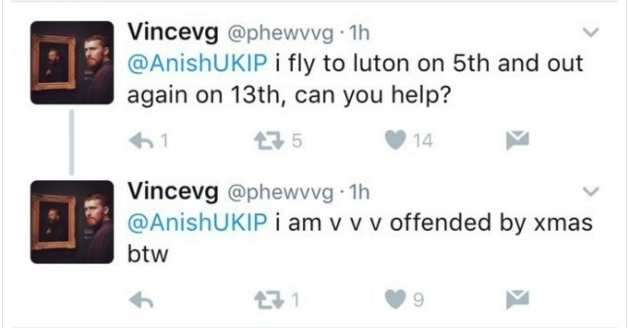 "I HATE Christmas," this person headed to Copenhagen on Thursday stressed with capitalization.

"I would hate it if I had to leave the UK via Heathrow at two pm on the 23rd," said another.

Someone else happened to be leaving on the 23rd too and suggested they coordinate.

This person, traveling with a group, recommended "Patel" rent a larger vehicle for the occasion.

People just did not stop. "I'm offended, can I get a lift to Stansted on Monday 12th of Dec?"

"Can you get me to Gatwick for 3am Wednesday morning?" this person asked.

Screenshots of the initial tweet and responses have been shared thousands of times. "I love it when Twitter is perfect like this," said the person who captured this ~festive~ thread.
But not everyone was entertained. "Funny response yet people shouldn't be offended by Christmas," one person replied.
But the overwhelming responses were, humanity is wonderful.

And, bummer that the threat was empty.
BuzzFeed News has reached out to Twitter user "Anish Patel" for comment.