Meet Steven Kleinschmidt. Kleinschmidt is a 21-year-old college student at Lipscomb University in Nashville. Kleinschmidt told BuzzFeed News that he studies mechanical engineering.
On Friday, a Twitter user named @gracerandles expressed a HUGE fear on Twitter and Kleinschmidt responded to it.
Kleinschmidt apologized to his future wife for having the last name Kleinschmidt. He said he knows his last name is not exactly ideal for a wedding hashtag, he told BuzzFeed News. His tweet went massively viral.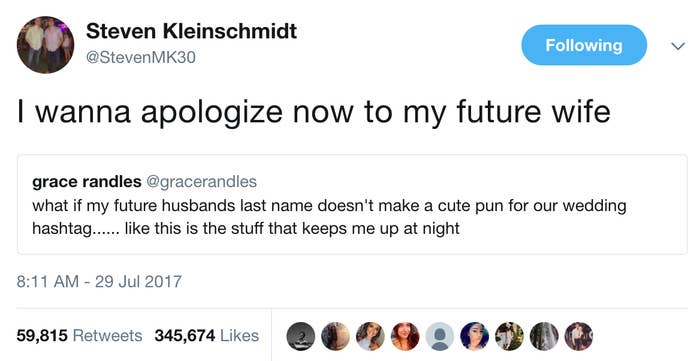 Someone has already accepted the guy's apology.
And others said that they are faced with a similar predicament.
But MOSTLY people responded with potential wedding hashtags.
"It's been very entertaining," Steven said of all of the hashtag ideas. He found that the most useful suggestions involved puns of "smitten." "Everything else was clever but nothing you'd ever really use for a wedding hashtag," he said.
Some people suggested that Kleinschmidt was destined to meet the future ~Kleinschmidt~ in the replies...
...
Kleinschmidt, who's single, said that a "few people" have slid into his DMs. However, no formal dates have been made — YET.