Elon Musk is attacking a diver who helped rescue a group of teenage boys from a Thai cave last week after the rescuer criticized Musk's mini submarine, which he designed to help with the mission.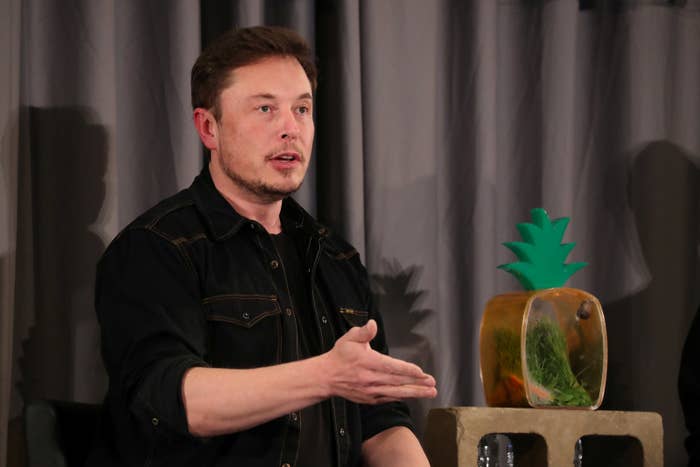 British diver Vern Unsworth called Elon Musk's submarine rescue plan a "PR stunt." He did not hold back, saying that Musk can "stick his submarine where it hurts."
In an interview with CNN, Unsworth described Musk's mini submarine as useless and as nothing more than a grab for attention.
He also said the billionaire was asked to leave the cave.
"It just had absolutely no chance of working. He had no conception of what the cave passage was like. The submarine, I believe, was about 5-foot-6 long, rigid, so it wouldn't have gone round corners or round any obstacles," Unsworth said.
"It wouldn't have made the first 50 meters into the cave from the dive start point. It was just a PR stunt."
Unsworth played an important role in the dangerous mission and helped to connect British experts and Thai authorities.
He was a key member of the team because of his thorough knowledge of the cave system, which he spent six years navigating, CNN reported. He also has been involved in smaller cave rescue missions in the UK, and he advised local authorities to bring on a team of expert divers.
"It was a race against time," he told CNN. "They needed world-class divers and that's what we got."
The boys were found only 200 meters away from the location where Unsworth predicted they'd be; it was "probably around about the best place they could have been," he told the news outlet.
After the interviewer noted that Musk personally visited the cave, Unsworth replied, "And he was asked to leave very quickly. And so he should have been." Musk left his mini submarine there.
After the complicated rescue mission started, Musk shared footage of his mini submarine in action on Twitter. The plan was for one boy to be placed inside at a time and be transported to safety.
Unsworth's comments did not sit well with Musk. He fired back on Sunday morning, saying that he never saw Unsworth and was never asked to leave.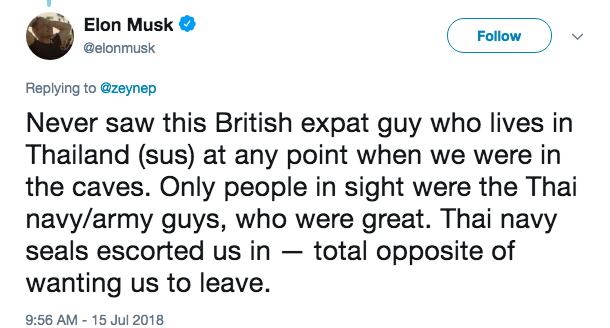 Musk then responded to a tweet that contained excerpts from a New York Times op-ed by Zeynep Tufekci titled "What Elon Musk Should Learn From the Thailand Cave Rescue."
He called Unsworth a "dude" and challenged him.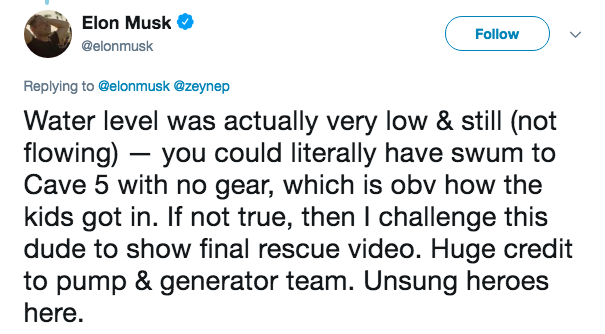 Then, bizarrely, he called the rescuer a "pedo guy."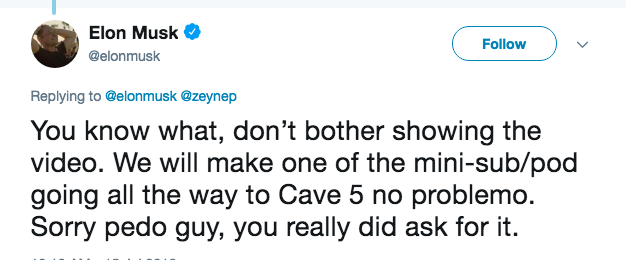 Unsworth now says he is considering legal action over the comments.
He told The Guardian: "I believe he's called me a pedophile. I think people realise what sort of guy [Musk] is."
Asked if he would take legal action, he said: "Yes, it's not finished."
Plenty of people took issue with the billionaire's baseless accusation that the man who helped with the complicated cave is a pedophile:
But Musk responded directly to the criticism by doubling down on his comment:

He also responded to someone who called his mini submarine "absurd."

And wrote that his submarine device was sourced expertly on the internet with "experienced cave experts."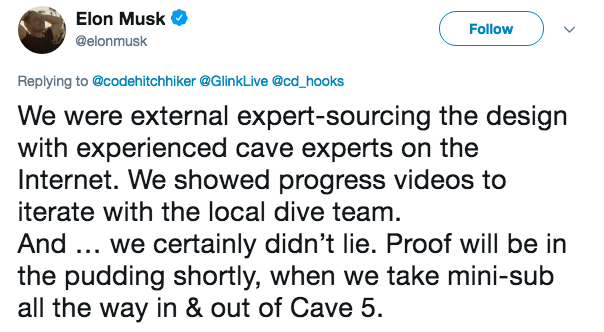 Eventually, though, Musk deleted the tweets, including the one calling the cave diver a "pedo."
Last week, Musk released correspondence between him and one of the British divers involved in the complicated rescue mission, Richard Stanton. Stanton wrote that it was "absolutely worth continuing with the development of this system."
This release of communications followed heavy criticism of Musk's plan, and the man, who directed the rescue mission, saying that the billionaire's design "doesn't fit with our mission to go in the cave."
In a tweet that has since been deleted, Musk brought up Stanton once again on Sunday: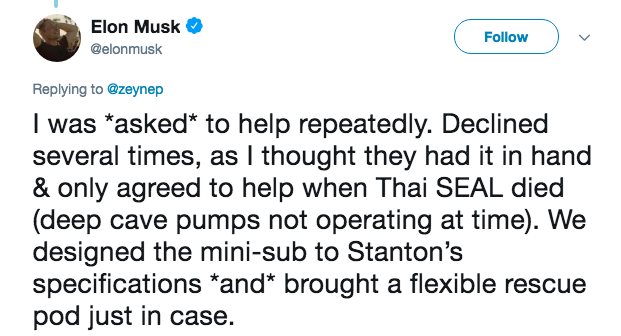 Neither Unsworth nor a representative for Tesla immediately responded to requests for comment from BuzzFeed News.