Trinidad James Is Sorry About All Those One-Hit Wonders In Hip-Hop
The rapper who broke the mold for hip-hop stardom with his 2012 hit "All Gold Everything" now says signing artists on the basis of viral singles is "stupid as fuck."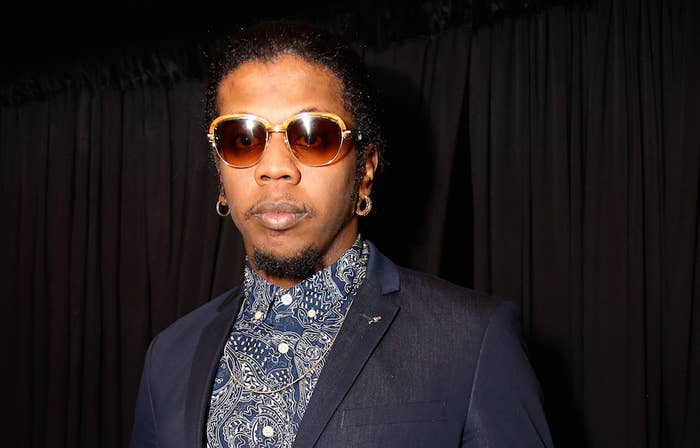 Few artists offer a better example of how quickly fortunes can change in the modern music industry than Nick Williams, the Atlanta rapper known as Trinidad James, whose spectacular rise in 2012 (on the back of the viral single "All Gold Everything" and its blingtastic video) was followed by an equally stunning descent last year, when he announced that his recording contract with Def Jam — once valued at a reported $2 million — had been unceremoniously terminated.
But the collapse of his major label career — which he now attributes to a combination of creative differences, industry malpractice, and his own inexperience as an artist — wasn't the end of the story for Williams. In November of last year, Mark Ronson and Bruno Mars sampled some the lyrics of "All Gold Everything" ("Don't believe me, just watch!") for their single "Uptown Funk," which later went on to tie the record for second-longest run at No. 1 on the Billboard Hot 100 in history (14 weeks). Williams was given a songwriting credit and a share of publishing royalties for the song, a distinction that could make him a very wealthy man for the rest of his career — whether he ever writes another hit or not.
BuzzFeed News called Williams at home in Los Angeles, where he moved to from Atlanta two months ago, to talk about life after "Uptown Funk," how the music industry "preys on young children," and why he feels responsible for the recent wave of one-hit wonders in hip-hop, from Bobby Shmurda to O.T. Genasis. "After me, all the labels had thirst in their eyes to catch a new kid with the hottest song and sign him," he says. If Williams' story is a cautionary tale, is anybody listening?
How did they approach you about using "All Gold Everything" in "Uptown Funk"?
Trinidad James: Last year, I heard from Bruno Mars that he wanted to sample one of my songs for his song. With situations like that, you really never know what's going to happen until the song comes out. So I just kept doing my thing, focusing on my own projects. Then when it came out at the end of last year, I was like "Wow, OK, this is a good song!" It's a very innovative song and a big deal for [Bruno] and Mark Ronson. Nobody's doing a sound like that on a mainstream level. So I was super happy to be a part of this new wave of music that's happening.
When was this?
TJ: I heard about it four to six months before it came out that he was sampling one of my songs.
Did you know which song they wanted? You didn't get to hear their song beforehand?
TJ: No. I didn't know which one and to be honest, I didn't care. I was just focused on other things that were going on. I wasn't worried about it. [I thought,] Whatever it is, it's gonna be pretty good because he does good music. He's Bruno. It's like if Kanye asks you, you're not gonna say no. It's like, "Cool! Thanks!"
You're credited as a co-writer on the song. What split did you get of the publishing?
TJ: I don't wanna talk about that. But what I got was good enough for me. I'm happy, I'm good.
Have you started getting royalties from it?
TJ: That comes in down the line. There's a lot of things going on with it. The song is huge. It's like "All Gold Everything" but in the pop realm, which is 100 times more elevated than hip-hop. It's on Ellen, it's on Dancing With the Stars, it's in movies. It's huge. So we good. It's dope.
After all that you've been through over the past few years of your career, to suddenly be a part of the second-longest-running No. 1 song in history must have been pretty dizzying. I'm curious how you explain it to yourself. Do you think it was the hard work you put into the song? Karma? Random luck?
TJ: The way I look at it, honestly… after I started hearing it every day, everywhere I went, I looked at it as Oh, this is a blessing from God. Basically I look at it as a message from God telling me that coming into 2015, you need to put the work in because it's time. Everybody has different opinions on this that and the other thing, but boom! This is a blessing in your favor. Use it to your advantage. You gotta work. That's why I came into 2015 guns a-blazin'. I just dropped my third project. I got my label Gold Gang Records. I got five artists signed to it. I look it as a sign from God saying to keep working. Even when the clouds come and you really don't see no light, that was the light for you to have something to keep working for.
If you're a label, you shouldn't be signing artists to a major deal off of just a single or a hot song — that's stupid as fuck to me.
How are you feeling about the music industry in general these days?
TJ: I feel like it's good because independent artists have an opportunity to not necessarily depend on, or make their goal in life to be signed to a major. Because sometimes you don't want those major label problems, or those major label hiccups, depending on what type of artist you are.
It's like being an independent store owner and then having that same independent store be inside of a mall. You can't just throw parties like you wanted to or have in-store events however you wanted to when you were in your own private place. Now that you're in the mall, you gotta ask permission because you're in somebody else's location. That's the best example I can give. It's about having your own independence and doing things how you want to, like, "Oh, I can just drop this right now because it feels right." At a label it's like, "Nahh, you've gotta wait on this" and all kinds of bullshit. So when you don't have the right label behind you, it's a waste of time, from a creative standpoint.
I think labels should be more flexible with artists and willing to understand their ideas. If you're a label, you shouldn't be signing artists to a major deal off of just a single or a hot song — that's stupid as fuck to me.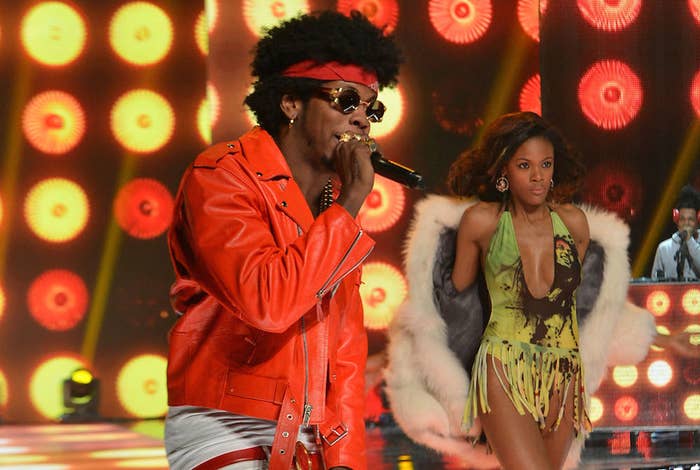 It seems like that's been a recurring theme in hip-hop the past few years — an unknown artist goes viral and immediately there are million-dollar bidding wars.
TJ: I feel that's a wave that got out of control after I came in the game. That's the way I feel. After me, all the labels had thirst in their eyes to catch a new kid with the hottest song and sign him.
Back in the day, they were signing people who had put in good groundwork. Wiz dropped a decent amount of projects before he became full-fledged Wiz. Same with Drake, Kendrick, Wale, Big Sean — they put in a lot of mixtape groundwork and did a lot of work themselves before they got signed. I feel like I changed the game when I came in with one mixtape and then got a deal. For me, as an artist, I feel like I have to play catch up now as far as understanding the game and understanding how to be an artist. Everybody else had years to become the artist they wanted to, and then finally the labels were willing to get behind them. But the labels got behind me as soon as they seen me.
That's a blessing, but at the same time, if you're gonna get behind somebody and hold them back, that's a waste of their time. And it's kind of fucked up to a certain extent.
In a sense, it's like the labels didn't learn their lesson after what happened with you.
TJ: Labels wanna win, and with the record industry being so jacked up with people not buying physical CDs, and everything transitioning to the digital world with Spotify, Tidal, iTunes, etc., it's a global shift. So I think starting a few years ago, major labels really started trying to reinvent themselves and become a little more creative about their revenue streams so they could actually make profits and be successful.
So I think with artists who were already developing at a young age, Migos and guys like that … the labels had to catch up. As a business, you have to always be evolving, that's what good business is about. But if you talk to the majority of artists, they'll say it's always a battle with the label. So I think now with the internet and this new game, artists are going to stop battling with the labels. I'm not going to keep begging you to put me out. Fuck you, respectfully. If the stars align, and you start popping on WorldStar or SoundCloud, and you kill a festival like SXSW or Coachella — now you that n***a. You don't need a major label for that. You just gotta keep working.
They just expect us to be already fully military trained and drop us in the middle of Afghanistan.

What do you think when you see other rappers getting signed off viral singles now?
TJ: Now they're preying on the young children. They're not giving them a chance to fully develop. Their songs that are popping, they already popped in the underground and the clubs — that's what the DJs are playing. They're already turnt up. So what they need is just a good investor, not a major label, just a respectful, loyal, worthy investor, somebody who gets what's going on and let them be the label. Shoutout to my CEO at my label TIG, he seen it early and he invested early into "All Gold Everything" and into my project, because it's like why keep giving those wins away to major labels? All they gotta do is press a button. It's already microwave ready. They ain't doin no work.
I think that's a problem with hip-hop. I don't really see it happen like that with singers and overseas artists. In my entire life I had never heard one ounce of news about Lorde, and then she came out of nowhere and had the hardest summer ever and been turnt up ever since. She went from nothing to Taylor Swift in one summer. But when you look at the background, they'd been coaching her and teaching her and nurturing her to be ready for it. I feel like that doesn't happen with young hip-hop artists that get signed. They just expect us to be already fully military-trained and drop us in the middle of Afghanistan. Come on.
And I don't know the backstories of some of these guys who have come up behind me, so I can't speak for them. But when I look at it I see that these kids have doper music than the singles that everybody's brainwashed with. I know when they go to perform [they have the] feeling of "How you know this one song so well, but I got way better songs or equivalent songs and nobody knows those? No one wants to push that?"
My thing now is to push projects, stop pushing singles so damn hard. The single's cool, but push the project, because that's what defines the artist. Nobody really became the fucking truth off of just singles. Jay Z had hard albums, Kanye had hard albums, Drake got hard projects. Real artists don't just push one song — that shit's wack as fuck. I got a hundred hard ass songs, so I'm pushing these projects. That's what I've been on this year. I've dropped probably one song this year by itself. I'm only putting out projects, probably for the rest of my life. I'm good on that single shit, you could suck my dick.
Unless it's that turnt up where you can't help it and the universe is making it happen, but I'm not forcing it. For what? That shit's stupid.
How do you feel when you hear "All Gold Everything" now?
TJ: It's mine. It's like your job — it might be crazy, but it's yours. You might not like everything about it all the time, but it's yours. I'm happy about it. I don't have to listen to it all the time, but I still think it's the shit. People still love it. It's a classic. It's for what it's for. It's not a Celine Dion song or anything, but it's for what it's for in hip-hop.
This interview has been lightly edited and condensed.