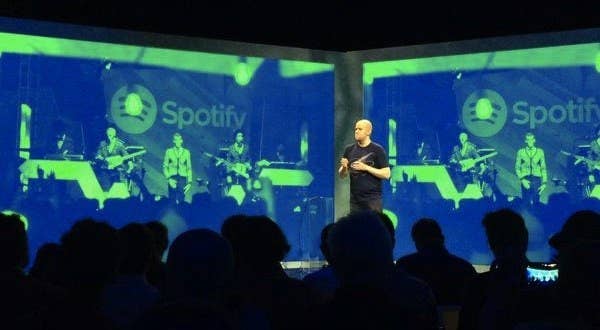 Spotify is no longer content to be one of the world's largest music streaming services. It wants to be a full-service, 24-hour entertainment destination.
At a press conference in New York today, the Stockholm based company announced that it will bring video to Spotify setting it up to compete with other online video destinations like YouTube, Vevo, Vimeo, and Vessel. Additionally, Spotify will now feature podcasts from outlets like Radiolab and Slate. Launch partners for Spotify video include Vice News, Comedy Central, and the Nerdist network.
A redesigned version of the service with videos and podcasts will begin rolling out to users over the next month.
Spotify founder Daniel Ek began the conference with a litany of statistics boasting Spotify's rapid growth in recent years, including 25 billion hours of music streamed, and 2 billion "discoveries" per month, where a user is playing an artist for the first time. He called Spotify "a technology company by design, but a music company at heart."
Ek then announced a new version of the service designed to allow for a more seamless user experience around a variety of different forms of media, including video and podcasts.
The full list of video content partners includes ABC, ESPN, BBC, NBC, MTV, Fusion, Maker Studios, TED, and more.
Rather than full episodes of shows, Spotify's video offerings will be limited to short video clips typically under 10 minutes, a representative for the company told BuzzFeed News. Videos will be available on both the premium and free versions of Spotify.
To help announce the new initiative, Ilana Glazer and Abbi Jacobson, creators of Comedy Central's Broad City, made a cameo with a clip from the show's most recent season. In an awkward presentation, Glazer expressed how excited she was to access Spotify's "juicy clientele."
Spotify also announced a new running mode called Spotify Running designed to automatically select music of appropriate BPMs for workouts. The company partnered with a variety of music producers, including the EDM star Tiesto, to create six original songs custom tailored for runs. Additionally, Spotify will be integrated into the popular running apps Nike+ and RunKeeper by this summer, Ek said.
Since it launched in the U.S. in 2011, Spotify has grown to become a dominant player in the music industry as streaming has become the fastest growing method of music consumption. Last year, music streams were up 54%, according to Nielsen Music, while album sales and digital track sales declined 11% and 12.5%, respectively. At the Music Business Conference in Nashville last Tuesday, Spotify's Director of Economics Willl Page claimed the company was responsible for fully 10% of the recorded music industry's revenue so far in 2015.
The push into video adds a new layer of value to the service's 60+ million users, who Spotify hopes will turn to it as a one-stop shop for on-demand entertainment both on desktop and mobile devices. It also helps Spotify to differentiate itself as the streaming field becomes more crowded.
Since March, Jay Z and other top stars have caused a stir in the press with Tidal, an artist-owned streaming service that has focused heavily on exclusive content (including, this week, a new music video from Nicki Minaj and Beyoncé for "Feeling Myself"). Next month, Apple is expected to alter the landscape even further with a relaunch of iTunes catalyzed by its acquisition of Beats Music last year.