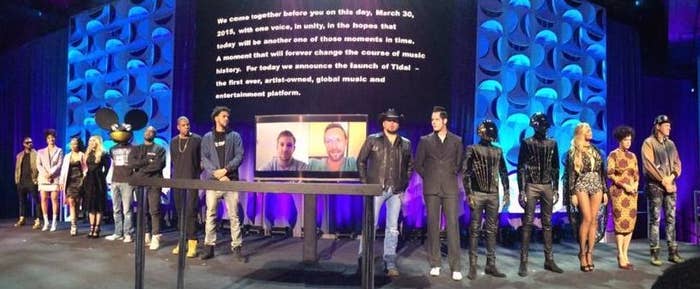 Update — March 30, 7:15 p.m. ET
Jay Z had one message above all at the high-profile launch event for Tidal on Monday: This is a streaming service for artists, by artists. Before a small crowd of about 100 business-casual music industry professionals sipping on complimentary Dussé cocktails, the hip-hop star and business mogul convened music's superstars to offer a new vision for "the future of music."
The venue, a hangar-like space with vaulted ceilings inside the landmark James A. Farley Post Office and across the street from Madison Square Garden, was made intimate by heavy curtain barriers and moody purple-and-blue floodlights. The entryway to the main space set the stage for what promised to be a momentous affair: a museum-like photo tour of music history, from Buddy Holly to Maroon 5.
One of Tidal's main selling points is superior audio quality, and guests were given pricey Sennheiser headphones with which to enjoy the Jay Z-sponsored tunes. Kiosks featuring Samsung tablets, pre-loaded with Tidal, let attendees experience the new service for themselves. Note that that's Sennheiser and Samsung: Beats and its parent company Apple — now Jay's biggest rivals — were conspicuously left out of the event.
Vania Schlogel — the chief investment officer of Roc Nation, but who introduced herself only as a "proud member of the Tidal team" — took the stage at 5 p.m. sharp. She spoke briefly but in in bold, broad strokes, calling Tidal "the future of music" more than once in a 30-second span. The nascent service, launched last October in the U.S., is reintroducing itself under the umbrella of Jay Z's S. Carter Enterprises. But the new Tidal is more than one man's venture.
"Every great movement has been started by a few brave people who band together for a common cause," Schlogel said, as jovial chatter could be heard from the other side of a curtain behind her. She announced that Tidal had partnered with Sprint, promising that the service would be easy to use offline and declaring that it would be nothing less than "the most revolutionary music and entertainment platform for the planet."
Guests were told little of what to expect from the event, other than that Jay Z would be announcing "a new direction" for consumers and the music business, but earlier in the day a video promo for Tidal featuring Daft Punk, Rihanna, Jack White, and several other celebrity endorsers hinted at the scale of what he had planned. To a stunned crowd, all of those artists, plus Madonna, Usher, Beyoncé, Kanye West, Alicia Keys, Jason Aldean, Win Butler and Regine Chassagne of Arcade Fire, J. Cole, Deadmau5, and Nicki Minaj — with Chris Martin and Calvin Harris joining via video conference — took the stage in solidarity with Tidal. If the building were to have collapsed at that moment, popular music as we know it would have been summarily silenced.
Keys, taking the mic from Schlogel, called Tidal "the first-ever artist-owned global music and entertainment platform." In an interview with Billboard, Jay Z confirmed that all of the artists on stage had been given equity in the company, and that a subsequent smaller funding round would allow more artists to gain a stake in Tidal. After brief remarks from Keys, who joked that the ceremony felt like a graduation, the event closed with each of the artist-owners signing a ceremonial "declaration." Rihanna and Usher joked with each other at the far end of the stage, while Beyoncé mouthed to fans in the crowd.
After the signings were done and the lights dimmed, Jay and Bey took a victory lap, followed by a throng of fans and photographers. Whether or not Tidal delivers on its promise of an artist-driven revolution, this, at least, was a moment to savor.
Jay Z will announce the relaunch of Tidal, his recently purchased and much-hyped streaming service, at 5 p.m. ET today in New York. Stream the press conference here.
Top artists filled the stage to sign a declaration of the artist-owned streaming service.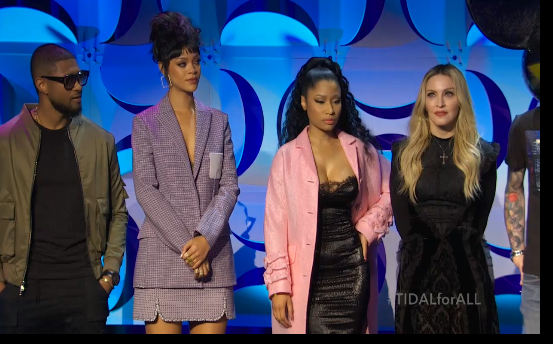 "This is the beginning of a whole new era," Alicia Keys told the crowd, describing Tidal's ability to connect music fans and artists.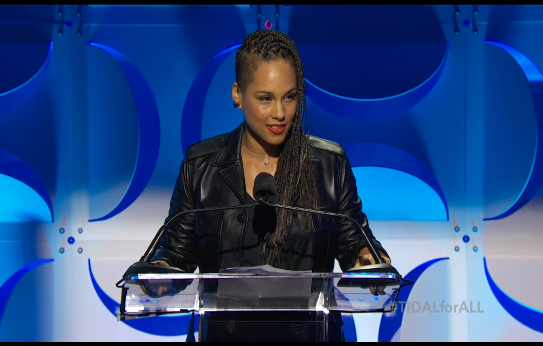 Tidal, originally launched in the U.S. by Swedish parent company Aspiro AB last fall, differentiates from competitors like Spotify and Rdio by offering high-quality 16-bit audio streaming.