Music streaming is a buyer's market, and over the course of its first 14 months, Apple Music has pitched itself to customers in a few marquee ways. There's the army of in-house music experts, working to craft note-perfect playlists for your commute and workout; the radio station Beats 1, which seeks to reinvent real-time, communal music discovery; and the exclusive releases from big-name artists — including Drake and Taylor Swift — before fans can get them anywhere else.
But for music streaming services, which rely on a delicate web of relationships with the artists, publishers, and record labels that supply them, keeping customers satisfied is only half of the equation. Viewed from up close, it's the benefits Apple Music has promised its industry partners — still reeling from decades of digital disruption — that have arguably defined the service's short life more than anything else.
"I don't know how to do this any other way, except to help make really good music, get it exposed, and get it handled and treated the way it deserves to be treated," Jimmy Iovine, who runs Apple Music after a long tenure as the founder and chief executive of Interscope Records, told BuzzFeed News in a recent interview. "That's the only thing that we know how to do coming from where we're coming from. You use all the tools you have to do that."
Iovine was striking a rare note of contrition, one month after a controversy over the implications of Apple Music's exclusives caused the world's largest label group, Universal Music Group, to distance itself from his company. UMG decided it would end most exclusives in late August after it was embarrassed by a lucrative deal between Apple Music and Frank Ocean, which enabled the superstar to go independent. The ban upended one of Apple Music's main selling points, and it left Iovine — a former record producer who sees bridging the worlds of music and technology as a personal calling — caught between the existential demands of his old business and his new one.
Apple's streaming service has tried to position itself as a kind of sixth man for the established music industry.
The clash over exclusives, which came to a head just weeks before Apple Music underwent a much-anticipated relaunch designed to make it more appealing to users, served as a reminder that the music service faces a war on two fronts: It's vying to lure subscribers from a field of strong competitors on the one hand, while defending its aggressive playbook to skittish content owners on the other.
"We put a lot into this, we've had some real successes, and we always hold up our end of the relationship," Iovine said, insisting that he has no intention of encroaching on record labels' territory. "We're feeling our way around and seeing what works ... Every time we do [an exclusive], we learn something new." He added that Apple Music would move forward with its pursuit of exclusives from other partners, such as Sony Music Entertainment and the Warner Music Group, noting, "It's Apple's show. As long as Apple's asking me to do what I'm doing, I'm gonna keep doing it."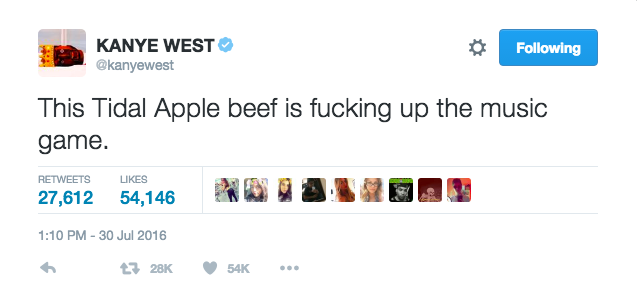 If exclusives have drawn the ire of some record labels, they haven't always endeared Apple Music to consumers, either. Fragmentation in music streaming — requiring fans to either pivot between services to access exclusive albums, wait days or weeks until they are released widely, or download them illegally — has accelerated in the past year, as artists are increasingly pledged to one service or another. Responding to whether fragmentation would hurt the business in the long term (as Kanye West and others have argued), Iovine was unfazed.
"I don't think we know yet, I don't think anyone knows yet," he said, musing that people could end up paying for multiple music streaming services, as they do with Netflix and Hulu. "A year from today could look extremely different from what it looks like right now."
More concerning to Iovine is something that directly impacts his company's bottom line: the proliferation of free, ad-supported music on competing services like Spotify and YouTube. Both have been accused by artists and labels of using a business model that takes money out of their pockets, and both boast user bases that dwarf Apple Music's (it has 17 million subscribers compared to Spotify's 40 million; YouTube says it has over a billion users). "The rights holders, whoever they are, have to do something, because there's a lot of free [music] out there, and it's a problem," Iovine said. "There's enough out there to make people say, 'Why should I subscribe to something?'"
The tension over exclusives highlights a central challenge for Apple Music, which believes its future relies on forging ever-closer ties with artists and record labels. More so than any of its competitors, whom have had to contend with the deep suspicion of rights holders, Apple's streaming service has tried to position itself as a kind of sixth man for the established music industry, a white knight riding in to restore the commercial and cultural value of music after decades of decline.

The feasibility of such a commitment was tested even before Apple Music launched. In June 2015, Taylor Swift, an industry unto herself, joined critics who protested that the service wasn't planning to pay royalties for music streamed during its free three-month trial period. Apple responded by quickly reversing the policy, eating the costs of the trials and earning a distinction as the only on-demand streamer to carry Swift's music in the process.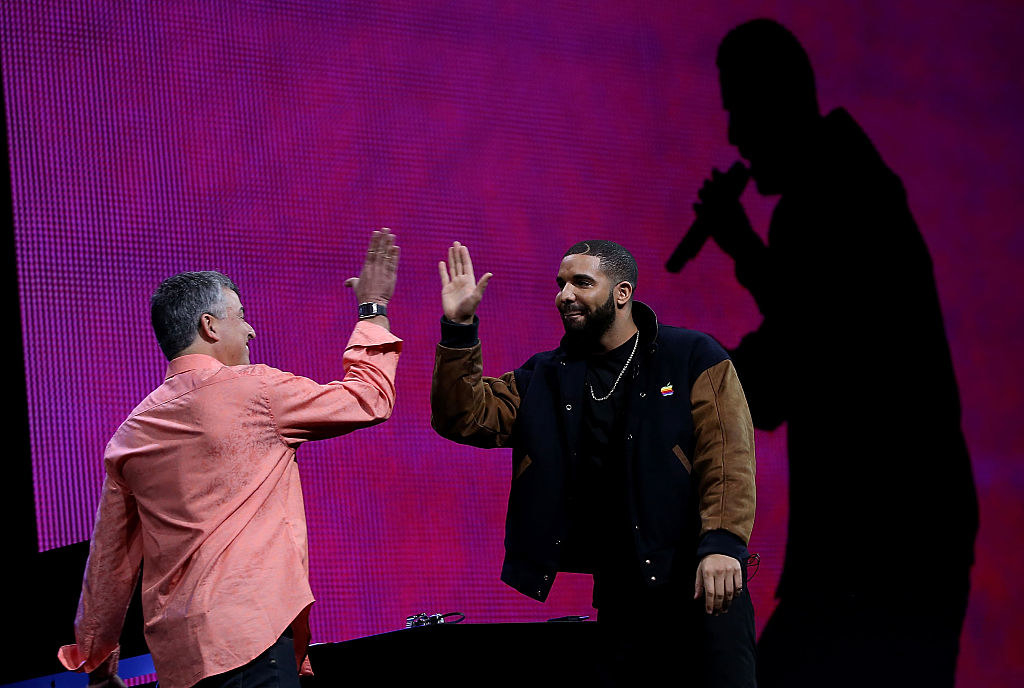 "I think Apple Music is the place that helps artists tell their stories," said Zane Lowe, who presides over Apple Music's radio station Beats 1. Lady Gaga, in an interview with Lowe, recently used the station to announce the title of her forthcoming comeback album, Joanne. And Drake, who is among a growing roster of paid contributors to Apple Music and has his own Beats 1 show, used it to premiere "Hotline Bling." "It's where artists can come and feel comfortable," Lowe said. "And that's not just on Beats 1, it's through the releasing of their records, it's through our editorial, through content, all sorts of ways."
For the moment, Apple Music executives trying to make their case to music owners have the numbers on their side. Revenues for recorded music in the US — driven by the growth of services like Apple's and Spotify's — are up by 8.1% in the first half of 2016, which puts them on track for the second full year of growth in a row. The music industry hasn't seen back-to-back revenue increases since 1998–1999, and the money, as always, talks. Work with us and the happy days will come again.
"We were too ambitious in the beginning — we put too much into it."
Looking at the new version of Apple Music offers some clues as to where subscription music is going. At this point, the most coveted new audience for the service, which comes preloaded on every iPhone and iOS device, consists of older and international users who have no prior experience with streaming music. The redesign answers criticism that the first iteration was overly complicated, introducing a cleaner interface with larger images and text care of Apple design guru Jonny Ive. Additionally, the tabs at the bottom of the screen have been re-ordered, with the one that gets the most use — the music library — moved to the first, far-left position.

"The question we ask is: In the normal course of your day, how are you actually interacting with music?" Bozoma Saint John, head of global consumer marketing for Apple Music and iTunes, told BuzzFeed News. She co-stars in a new ad for the service with Iovine and "Carpool Karaoke" star James Corden. "What are you going to it for? And how can we better serve that up?"
The other big change is the addition of two new personalized playlists: My Favorites Mix and My New Music Mix. The playlists are generated by algorithms, a first for the service, which has largely relied on human curation for its playlists up to this point. Revealing how the mixes operate for the first time to BuzzFeed News, Apple claimed a potential advantage over similar algorithmically personalized playlists, including Spotify's Discover Weekly and Pandora's Thumbprint Radio: deep historical knowledge of individual users' tastes and habits, based on years of data carried over from iTunes.
If you gave high ratings to a song or album in your old iTunes library, or just played it a lot more than others, you'll find that behavior reflected in your My Favorites Mix. Meanwhile, the My New Music Mix algorithm serves recently released songs — as well as songs that Apple Music knows you haven't played before — that the service's music experts have flagged as similar to others in your taste profile. Apple Music executives suggested even more personalized playlists will follow in the series; but only after prototypes have been vetted, with all possible outcomes — intentional and otherwise — given careful consideration.
"We were too ambitious in the beginning — we probably put too much into it," said Iovine. "But we're getting there now, one foot in front of the other, and the stuff we're creating I don't think anyone is gonna see coming."