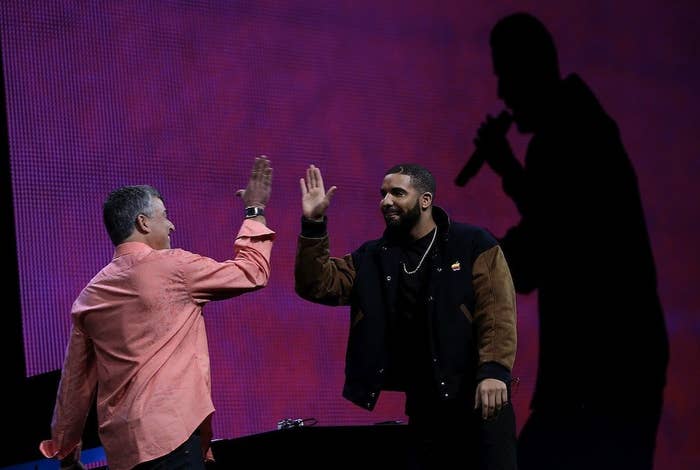 Answer this question without thinking about it too much: Where do you go when you want to hear a new song?
Let's say you heard about it in passing from a friend or at a party and are eager to play it for yourself. Do you search for the song on YouTube? Or do you pull up Spotify? Is it more of a SoundCloud thing? Or perhaps it was a Tidal exclusive. Maybe your first stop isn't a music service at all — to really get current with an artist in 2015, best to check their Twitter account or Instagram.
These days, being a music fan can make shopping for health insurance look like a breeze. It's never been easier for artists to make music and put it out into the world, but it takes an ever-expanding coalition of apps and user accounts to access it all.
In the moment during yesterday's dramatic unveiling of Apple Music that rang the most true, former Interscope Records chair and current Apple executive Jimmy Iovine called this state of affairs "a fragmented mess." Apple brought order to a music industry thrust into disarray once before by creating iTunes and the download economy in 2003; but the dam didn't hold. Now reclaiming its position at music's center of gravity is more than a matter of vanquishing competitors like Spotify, or Pandora, or SoundCloud, or Sirius XM. To leap-frog them all, Apple wants to make listening to the full universe of music something that it hasn't been in a long time — truly effortless.
Apple Music smartly targets three of the most persistent trends in music consumption over the past five years — on-demand streaming, curated radio, and direct-to-fan distribution — and unites them into the sort of cohesive, tidy ecosystem for which Apple is known. To quote the company's two-sentence pitch line, it's "All the ways you love music. All in one place." The streaming functionality promises instant access to tens of millions of songs and albums, plus a personalized gallery of recommended artists and playlists right next to the full catalog of music you already own on your devices. The radio service, Beats 1, offers a nonstop, set-it-and-forget-it lineup of music and interviews, including sought-after exclusives, overseen by some of the world's best DJs. And the direct-to-fan component, called Connect, gives artists a flexible suite of tools to spontaneously share music, videos, photos, and other content with Apple's massive installed user base.
The Spotifys, and Siriuses, and SoundClouds of the world have built thriving businesses by specializing in one of these three functions and effectively dividing the market into segments. Until now, none has had the resources or inclination to combine all three into a one-stop super-service.
If anyone can unite the music industry under such a benevolent dictatorship, it's Apple. The company has a history of excelling in similar environments to the one that plagues music right now, where the fast, tumultuous rise of new technology has inevitably led to a broken user experience. With the iPod and iTunes, Apple offered consumers who were suddenly inundated with digital music files a way to easily organize and play them on the go. With the iPhone and the App Store, it turned geeky and impenetrable smartphones into a new kind of personal computer that no one wanted to live without. And with the Apple Watch and WatchOS, it's creating a future where wearable technology naturally integrates with the wearer's everyday life.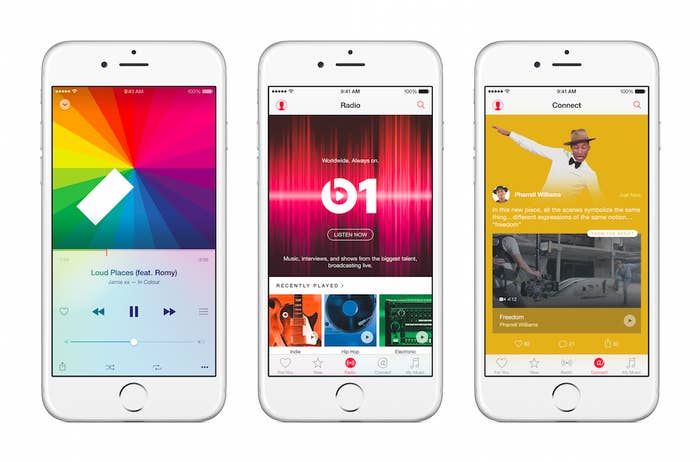 When it comes to music, Apple has the advantage of a deep relationship with record labels, many of which are disdainful of Spotify's free, ad-supported business model and are looking to the iTunes maker to create a viable, paid alternative. But there are still formidable obstacles.
For one thing, music fans, as Spotify's growth has shown and Jay Z has recently learned, are notoriously impatient and care about nothing so much as the ability to access what they want, when they want it, at little or preferably no cost. And given that the non-on-demand functions of Apple Music — Beats 1 and Connect — are available for free without a membership, they won't make strong arguments to cancel your streaming service of choice.
But streaming music is still in its infancy as a platform — Netflix still has four times as many paid subscribers as Spotify, the world's largest subscription music service — and Apple has no doubt set its sights on the vast majority of the population that has yet to get on board. Apple Music's 90-day free trial period and ubiquity on hundreds of millions of Apple devices should give it the fighting chance that Beats Music never had — and it will need all the help it can get. No subscription service has achieved massive scale with its best stuff behind a paywall. (Spotify, whose free tier is under increasing pressure from the labels, may soon end up stuck behind a paywall of its own.)
Additionally, incumbents in the spaces in which Apple is looking to compete, particularly Spotify, SoundCloud, and YouTube, have succeeded in large part because of their ability to play well with the open internet, something Apple has always struggled or refused to do. Spotify playlists, SoundCloud tracks, and YouTube videos share easily on social media and blogs, leveraging the connective power of the web by meeting people where they live. iTunes, meanwhile, didn't even have webpages for albums until four years ago, and Ping, Apple's attempt at a Facebook-like social network around music, was dead on arrival for the same reason.
The most successful music artists today, including Drake, who spoke onstage at the event yesterday, create unmissable music and visuals that spread virally online. If that can't happen on Apple Music, both fans and artists will quickly move on. Apple says posts on the Connect feature will be shareable on Facebook and Twitter, which is a good start. But it's not enough — they need to also be embeddable, and the same should apply to every song and playlist in the Apple Music catalog.
Beats 1 is perhaps the most interesting aspect of Apple Music, and may wind up being the most influential. iTunes Radio failed because it didn't offer a meaningful improvement on what Pandora had already given tens of millions of faithful listeners, but Beats 1 has an entirely different proposition, i.e., taking what people love about traditional radio — on-air personalities, interviews, and a communal experience — and updating it for the mobile era. A staggering amount of people still listen to local radio every week — 243 million Americans, or 91% of the population, according to Nielsen — and replicating that experience in a free app that you already use and have in your pocket (and, crucially, in your car via CarPlay) should be attractive to both radio and streaming listeners, two audiences that to date have not had much overlap. Free, accessible, and with exclusive content — like that new Pharrell song that premiered in the promo video or, say, the next of Zane Lowe's infamous interviews with Kanye West — expect Beats 1 to make a lot of noise.
The promise of digital music was supposed to be magical convenience and unlimited entertainment, but the vastness of the web and market incentives to differentiate pushed different kinds of listeners to retreat to their own, limited corners. Apple Music isn't so much another streaming service as an ambitious attempt to make the experience of listening to and discovering music more seamless and less compromised. It's a vision of the future where whatever you want to listen to, whether it's a classic album or a brand-new song recommended by a friend, lives together in one easily accessed place. That future may never come. But if it does, I suspect Eddy Cue won't be the only one doing the happy dance.