In the '90s, The Rosie O'Donnell Show was the place to go if you loved talking about pop culture, celebrities — and Rosie O'Donnell. Instead of engaging in normal banter with her famous guests, many of her questions revolved around Rosie's own obsessions: All My Children, Ally McBeal, Ring Dings, decoupage, Tom Cruise, and Barbra Streisand. No star, no matter how big, could escape Rosie's rabid interests. On February 3, 1997, Hillary Rodham Clinton participated in an interview that was unlike anything she'd previously done on TV. Rather than discuss public policy or health care, the first lady played a round of trivia about The Mary Tyler Moore Show, kissed Oscar the Grouch, and belted out a duet of "The Telephone Hour" from Bye Bye Birdie.

"We'll be here all week," Rosie said, waving a hand. "Gimme a high five!"
Before Jimmy Fallon, Ellen DeGeneres, James Corden, or Andy Cohen adopted the persona of the talk show host as the superfan, there was Rosie, whose daytime show aired from 1996 to 2002. For six seasons, Rosie took on the title of the world's utmost expert on movies, TV shows, musicals, and crafts, without uttering a cross word. She averaged 5 million viewers on her best days, nipping at Oprah's heels and clobbering her at the Daytime Emmys. On TV, Rosie offered a ray of sunshine; it was not for nothing that Newsweek dubbed her the Queen of Nice. Rosie was so popular, she stepped in as host of the Grammys and the Tonys, making her Hollywood's emcee of choice after Billy Crystal.
When she'd conceived of her talk show, Rosie told her agent she wanted to do a modern The Merv Griffin Show, from the 1960s. It was a stark departure from the typical fare then offered in daytime, where other hosts encouraged their scandal-ridden guests to fight. But viewers were ready for something new. With the O. J. Simpson trial airing during the day, no family feud could keep up with that saga. Rosie's pitch was simple counter-programming: "A lot of Broadway, a lot of singing, and no celebrity gets hurt," she recalled to me. "It was a celebrity safe zone, just like Merv was."

"A lot of Broadway, a lot of singing, and no celebrity gets hurt."
The formula for Rosie's success was that she was your thirtysomething best friend. She was famous, but not so famous that you couldn't imagine hanging out with her. She seemed genuinely humbled and excited to be around entertainment legends, from Elaine Stritch to Celine Dion. That enthusiasm came across in the show's opening, which featured an animated Rosie soaring through the streets of Manhattan, a wink at the credits of Bewitched. In public back then, Rosie was America's favorite kid sister, cousin, and daughter all rolled into one. Off camera, like most comedians, she was different.
At the mall, she'd notice how strangers would come up and ask why she wasn't smiling the way she did on TV. Rosie demanded a lot from her army of producers. She could be aloof and exacting. If they failed to deliver precisely what she had envisioned, from elaborate games with the audience to off-the-cuff musicals, she tended to lose her temper.
"She did hold people to a very high standard," said her friend Janette Barber, who eventually became the head writer on the show. "The way I used to say it was, 'If you fuck up, you're gone. If you make a mistake, then you have a chance to fix it.'"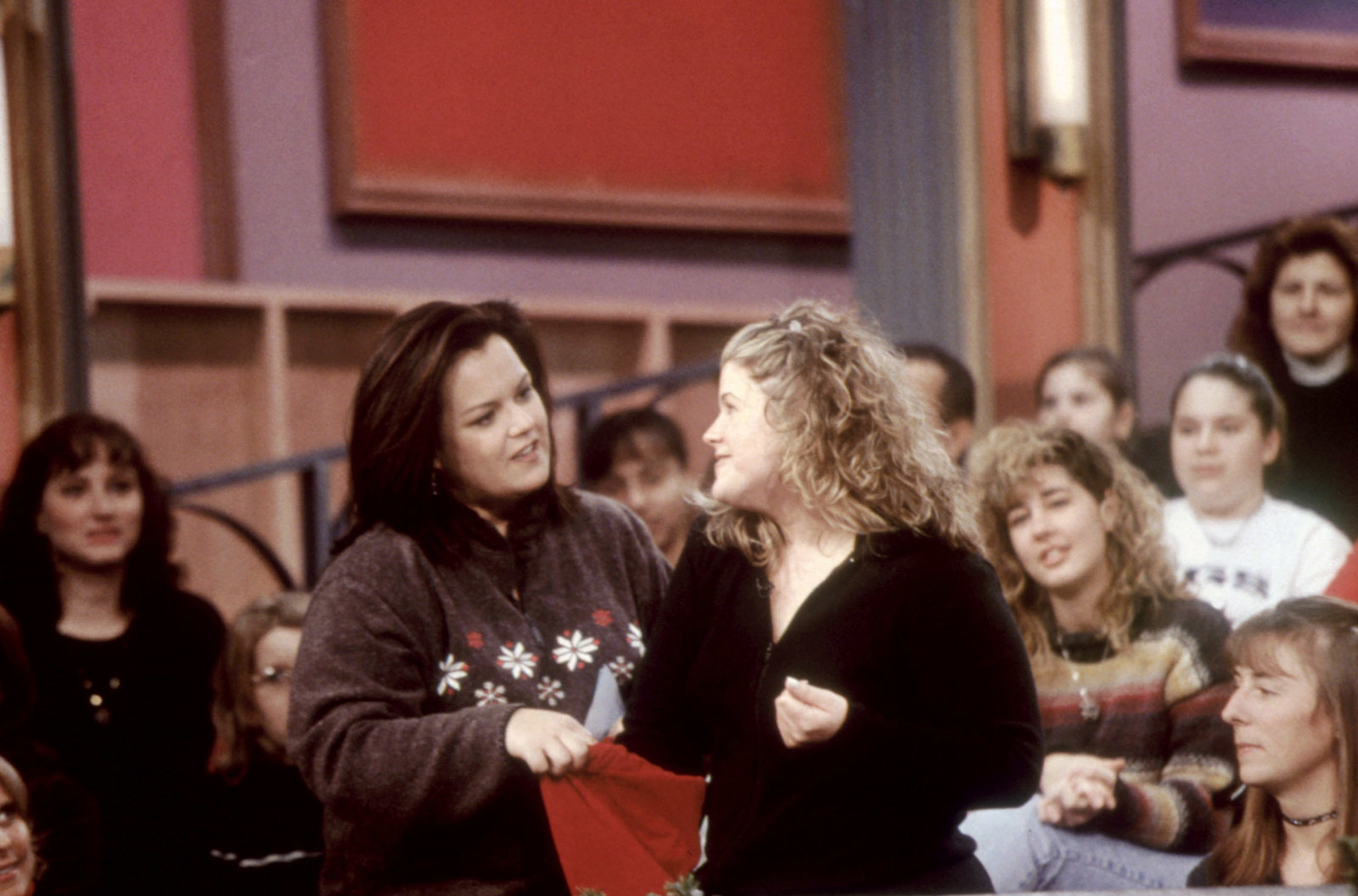 Rosie was born in Commack, Long Island, as the middle child — the Jan Brady — of five kids. Show business was always an escape from the bleak reality of her youth. She watched soap operas with her nana and took the train to Manhattan to catch Broadway matinees, collecting all the Playbills under her bed. One of her fondest memories was coming home from school to her idol Barbra Streisand's albums. Her mom, Roseann, adored Streisand, an infatuation O'Donnell clung to in the pit of her heart. After her mom died from breast cancer in 1973, ten-year-old Rosie used to imagine what it would be like if Streisand had gotten sick instead. Rosie thought that Streisand's fame and wealth would have unlocked a cure.
Rosie was expected to pitch in around the house and care for her younger siblings. But she was dealing with another darkness. As a little girl, Rosie was sexually abused by her father, Edward Joseph. Although she'd identified herself as a victim in her 2002 memoir Find Me, she never publicly named her father as the perpetrator until now.
"It started very young," Rosie said. "And then when my mother died, it sort of ended in a weird way, because then he was with these five children to take care of. On the whole, it's not something I like to talk about. Of course, it changes everyone. Any child who is put in that position, especially by someone in the family, you feel completely powerless and stuck, because the person who you would tell is the person doing it."
Rosie wasn't the best student, but she had a knack for comedic timing. In high school, she started playing clubs on Long Island. In 1984, she scored big as a contestant on the second season of Star Search, on which she became a semifinalist in the comedy round. That led to acting opportunities, and a stint as a VH1 VJ; she wrote her own riffs between music videos (excellent training for any would-be talk show host). By the early nineties, Rosie boasted a formidable movie career, with roles in A League of Their Own, Sleepless in Seattle, and The Flintstones. (The less said about Exit to Eden, the better.)
What made Rosie so relatable on TV could sometimes backfire. Her honesty could hurt others or herself. In a profile in Cosmopolitan, she revealed to the writer Patrick Pacheco that she was single but open to dating women. "I wasn't ever lying to a gay reporter," Rosie said, looking back on that day. "I know he's gay. He knows I'm gay. And we both knew that we were in a culture that wasn't allowing you to talk about it." Her publicist at the time, Lois Smith, had to do damage control, calling Cosmopolitan editor in chief Helen Gurley Brown to get the quote extracted from the story. Rosie followed Smith's advice not to walk with her girlfriends down a red carpet. "Listen, this was not done out of homophobia," Rosie said. "It was done out of love and protection."
Rosie's original career plan was to continue to make films and eventually transition into the director's chair, a bold dream for a young woman in Hollywood. Her role models were Nora Ephron and Penny Marshall; Rosie had been directed by both. By her midthirties, she was pulled in another direction after she adopted her son Parker. On the set of the Nickelodeon film Harriet the Spy, in which she played the title character's nanny, she only saw Parker for an hour a day because of the hectic shooting schedule in Toronto.
"I took my maid," Rosie said. "And when I came home from work, he wouldn't go out of the maid's arms and come to me. I called my agent and said, 'You need to get me a job where I can stay in New York City. I'm not doing another movie. He needs to be in his own crib. He needs his family around.'"
Rosie had filled in as a guest cohost on Live with Regis and Kathie Lee. She was intrigued by the more laid-back lifestyle of a morning talk show host, so she could have afternoons and evenings free to spend with her son. Kathie Lee Gifford was rumored to be about to step down (she didn't until five years later, in 2000). "I said, 'If that's really true, tell them I'll do it!'" Rosie said. "Then she decided to stay." Rosie figured she could try it on her own. Did she really need a cohost?
In addition to The Rosie O'Donnell Show being a safe haven for stars, Rosie wanted it to feel like a late-night show that aired during the day. "Nobody had done this yet, so it seemed like a far-off thing," Rosie said. She promised not to stoke any controversies. "I was not really known for anything political at the time as much as I was just a truth-telling comic, who was funny and round."
The pitch attracted widespread interest around Hollywood. "A lot of people were after her," said Hilary Estey McLoughlin, the former president of the production company Telepictures, who met with Rosie. "I guess we talked her into it." The company's leader, Jim Paratore, was an enterprising producer who later created talk shows for Ellen DeGeneres and Tyra Banks, among others (and also launched TMZ). Rosie's contract stipulated that she wouldn't trash-talk like on Jerry Springer. She negotiated an up-front salary of $1 million and potentially much more through significant ownership of the show, which would be syndicated and sold to the networks. "I said, 'I want the Oprah deal,'" Rosie remembered. "And, yeah, I got a lot of money. More money than a human needs in a lifetime."
The hiring spree for The Rosie O'Donnell Show resembled that for a buzzy internet start-up. Producers arrived through unconventional routes. Some came from magazines, with the (flawed) thinking that journalists could help pre-interview guests. Others were comedian friends that Rosie had met on the nightclub circuit. Rosie had only one choice for her executive producer. When she had appeared on Late Night with David Letterman to do stand-up comedy, she felt safe with a young producer named Daniel Kellison. The Telepictures executives thought he was too green, but when they flew him first-class from New York to Rosie's home in Los Angeles for a meeting, Rosie strolled into the room and said, "I already told Daniel he's my choice. I hate everyone else."
Caissie St. Onge, who served as Letterman's assistant, went to see Rosie in Manhattan on a rainy afternoon. Rosie broke the ice by complimenting St. Onge, telling her that she reminded her of her little sister Maureen. "We got into a talk," St. Onge said, "about how people would say to her, 'Not to insult you, but you look like Rosie O'Donnell.' I said, 'I would not be insulted to be told that I looked like her.'" And just like that, Rosie had a new assistant.
Warner Bros. Entertainment Inc.
Hillary Clinton and Rosie sing "The Telephone Hour" from Bye Bye Birdie on The Rosie O'Donnell Show on Feb. 3, 1997.
Rosie was up-front with her colleagues about who she was. "Being gay was never the hardest part of my life," Rosie said. "My childhood was. This is 1995. Nobody's out." She felt a financial responsibility to disclose her sexual orientation to the executives at Telepictures. "I said, 'I want you to know, before you invest this money in me," Rosie recalled. "I don't want you to come to me in three months and go, "Oh my God, the National Enquirer has this thing."
Rosie had clear guidelines for how she'd talk about her personal life. She never pretended that she was sleeping with men. Even when she discussed her crush on Cruise, she made it clear that she had no sexual interest in him. She'd blush as she described her ultimate fantasy — she wanted him to come over to her house and mow the lawn with his shirt off. "It's one thing to say that I am," Rosie told Barber. "It's another thing to say, 'I'm not.' And that I won't do. If I'm not going to tell my truth, I'm sure as hell not going to tell a lie."
On the morning of June 10, 1996, at 10:00 a.m., Rosie O'Donnell made her grand entrance through a blue curtain on the eighth floor of 30 Rockefeller Center, in the same studio that Phil Donahue once occupied. "Hiiiii!" she welcomed viewers in a casual black pantsuit matched with a red shirt. "I felt like Jerry Springer," she said on TV, after the audience gave her a standing ovation.
The set of The Rosie O'Donnell Show resembled the world's happiest kindergarten class. Her wooden desk looked on TV as if it were designed by Toys "R" Us, with a collection of action figures, PEZ dispensers, and Koosh balls that she flung into the audience. The tourists in her studio were bribed into clapping with free gifts (books, CDs, Broadway tickets) and snacks — such as the Ding Dongs and chocolate milk under their chairs to keep them caffeinated. In later seasons, the prizes got bigger. "We would give people cars," said McLoughlin, who later took over as the second (of four) executive producers on the show. "People would not like the cars they got; it didn't have the specs they wanted. She would tell us to go back and get the car they wanted."
"I remember saying, 'My God, if anybody knew how gay this show was.' I mean, it was the gayest show ever!"
Each morning, three producers checked her desk, to make sure all her props were in order. Rosie had a digital music player, before the iPod had been invented, that allowed her to cue to some of her favorite songs (her playlist included Streisand's "People," Savage Garden's "I Want You," and Ricky Martin's "Livin' la Vida Loca"). She loved to mouth along to the words whenever she felt inspired. Each episode began with an introduction from a member of the audience. Rosie had a knack for improvising with strangers, which she'd developed from her years on the road. After a few minutes of that, she took a seat, to dish about what she'd done the previous night or to share stories about her kids. Rosie called this part of the show chuffa, a term she borrowed from director Garry Marshall that referred to actors filling in their dialogue on the day of a scene. Finally, it was time for the interviews—a roster of three or four guests that ranged from genuine stars to nostalgia TV. She launched her first show with George Clooney (after calling in a favor to Warner Bros., which produced her show and ER), Toni Braxton, and Susan Lucci.
Just as The View did a year later, The Rosie O'Donnell Show debuted in the summer so it wouldn't face stiff competition. However, unlike The View, Rosie didn't need to worry about her initial ratings. She was an overnight hit. "I always say, arrogantly, it surprised everybody except for me," Barber said. "I had seen her at the mall. I saw what happened with her and people." On the set of A League of Their Own, for example, Madonna originally drew the biggest cheers from the two thousand extras in the stands. "By the end of the month, Rosie would walk out and it would be like the second coming of Christ," Barber said. "Joan Rivers was like that, too. She would take that extra minute; she would remember them. They felt they were her."
Rosie's show changed daytime TV. It made networks reevaluate what the stay-at-home moms wanted to see. "I don't think we had established definitively that a daytime talk show was for women," said the comedian Judy Gold, who took a job as a human-interest producer on the show. "That was the result of Rosie." She cleared the path for a wave of celebrities to test the waters with their own family-friendly vehicles, from Roseanne Barr to Tony Danza to Bonnie Hunt. Even Oprah had to rejigger the content of her show, covering fewer tabloid stories and more celebrity interviews — and products, such as her annual Christmas list of favorite things. If it weren't for Rosie, DeGeneres might not have followed suit, with her dance moves and shopping trips to CVS with Michelle Obama.
Rosie wasn't just an influencer. She was also a tastemaker. After she showed her audience a Tickle Me Elmo doll, it became the sold-out holiday toy of 1996, fetching thousands of dollars on eBay. She sang songs about getting a mammogram for breast cancer month, which saved lives. She conducted one of the first interviews in the US with J.K. Rowling, after Rosie discovered Harry Potter before the rest of us. At the end of their talk, she gave Rowling a home computer (a Mac desktop) because Rosie felt bad that the future billionaire wrote her novels in longhand.
Even if Rosie didn't say the word gay out loud, The Rosie O'Donnell Show had its host's identity proudly on display. "I remember saying to John McDaniel, 'My God, if anybody knew how gay this show was,'" Gold said. "I mean, it was the gayest show ever!" On any given day, there was never a shortage of chorus boys or interviews with the likes of Richard Simmons or Liza Minnelli. McDaniel had a partner at the time, but he wasn't allowed to mention him on TV. "I had been out since I was in elementary school," he said. "It was weird to be in a situation where we weren't allowed to talk about it."
DeGeneres came out in 1997, which marked a turning point in the culture. "I remember thinking, 'Well, she's going to ruin her whole career,'" Rosie said. "And then she came on my show, and I said, 'I got to figure out a way to stand next to her so that everybody in the know is going to know I'm not leaving her out there alone.'" Rosie devised a clever exchange, in which DeGeneres revealed the character on her sitcom is Lebanese. ("Maybe I'm Lebanese?" Rosie retorted.) "Every time I'd watch Matt Lauer accuse somebody of sexual impropriety, I thought to myself, 'You hypocritical fuck,'" Rosie said. "I never wanted to be a hypocritical fuck."
Despite all her success, Rosie couldn't ease up on the gas pedal. "It was a shit ton of pressure on Rosie at all times," Kellison said. She arrived in the studio at 6:00 a.m. each day to prepare. So did the people around her, which could be grueling for a staff largely composed of nocturnal animals. "I was in my early thirties and I'm tasked with running this multimillion-dollar corporation," Kellison said. "There are a hundred-plus employees, and I had never managed anything like that before."
Some of Rosie's biggest clashes were with her directors. Even as she hosted a live TV show, she kept an eye on the monitors behind the cameras at all times, calling out which shots she wanted with her own unique hand gestures. "Bob I yelled at every day," Rosie said about one of her directors. "I'm admitting it. I couldn't believe I'm watching TV and there are little kids doing an Irish jig and he's not on their feet or their faces." She didn't like another director she remembered now as "this really old man" who used to work for Merv Griffin. He kept telling her, "You guys are reinventing television." But he couldn't keep up with Rosie's pace.
She cycled through four directors in her first seven months. "At a certain point, it's diminishing returns," Kellison said. "There are only so many people who can do this sort of work, and it's an imprecise art."
Rosie was furious one day when a producer patched in a call from the mayor of Philadelphia, who was supposed to offer her the keys to the city. This turned out to be a prank. The voice on the other end was Captain Janks from Howard Stern, who berated her. "Howard Stern said you were a fat pig," Captain Janks said on live television. "Oh, really?" Rosie responded, as all the blood drained from her face. She was devastated that her team had let the call through without properly vetting it.
Mega stardom had other drawbacks. Rosie couldn't appear in public without creating a mob scene. The paparazzi would stalk her on vacations. "I went to Florida for my birthday and they got pictures of me on my Jet Ski," Rosie said. "I was with some lesbians I knew from LA."
When she returned to work, Kellison pulled out a tabloid that had run the photographs. "They got you," he sighed. "What are we going to do?" "I said to myself, 'I'm going to get a new executive producer,'" Rosie recalled. She fired Kellison and replaced him with McLoughlin, who lasted a year before going back to Los Angeles to Telepictures. Next arrived former View producer Roni Selig, who also didn't work out. The duties of overseeing the show finally fell to Rosie's longtime manager Bernie Young, a former police detective. That's how tough you had to be to keep Rosie protected. "It just came down to one day, she said, 'Look, man, you take the job," Young said.
If an employee met Rosie's standards, she could be a selfless and giving boss. Rosie told St. Onge that she stressed her out as an assistant, but Rosie eventually let her audition as a writer, where she thrived. To accommodate her mostly female staff, Rosie built a full day-care center in the corner of her studio, so that parents could bring their kids (age one and older) to work as she did with Parker. The babysitting services were free of charge; Hugh Jackman stopped by to play blocks with the kids. "I think everyone wanted to see it because it was such a curiosity and so unheard of," St. Onge said.
The list of celebrities who needed Rosie to promote their latest projects never diminished. Rosie got in early on the careers of Britney Spears, Jessica Simpson, Ricky Martin, and Justin Timberlake. They appeared alongside Hollywood titans such as Cher, Madonna, Julia Roberts, and Tom Cruise, whose arrival was marked by a cardboard countdown clock as the day approached. But nothing compared to her ultimate interview. On November 21, 1997, Barbra Streisand received a whole hour on The Rosie O'Donnell Show, more time than Hillary Clinton. Rosie wanted to air the interview without any commercials, but Telepictures wouldn't allow it; they needed to pay the bills. Rosie burst into tears the moment Streisand walked onstage, saying that she felt as if her mother had come back to life. "I'm always wary about doing an interview with someone who is a big fan of mine because I don't want to disappoint them," Streisand told me. "I don't want the reality to step in, like, 'Am I a real person? I'm not twenty feet high and on a movie screen.'" Streisand was charmed by Rosie. "She's adorable."
Streisand likes to be shot from the left side of her face, so Rosie flipped her entire set so that Barbra would be seen from her best angle. Rosie even did it a few weeks early, to hide the true motive behind the redesign. Streisand admitted it years later: "She changed the chair to give me my good side."
"Listen to me," O'Donnell said, laughing. "I would do anything for her. She wanted it, and she wanted it covered up so you didn't know she was vain. I was like, 'Done and done.' What else?" Rosie told me a story about how she caught Streisand's appearance on Ellen in 2017. Rosie was aghast that her hero had been relegated to the second guest spot, behind the actress Sofia Vergara. "I will never talk to Ellen again," Rosie said. "Such disrespect." She sent a message to Andy Lassner, DeGeneres's executive producer, who had worked on Rosie's talk show. The email read, Go to hell.
"I had always had depression, but I did the Irish thing of having some beers and put your boots on, girl. And then I fell through the ice."
Every interaction with Rosie O'Donnell is a high-wire experience. When I first met her in 2006, she offered me a tour of her movie-star house on the Hudson River. She was especially proud of her kids' adjoining bathrooms, reminiscent of The Brady Bunch, and she didn't fuss with dressing up for a photo shoot. In the spring of 2018, after months of sending me emails written in haiku about how she couldn't meet me, she agreed to a lunch. She arrived wearing a baggy hoodie from the musical Hamilton, offering me so much information in the first two minutes, I had to race to turn on my tape recorder. Even as she spoke freely, she was worried because of what happened to Donald Trump's former strategist Steve Bannon after the scandalous tell-all Fire and Fury hit the internet. "I don't lie," she said. "So I'm going to tell you too much and it's going to be bad for me in the end."
Her stories were packed with kaleidoscopic asides that overtook her original points. She was candid and raw, especially when she talked about her crippling depression: "I was watching Homeland last night, and I was, like, 'I wish I had bipolar.' It's so much more treatable with medication. It's so much more receptive to serotonin and dopamine. It's so much better than when you're just depressed and your body basically shuts down. It's like you're under the water and you can't find your way to the surface."
In 1999, at the height of her talk show fame, Rosie had a breakdown. She traced the cause to the Columbine High School massacre that took the lives of twelve students and one teacher. "I went on medication, antidepressants," Rosie recalled. "I had always had depression, but I did the Irish thing of having some beers and put your boots on, girl. And then I fell through the ice. I was finally famous and powerful, and in my world that came with a magic wand for justice. I was going to cure a lot of diseases. I was going to call all the famous billionaire women; we were going to form the Justice League of Women. We were going to go around like Emily's List on steroids and fix these social ills. That's what I thought came with fame."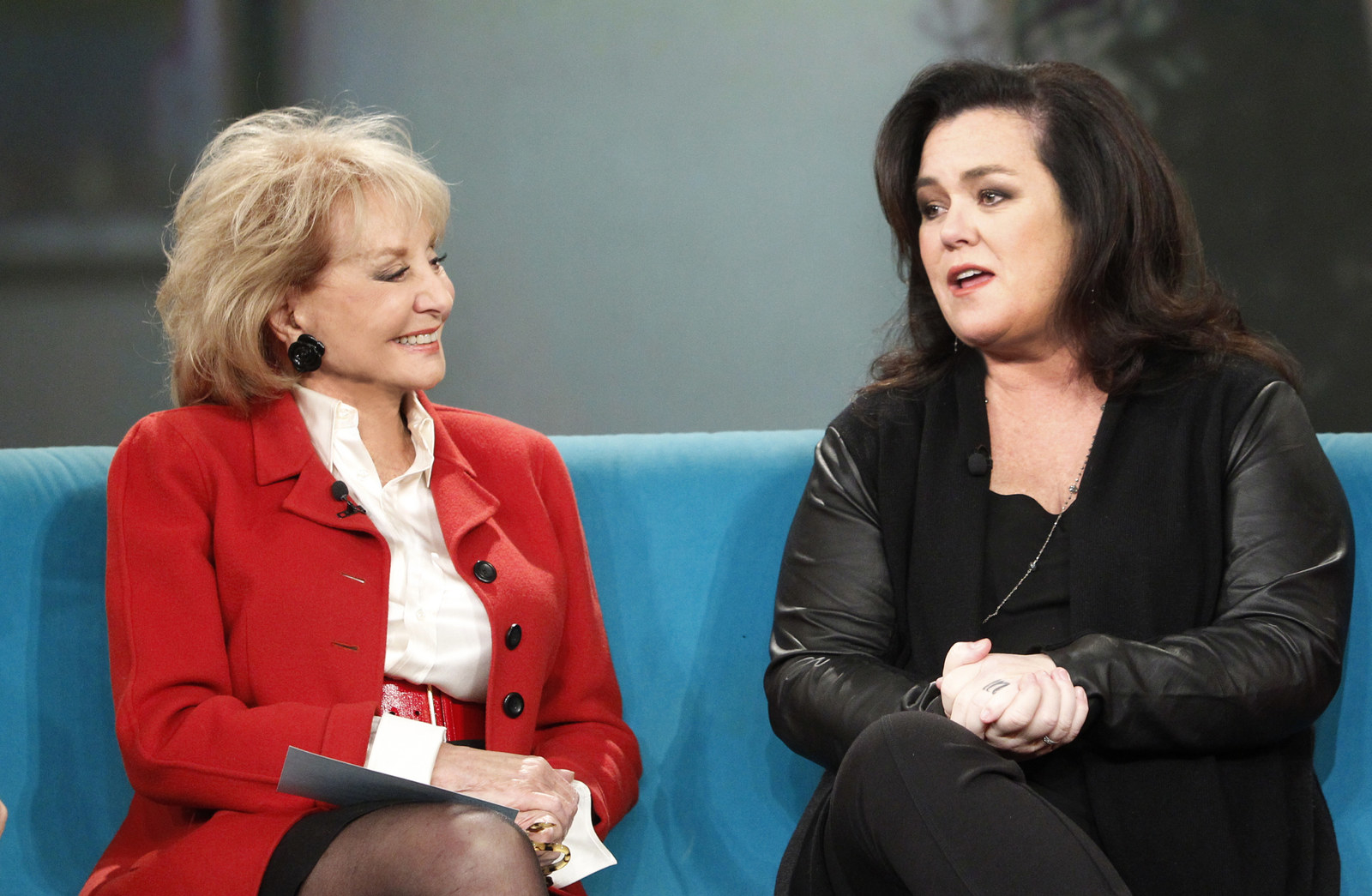 She understood that this notion about fame, which she'd carried with her since childhood, was an illusion. "When I realized I could do nothing about children being murdered in school and their bloody bodies flip-flopping out of the second floor, I had some sort of break. I couldn't sleep. I couldn't eat. I couldn't stop crying. I had dreams that there were people in my house. I woke up every twenty minutes. I was a mess. In hindsight, I probably should have been hospitalized."
She went to see a psychopharmacologist, who prescribed her the antidepressant Effexor. "I said, 'How long am I going to take this?' She said, 'The rest of your life.' I said, 'That seems harsh.'"
Rosie struggled to pretend to be happy on TV each day. She finally erupted on May 19, 1999, during an interview with Tom Selleck that turned into a discussion about the National Rifle Association. He was there to promote his movie, the romantic comedy The Love Letter, and she tried to ask him about gun control.
"You can't say that guns don't bear a responsibility," Rosie said, in a debate that still feels relevant twenty years later. She wanted to know why the NRA supported assault rifles. "This is a gun that can shoot five bullets in a second."
"I can't speak for the NRA," Selleck huffed.
"But you're a spokesperson, Tom. You have to be responsible for what they say."
"Now you're questioning my humanity."
Rosie's confrontation turned into breaking news, a window into an activist persona that later defined her on The View. "There were personal attacks on me and my family," Rosie later told me about the NRA. "They are a terrifying group, and they know how to shut people up."
As her talk show entered its later seasons, Rosie tried to stretch in different directions. She was less interested in celebrities and more focused on how to make a difference. She invented the segments Super Kids, in which she spotlighted young people from disadvantaged backgrounds; Chub Club (weight loss); and one on adoption. In 2000, Rosie proudly endorsed Al Gore on TV, despite her promise to Telepictures not to get wrapped up in politics. Feeling burnt out, she told her producers that she spoke with Oprah, and the two had decided to merge their talk shows, so they could each take half a year off. The idea never came to fruition because The Oprah Winfrey Show was owned by Harpo, a different production company.
"When I left my show, I had enough money that I never had to work again my entire life."
Rosie would stay only two more years. Paratore kept offering her more money, but Rosie knew that six seasons was all she had in her. She wanted to retire and take the spotlight away from her kids. "When I left my show, I had enough money that I never had to work again my entire life. I don't look at the money. I don't know how much I get paid," she said, referring to her acting roles.

The final curtain on Rosie's talk show would come down in the summer of 2002. In March, as her days on daytime were dwindling, Rosie came out of the closet to protest a law in Florida that banned adoption by gay couples. She gave the interview to Diane Sawyer, choosing her over another eager colleague — Barbara Walters. "Barbara is a legend and that can never be taken away from her," Rosie said. "But she's older than Diane." Barbara, never one to tolerate losing a scoop, revealed on The View on February 14 that she'd always known Rosie was gay and that she supported Rosie. Since Sawyer's prime-time special wouldn't air for another month, Barbara managed to insert herself in the story.
To replace Rosie, the producers at Telepictures looked everywhere, hoping that her program could continue with a new host the way that The Tonight Show had. On the short list was Joy Behar, who had subbed for a couple of days when Rosie had been sick. But Joy declined the offer, and the comedian Caroline Rhea took a shot at it. She was canceled after one season because "she didn't connect in the same way," McLoughlin said.
In retrospect, Joy wished that she had made a different decision: "When Rosie O'Donnell left her show, Hilary wanted me to take over. I said, 'I'm on The View. I've got a steady gig. I don't know if I feel like bothering with that.' And I didn't do it. I regret it. I wish I had jumped in. I think I would have done a pretty good job." ●