Starbucks' new dress code policy, which bans engagement rings and other jewelry with stones, has landed the coffee giant in hot water with many employees.
"There are food safety rules we have to live by," it says in the new dress code, which does not explicitly mention engagement rings. "Here's the fine print — wearing a ring is okay if it's a plain band, no stones. Unfortunately, no watches, bracelets or wristbands are allowed. Simple necklaces can be worn under your clothes."
Baristas can also not have tattoos on their neck or face (but anywhere else is OK), painted fingernails, or brightly colored hair — hair must "look natural."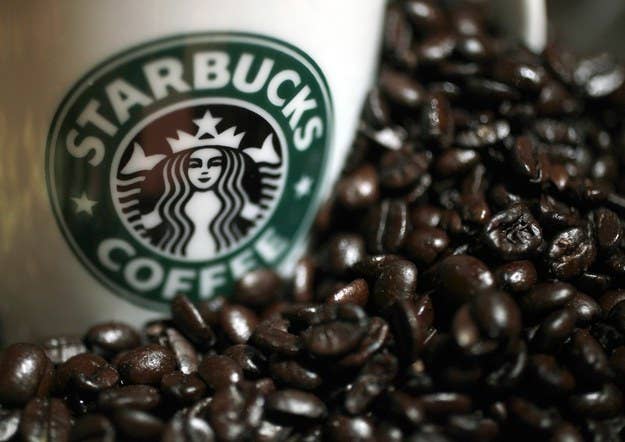 The new guidelines are meant to comply with the Food and Drug Administration's Food Code, the company told KOMO-TV in a statement.
"Starbucks' new jewelry guidelines are based on the FDA Model Food Code that state and local jurisdictions follow," a Starbucks spokesperson said.
In an email Wednesday evening, Starbucks spokesman Tom Kuhn addd that the company plans to double its food offerings over the next five years and the policy comes as a result of that strategy. The policy will be implemented nationwide, Kuhn said, because the "vast majority" of states have adopted the FDA's food guidelines as law.
"This is not a Starbucks-created rule," Kuhn said.
Along with tattoos, small piercings are also allowed, but the company wants employees to take a "less is more" approach.
"We want customers to focus on you, not your body art," the guide reads. "Tattoos are allowed, but not on your face or throat."
But employees are disgruntled about suddenly not being able to wear their wedding rings, and have taken to social media to vent their frustrations.
"I'm not stirring someone's drink with my ring," an anonymous employee told KOMO. "It's awesome they now allow you to wear tattoos, but it seems weird to not allow anyone to wear a wedding ring. A lot of people are upset."
Employees and their partners, plus everyday Starbucks drinkers, also started a #BoycottStarbucks hashtag on Twitter to tweet their discontent.
In a tweet, a Starbucks account replied to one complaint that they "know this is a tough one" but that it comes down on FDA guidelines.
UPDATE: In a statement issued to BuzzFeed News Wednesday, Starbucks said it had rolled out the new policy in order to become compliant with local and state laws.
First, it's important to clarify that this is not a Starbucks-created rule. This change brings us into compliance with local and state laws for food handling. Local and state laws require this regulation because jewelry, such as rings with jewels, bracelets, wrist watches or wristbands, can collect soil, debris and bacteria, which can contaminate food and beverages. Partners (employees) can wear an engagement or wedding ring in the form of a plain band.

We know this is an emotional topic and completely understand it's disappointing for our partners. We were required to make this change to be in compliance with local and state laws now that we are handling more food in our stores than in the past with plans to double our food business over the next five years.