Reporter Fired After Comparing School To "Mean Girls"
He said he was quoting a high school soccer star who transferred after a bad experience with cliques.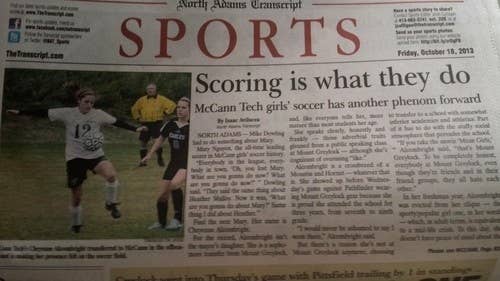 A story on a talented high school soccer player should probably be fairly uncontroversial, but reporter Isaac Avilucea learned otherwise when he was fired after he quoted his subject comparing her former school to the movie Mean Girls.
In a blog post on the events, Avilucea said he had moved from Albuquerque, N.M., to start a job at the North Adams Transcript in Massachusetts about two weeks before, and was given an assignment to interview high school soccer star Cheyanne Alcombright.
Avilucea quoted the sophomore describing her old school, Mount Greylock, as like "the movie Mean Girls." He also wrote that she said she transferred to a different Massachusetts school, McCann Technical School, despite her feeling it had "somewhat inferior academics and athletics." (The passage has since been removed from the current online version.)
Avilucea posted the passage on his blog :
"But there's a reason she's not at Mount Greylock anymore, choosing to transfer to a school with somewhat inferior academics and athletics. Part of it has to do with the stuffy social atmosphere that pervades the school. "If you take the movie Mean Girls," Alcombright said, "that's Mount Greylock. To be completely honest, everybody at Mount Greylock, even though they're friends and in their friend group, they all hate each other."
Editor-in-Chief Mike Foster "was bothered by the story after fielding calls from school principals and angry parents," the reporter wrote. He added that Sports Editor Josh Colligan "didn't flag it or ask me to rewrite passages Thursday afternoon and sent out a tweet the next day praising the story."
But the drama came to a head when Avilucea was called in to have a meeting with Foster, who accused him of "gravely editorializing" the quotes. By the end of the day, he had been fired, he said.
In an email to Poynter, Avilucea says he paraphrased the "somewhat inferior" line from Alcombright.
"You can make the case I should have attributed that line just to be safe, but that was never added or brought up in the editorial process," he wrote.
Foster and Colligan addressed the piece in an editorial titled, "Editors hope to rebuild bridges," writing: "[W]e offer our sincere apologies for any and all harm caused by a story in Friday's sports section."
"A segment of the story in question unintentionally cast aspersions on the academics of McCann and colored in a pallor the social environment at Mount Greylock. This serious editorial mistake has caused a great amount of angst for many — and rightfully so. Not only was it unjust on our part to allow this error to see the light of day, but the statements were simply wrong."
Though the editors emphasized in the editorial that Mount Greylock has exceptionally high scoring, they failed to address the reason the quote had been used in the first place: Namely, Alcombright's social problems with the school and its cliques.
In his blog post, Avilucea wrote that he is now back on the market for a journalism job.