Man Wakes Up Alone In Locked United Express Airplane
"Everybody falls asleep on a plane," Tom Wagner said.
Like many before him, Tom Wagner dozed off on his United Express flight on Dec. 6. But when he woke up, everyone else was gone -- and the plane was locked.
"I woke up and the lights were out. I was like, what's going on? I thought maybe it was a layover, still on the same plane," he told KTRK.
It seems three dozen other passengers on the flight from Louisiana to Texas, plus the flight crew, didn't notice Wagner dozing in his seat, or wake him up when they deplaned.
Upon first waking up in the empty plane, Wagner felt like he was dreaming. His girlfriend thought he was kidding when he frantically called her for help.
"I called my girlfriend, and she thought I was crazy. I said, 'Debbie I'm locked on the plane.' I said, 'I'm telling you the truth; you better go somewhere and get me off this plane.'"
After his girlfriend called the airline, workers came onboard around half an hour later to rescue Wagner.
"I said, 'Don't put the blame on me. I didn't do anything wrong here.' And then they were, like, try to hush-hush, keep it quiet. And they gave me this little package here in a motel room."
The company said in a statement they're currently investigating the incident.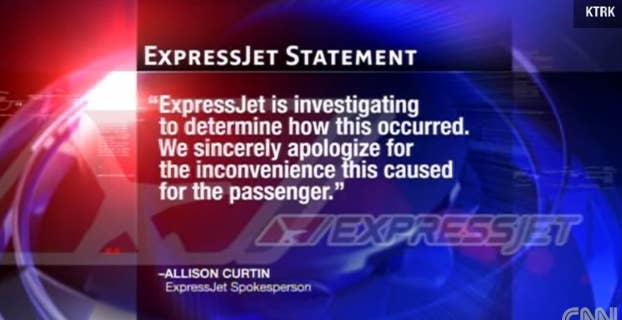 Though United Express did not refund Wagner's ticket, they put him in a hotel room and gave him a $250 voucher. Wagner said he missed his connecting flight, but was able to eventually make it to his destination in California.
"What if I had a medical condition or something?" Wagner asked. "What if I had a heart attack and I was dead? You just shut the plane and leave someone on there?"
In 2010, a similar incident happened to a woman on a United Express flight to Philadelphia.