Man Carves Name Into Monument Marking Lewis And Clark Expedition
The Montana monument, signed by William Clark in 1806, is some of the last remaining physical evidence of Lewis and Clark's exploration.
A Minnesota couple who perform as folk duo Flora Cash have been identified as the culprits of who defaced a national monument in Montana.
Cole Randall, 23, admitted to carving "Cole + Shpresa 10/10/2013" into Pompey's Pillar, a monument said to have some of the only physical evidence of the Lewis and Clark expedition: a signature from William Clark dated July 25, 1806.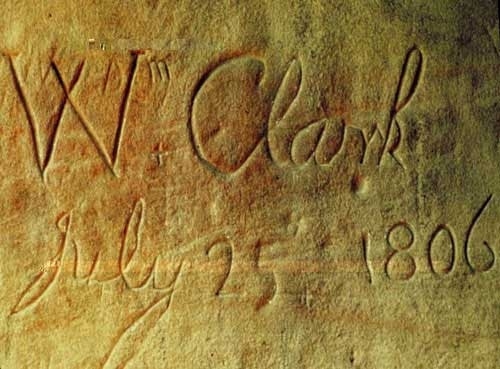 During the government shutdown, Randall ignored warning signs and cameras and triggered a silent alarm when he stepped over a fence to sign his name a few feet from Clark's. The two were questioned, but the signature wasn't found until a week later.
Federal investigators are assessing damages in deciding whether to bring criminal charges against Randall. It will cost up to $5,000 to restore the monument, located about 30 miles east of Billings, Mont.
Jonathan Peart, the director of Friends of Pompeys Pillar, told 3KRTV he was disappointed by the vandalism.
"This belongs to all of us - to you, to me to every American out there and to deface this is just a senseless act of vandalism and violence to something that has historical and cultural importance," he said.
Randall issued a lengthy apology for his etching, saying he is prepared to face the consequences of his actions. He explained his "misguided" decision was motivated by a cancer scare when his wife found a lump in her breast during their recent honeymoon.
As the couple made their way back home after the trip was cut short, he wrote that the two stopped by Pompey's Pillar:
I read the sign that explained why this place was significant and was utterly inspired by the last part of the description, which read, "for generations, Americans passing by this place have left their marks upon the rocks." Despite my better judgment, I was taken with the idea that by putting our names on that stone, we would be adding to a tradition started by the Native Americans, renewed by William Clark and carried forward by the average folk who have passed by and "left their marks" for over 200 years. On top of that, I was motivated by the fact that maybe if something were to happen to my wife, I could come back to this place years from now and see her and my names together. Stupid? Yeah. Misguided? Definitely. But when love and fear of loss team up: we sometimes lose our better judgment, no matter the consequences.