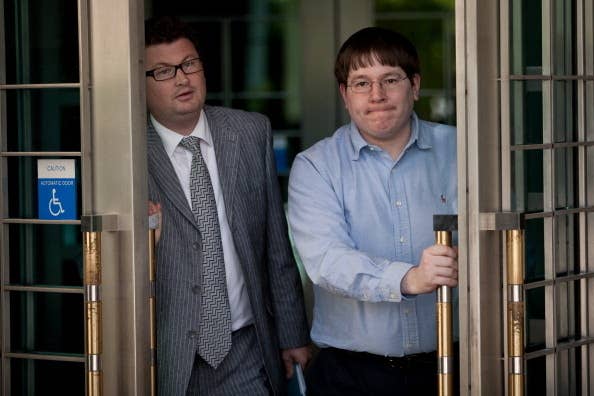 In a new defense filing, former Reuters deputy social media editor Matthew Keys claims statements he made to the FBI last year were unreliable due to sleeping pills he had taken about five hours earlier.
Keys was indicted on federal charges last March for allegedly conspiring with the hacking group Anonymous to breach a Tribune Co. website, changing a story from the Los Angeles Times.
The filing includes a previously unseen transcript in which FBI agents interrogate Keys at his home around 6 a.m. on Oct. 4, 2012, where he admitted to working with Anonymous to hack into the website and change a headline on a story.
Filed in California yesterday, the filing by Keys seeks to suppress evidence collected by the FBI on the grounds the defendant was under the influence of Trazodone.
The filing also includes an affidavit from osteopath Dr. Barry Cogen, who said that Keys' statement "lacks sufficient reliability" as users of the drug can be drowsy if awoken before the effects have worn off.
Keys said multiple times in the interrogation that he hoped it would not become public information, though tweeted yesterday that he was sharing his court documents in the interest of transparency.
The FBI interrogation, however, is not among the documents he posted publicly, but was available through the federal legal database known as Pacer.

In a Facebook post from last March that is no longer available online, Keys vehemently denied the charges. (An earlier version of this story said the post was deleted; Keys said it was made unavailable by a change to privacy settings.)
"I did not give a username and a password to anyone," he said. "I did not 'conspire' to 'cause damage to a protected computer.' I did not cause 'transmission of malicious code,' and I did not 'attempt' to cause 'transmission of malicious code.'"
According to criminal defense attorney and frequent hacker defender Jay Leiderman, the journalist may have simply been "low-hanging fruit" that prosecutors could easily attack he told the Los Angeles Times.
"It was a prank. It really could have been handled civilly through a lawsuit," he said.
In May, Keys also got Bloomberg Businessweek social media journalist Jared Keller fired, after publishing private messages between the two of them.
Keys says he was originally interested in Anonymous after feeling bored with his life.
It was on Twitter that Keys said he learned where to find the Anonymous chat rooms.

Keys says he gave Anonymous hacker Hector "Sabu" Monsegur the credentials because he "thought they didn't work."
The FBI agent stops Keys, implying it was clear he knew they would use the passwords for hacking.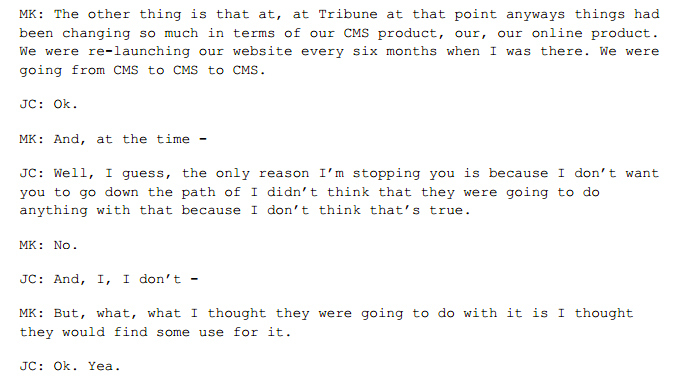 Keys also requested the documents from the interrogation not be made public.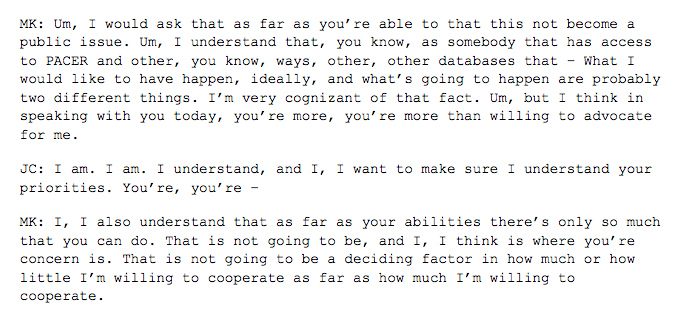 Update, 12:29 p.m., ET: Keys responded to BuzzFeed an email that, like his filing, calls the interrogation into question:
Your story irresponsibly sets a misleading narrative that focuses squarely on a troubled and challenged transcript. The fact that your story is irresponsible and misleading is backed by your omission to include key documents that were also released on Friday, which you no doubt saw and chose not to publish or even bring awareness of, despite the fact that they were readily available online for free.

BuzzFeed's report on Saturday also contains numerous errors and other omissions, such as the error that a referenced Facebook status had been "deleted" (it hasn't, although privacy settings may prevent certain people from viewing it), and that a private conversation between myself and a colleague had been published resulting in said colleague's firing (while true, BuzzFeed categorically and irresponsibly omitted that the colleague had, two months prior, given a personal conversation to a blog for publication and that the conversation I published at a later date offered more context to the one that he had published. Also omitted was the fact that the colleague expressly stated that the conversation was not "off-the-record," and thus negates any suggestion that the conversation was "private.")

BuzzFeed's "shoot first, ask questions later" approach to journalism is troubling, as was the case this morning when you published at 10:52 a.m. ET that you had not received comment from me, and then emailed me at 11:02 a.m. ET seeking a request for comment. You, and other BuzzFeed colleagues, clearly know how to reach me when you'd like, and in the future I would appreciate a significant opportunity to respond to your stories should I choose -- something in the realm of "a bit longer than -9 minutes."