Cartoonists Speak Out On Paris Massacre: "You Must Not Surrender Your Freedom Of Speech"
Following Wednesday's attack at Charlie Hebdo, other cartoonists spoke about being targeted by extremists.

Wednesday's deadly attack on the French satirical newspaper Charlie Hebdo that killed 12 — including four of the country's most famous cartoonists — prompted other artists to share their thoughts on the shootings, freedom of speech, and whether the media can recover from the terror in Paris.
A few of the cartoonists who spoke Wednesday have themselves been targeted by extremists; some are listed on on Al Qaeda's 2013 "most wanted" list and been forced into hiding.
Legendary Syrian cartoonist Ali Ferzat had a firm message about the attackers in an interview with BuzzFeed News: "These people are not Muslims."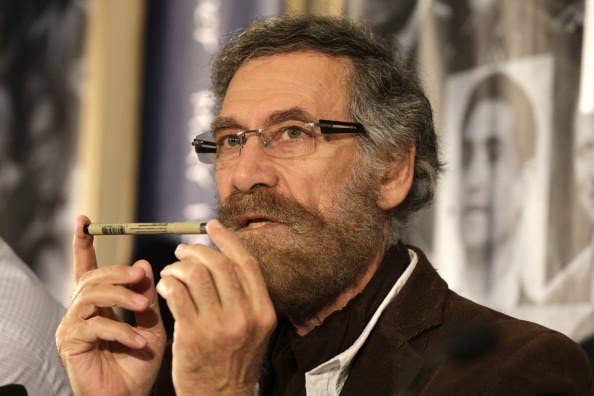 "I am a Muslim, but I don't consider these people as Muslims," said Ferzat, who spoke by phone from Kuwait, where he lives in exile. "And it's terrible when the West calls people like this Muslims."
Ferzat didn't seem to agree with Charlie Hebdo's publication of drawings satirizing the Prophet Muhammad, a suspected motivation for the attack. "Art shouldn't be insulting to other people. Art should be bigger than that," he said. "It should bring people together, not drive people apart."
But the 63-year-old Ferzat — who has been threatened by extremists for satirizing them — was also quick to condemn the attacks. "I'm in favor of free speech, and I think God, or the law, should be the one to hold people accountable for such drawings," he said. "I am very sad about such an act of violence."
He planned to take on the attacks in his next cartoon, he added: "The message is going to be about humanity and against these robots."
Danish cartoonist Kurt Westergaard, whose 2005 depiction of Muhammad with a bomb as a turban forced him into police protection, told the Associated Press artists should "not give in."
"I hope that the media world will not be scared. It's very important not to be afraid." he said. "I hope we will not give in. You must not surrender your very important freedom of speech. I also hope there will come a reaction from the moderate majority of muslims against this attack"
Swedish cartoonist Lars Vilks, known for his cartoons depicting Muhammad as a dog, told Reuters that Swedish police today strengthened protections around him, and anticipates people will become more frightened.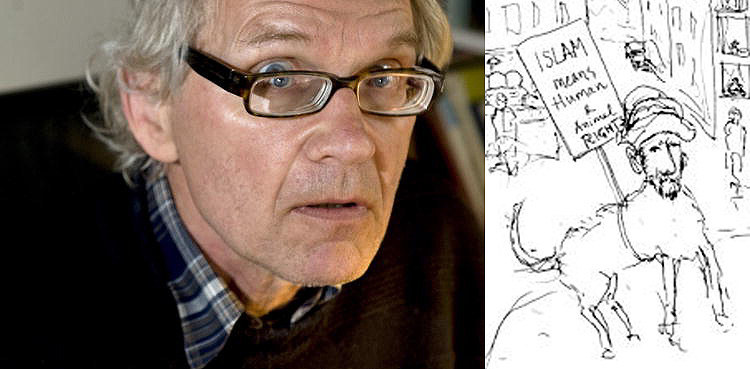 Vilks also spoke to RT about how the attack will affect publishers: "The consequences of this will be that people become more fearful. I have problems when I have lectures or exhibitions as most things are canceled because of fright. This occasion here will make things even worse and people will be very scared after what has happened. This could also cause problems with censorship because who would dare to publish anything after what has happened?"
South African cartoonist Jonathan Shapiro, known as Zapiro, called the shooting the "worst attack on journalism, satirists, the press, and all free thinkers in society that we have seen in recent times."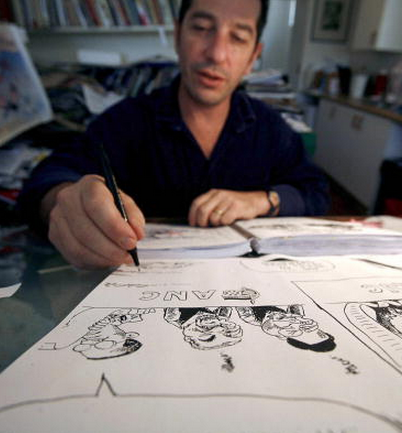 "I hope that it doesn't have a further chilling effect on satirists, commentators and journalists; any free thinkers in society. But I'm afraid that scenario is probably inevitable," he told Mail & Guardian.
He added that leaders and corporations alike need to take a stand against these attacks on freedom of speech: "In SA we see some alarming trends among politicians attacking media for all sorts of reasons. That trend is not just here. Corporations like Google, Yahoo, Twitter, all social media and information technology media should stand up more assertively against the sort of shutting down of freedom of speech that happens. A general assertion of media freedom would help the broader populace to really understand that media freedom is indivisible."
Though not a cartoonist, Tim Wolff, editor of German satirical magazine Titanic, which has previously spoofed Islam, said "satire is a human right," and that he isn't afraid for his safety.