A 22-Year-Old Who Gave Birth On New Year's Had Twins In Separate Years
Babies Jaelyn and Luis were born just two minutes apart.
A young mom in San Diego who gave birth on New Year's had twins born in two separate years.
Maribel Valencia, 22, had her daughter Jaelyn at 11:59 p.m. on New Year's Eve 2015, and son Luis came just two minutes later, on Jan. 1, 2016, the Associated Press reported. The babies were born at San Diego Kaiser Permanente Zion Medical Center.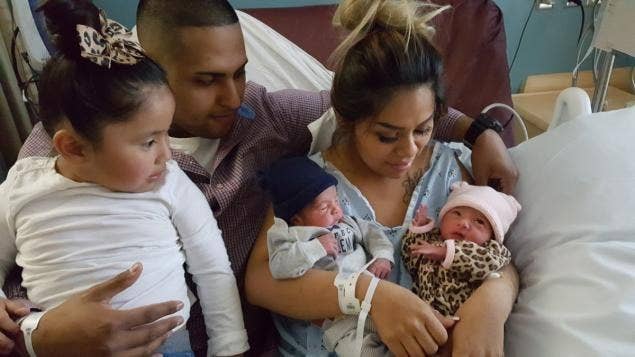 Baby Jaelyn weighed 4 pounds, 15 ounces, and Luis weighed 5 pounds, 9 ounces, ABC News reported.
The babies weren't due until the end of January, but Maribel delivered early due to complications, with one baby being in a breech position, said their father, Luis Valencia.
So although the two are twins, they have the rare quirk of not sharing a birthday.
"I was not really expecting two, so it's a big blessing to have two of them, boy and a girl for New Year's," Valencia told the local ABC affiliate.