A Family Had Their 6-Year-Old Kidnapped To Teach Him A Lesson About Being Nice To Strangers
The family and a man who helped them have been arrested after the four-hour ordeal, which included blindfolding the boy and telling him he would never "see his mommy again."
A Missouri family has been arrested for arranging a kidnapping of their 6-year-old relative to teach him to stop being "too nice" to strangers, NBC News reported.
The boy's aunt, Denise Kroutil, 38, asked her coworker, 23-year-old Nathan Wynn Firoved, to stage the kidnapping, telling him, "our [child] is too nice, he's too open, he's too polite," Lt. Andy Binder of the Lincoln County Sheriff's Office told NBC News.
The boy's mother, Elizabeth Hupp, 25, and grandmother, Rose Brewer, 58, went along with the plan.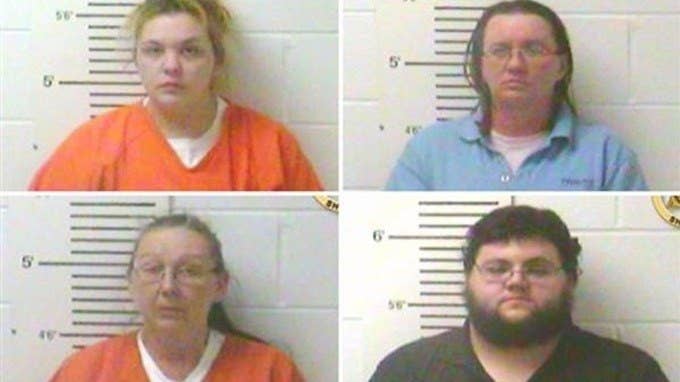 After getting off the school bus Monday, the boy was allegedly kidnapped by Firoved, who showed the sobbing boy a gun and told him he would never "see his mommy again" and that he would be "nailed to the wall of a shed," police said in a statement.
Firoved drove the boy around with his hands and feet bound with plastic bags and his vision obscured with a jacket.
The child was blindfolded and taken to his home, where he was brought to the basement. His aunt allegedly removed his pants and told him he could be sold into "sex slavery," authorities said.
The whole time, the family kept in touch via cellphone.
After a four-hour ordeal, the boy was told to go upstairs, where his family was waiting to lecture him about "stranger danger."
The family, who was arrested after the boy told school officials about the ordeal, told police they just wanted to educate the child.
"The family members felt that they have done nothing wrong," Binder said.
In a statement, the sheriff's office said the boy was "terrorized."
The four were charged yesterday with felony kidnapping and child abuse and are being held on $250,000 bail, Binder told BuzzFeed News.
The child is now in protective custody with the Department of Family Services and living with a relative, he added.
"In the 11 years I've been in law enforcement I've never seen anything like this," Binder said. "When this is OK, to terrorize a child, to tell them that they're going to die."