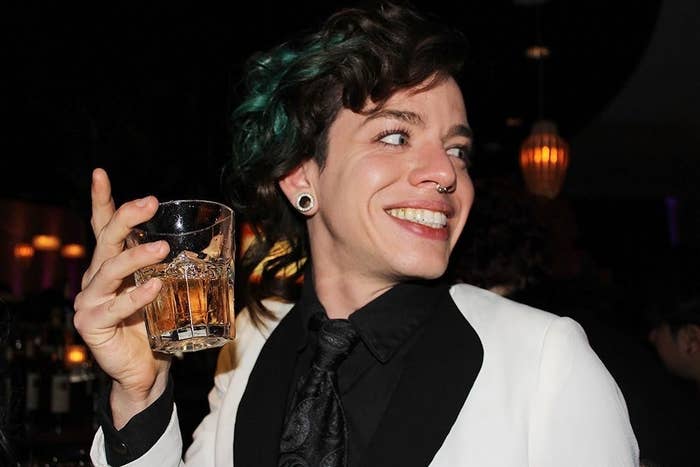 The audience for the Eighth Annual Feminist Porn Awards is shimmying in and out of a tightly packed bar full of bow ties and Tumblr-esque galaxy prints. A woman in a hunter-green pencil dress and Mad Men–era updo reaches for a glass of wine, revealing a tuft of armpit hair — obviously a conscious choice. The awards take place in Toronto, and this year's event is held in a posh venue normally used for wedding receptions. There is a swirling staircase up to a balcony, a row of crystal chandeliers, and a giant screen projecting writhing naked bodies. Moans echo over the audience, who cheer as a man on screen is penetrated with a dildo; the scene shot with dreamy sort of cinematography.
Later a sequin-jacketed MC says to the audience, seemingly out of context, "In sex work, get that money, darlin'. Get it up front. Get it. Get it. Get it." Behind me a woman with a septum piercing says to the girl beside her, "Yeah, but with films...that's hard." In feminist porn, how to actually make money is one of many open questions.
With the hundreds of guests that came to the event, it's clear that what's happening here is a movement, an industry and a philosophy, all of which seem to be in a constant shift. For some, feminist porn may sound like an oxymoron — and in reality, feminist porn does remain a bundle of contradictions. None of this stops feminist pornographers from moving full speed ahead with an agenda of equality and fairer working conditions in porn. But as feminist porn expands to include the kind of hardcore scenes typical of more mainstream films, can it stay true to its ideological roots? And will staying true to those roots ever be profitable?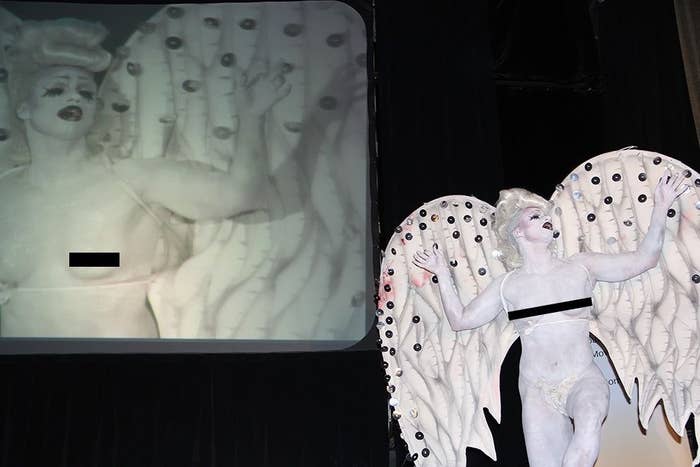 Put simply, feminist porn is porn made by feminists. But the guidelines to submit to the Feminist Porn Awards (FPAs) have a vague "I know it when I see it" quality. The FPAs call for porn that is "made by women or marginalized people," porn that "challenges stereotypes," and porn that "depicts real pleasure."
This year's FPAs also included the first Feminist Porn Conference, held at the University of Toronto. During the keynote speech, filmmaker Tristan Taormino had another definition: Feminist porn is organic, fair-trade porn.
Labor has always been a feminist issue, points out Taormino. She explains that the organic, fair-trade food movement has been successful at educating consumers, and she hopes this is what the feminist porn movement can also do: "If you care about the conditions under which your food was made and your jeans were made, then you should care about the conditions under which your pornography was made. And you should be willing to pay a little more for it to support the industry and its growth." It's early on a Saturday, and the lecture hall, crowded with coffee-toting attendees in comfy sweaters, erupts into applause.
During the daylong conference, the hallmarks of "organic" feminist porn are discussed: consent; fair wages; making a comfortable environment for performers; trying to depict real pleasure; and an attempt to inject feminist, intersectional politics if not on screen then at least behind the camera.
As Taormino points out, there are no anti-porn feminists picketing outside the walls of the University of Toronto where the conference is held. "And usually they are so organized!" she quips.
But that doesn't mean anti-porn crusaders approve of the feminist variety. Gail Dines, one of the most prolific anti-porn feminist activists, said on the BBC recently: "So-called feminist porn is not even a blip on the economics of pornography." Over the phone, Dines says that the "violent porn" produced in L.A. has a monopoly; she writes off feminist porn as a small niche market but also says some feminist porn is still part of the L.A. industry, since some feminist pornographers work with the male-owned companies who also make the mainstream stuff. She calls out Taormino, whose films have been produced by Evil Angel and Vivid, large L.A. companies. "What has happened to this movement that a woman can do anything and call herself a feminist?" says Dines.
The pro- and anti-porn feminists have become as polarized as pro-choice and pro-life movements, but it's interesting where the two camps agree. The feminist porn conference included a lot of discussion of the fact that some women are working not out of choice but by economic circumstance, or even coercion. And many attendees acknowledged that a lot of porn is sexist and problematic.
But the differences between the two sides are fundamental: While Gail Dines is currently working to develop legal limits on porn in Iceland, believing that in a truly "liberated" world we would not have porn, pro-porn feminists see no reason why sex on camera couldn't exist in a sexually free world. They'd just like it to be made more ethically. While Dines' work is about helping women get out of the industry, pro-porn feminists are trying to find ways to make conditions better for performers who are in the industry and don't want to leave.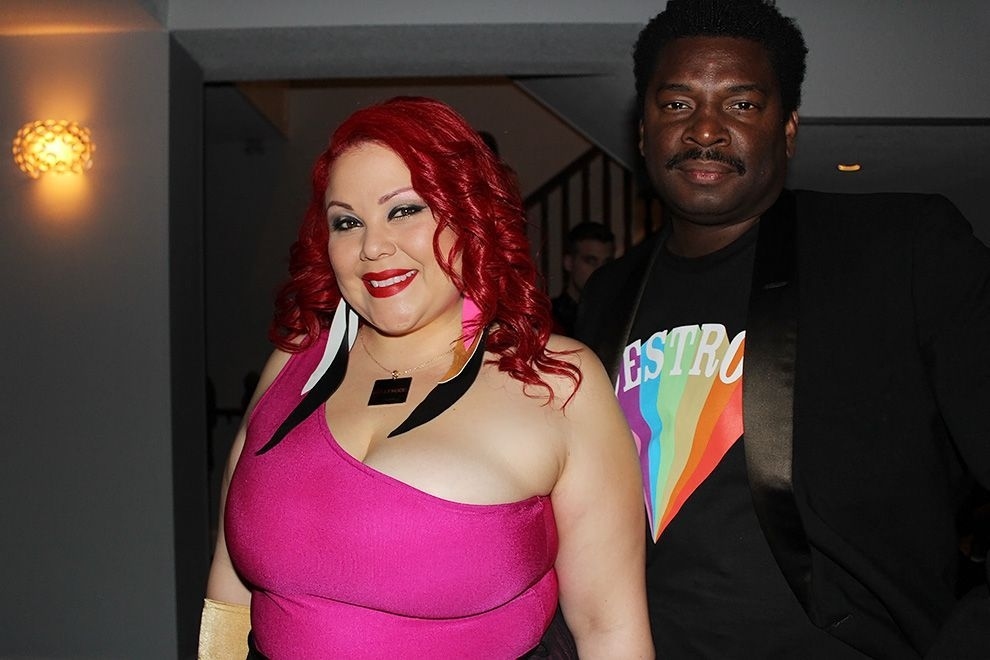 At the FPAs, attendees slink around with drinks in hand. In the red-carpet area behind the bar, cameras flash around porn director Shar Rednour. She is posing with a Feminist Porn Award (a crystal butt plug on a satin pillow with marabou feathers). Rednour has been making lesbian, feminist porn since the '90s. Her company S.I.R. created the infamous "pegging" (anal sex with a strap-on) tutorial Bend Over Boyfriend and the first-ever lesbian-made feature that won an Adult Video News Award, mainstream porn's highest honor: Hard Love & How to Fuck in High Heels.
The "girl on girl" category had existed at the AVN Awards for years, but Hard Love was not only the first lesbian-made win in the category, it was the first one with a butch-femme dynamic. "When we won, [veteran porn star] Nina Hartley ran up and knocked over a table to come hug us," says Rednour. "By our porn winning, we pushed the envelope for them [mainstream performers] to have more freedom in porn, so now they can turn to their producers and bosses and say: 'This won, this has a market, so don't tell me I can't do this in my movie!'"
It was important to Rednour that only women funded S.I.R.'s films, that everyone who worked on set and everyone on the cast was an actual lesbian, and that the camera captured only real orgasms. It makes sense that feminist porn started this way: that it was born in a utopia where misogyny doesn't exist. But the all-woman aspect of feminist porn is changing. "Feminist porn was originally considered woman-made porn for women, and that was easy for people to understand," says Rednour, giving her blonde hair a flip and stepping to the side of the red carpet so starlets Courtney Trouble and April Flores can get their photo taken. "But our identities mutate and evolve, and I think we are becoming more open. I find it beautiful."
On screen at the awards, Jiz Lee, a genderqueer star, is having a three-way with two buff men. The audience screams gleefully as Lee directs anal penetration between the two hairy guys. Feminist porn still has a reputation of being code for "lesbian porn," but this year's selections featured a lot of penis — the Lee film was directed by Christian Slaughter, a famed gay director — and within feminist porn there seems to be increasing rejection of "straight" and "gay," labels blurring lines between sexual orientation and gender.
Often what is hot is what is surprising. The audience favorite at the FPAs was Krutch, a short erotic film by Matthew Clark that challenges ideas about sexuality and disability; the film features a woman who has a disability in a solo masturbation scene, writhing around on bed and ultimately using her underarm crutch to get off. (The crutch was disinfected first.)
And feminist porn doesn't have to be soft: Many films at the FPAs featured more "hardcore" aspects like close-up shots, derogatory language, and BDSM scenarios.
Huddled near the bar, a group of self-identified straight dudes watch the screen. They admit they came to the show because it sounded funny. They had never heard of feminist porn, but they liked it. "The films are crazy, it's great. I liked the one where the girl squirted a lot," says a tall guy with dark facial hair and glasses, referring to a solo video of a pink-haired girl shot on an iPhone 5. (The guy also gave a Terry Richardson–esque thumbs-up.)
If feminist porn looks no different than mainstream porn, is it still feminist? Before the awards show, Courtney Trouble did a shoot for the site House of Switch. It was her second shoot of the day. "I ate April Flores for breakfast this morning," she says, pushing up her breasts for the camera. "I squirted all over her face."
Trouble started making porn in 2002 after being rejected by the alternative pinup site SuicideGirls for being too big: "They were like, you didn't even try to suck in!" she says. And while she makes queer, body-positive porn, she also describes shooting rape scenes. She made an entire gangbang film complete with gonzo camera moves, derogatory language, and "gaping assholes." "Sometimes it is about how similar it looks [to mainstream porn]," Trouble explains. "I think it's important for feminist artists to label their work feminist so you can see the difference, or see that there is no difference. It's making a statement that women should be allowed to watch whatever kind of porn they want to watch."
In her House of Switch shoot, Trouble was about to be spanked and dominated by a Quinn Valentine — a gender-fluid gay man — with a strap-on. But before starting they spent time going over what's OK. Where to hit, where not to hit. Where to touch. What they like. Being explicit about consent and boundaries can make porn more ethical — and thus, at least by Taormino's definition, more feminist.
"What about familial stuff?" Quinn asks.
"No calling you Daddy or anything like that," Courtney says.
"What about Mommy?"
Courtney laughs. She says she's never done that before — but Mommy is good.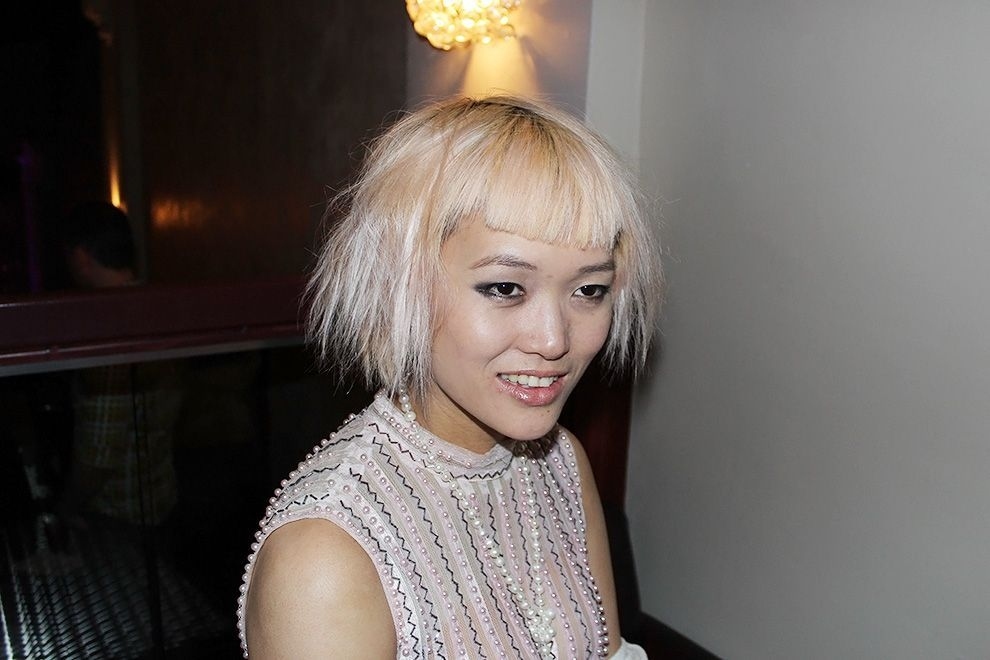 Jiz Lee won the "heartthrob" award at the FPAs; Lee has starred in hundreds of films (there is even a "Fuck Yeah Jiz Lee" Tumblr). But Lee still has a day job. Courtney Trouble is one of the few queer porn stars who's been able to make the transition to full-time, but it isn't easy. Trouble says she's kept her monetary goals small: She has vowed to never cater to her customer, making the porn she wants to make. And Trouble has been nominated by AVN for several awards, though she's still not as successful as some mainstream stars. "I don't make enough money to have a booth at AVN conventions, but at the same time my business is thriving."
But to thrive, Trouble dips into mainstream porn. She describes talking on the phone with guys who handle DVD production who call her "honey" and "baby." Trouble says it's ridiculous, but she doesn't mind, because she wants to play the game. She has to play the game if she wants to get porn made. She also has a growing number of straight male fans: "Lord knows every time I am composing a tweet, I am thinking about my fans as a BBW [big beautiful woman] porn star... I am like, am I going to lose half of my followers if I write about this feminist thing? On the flip side, am I going to lose half of my followers if I am going to write about this blow job that I really liked?"
The wood-paneled hallways of the University of Toronto stream with sunlight while attendees of the feminist porn conference mill around, strolling from room to room, trying to see the most panels possible. "Want a Triscuit?" asks a headband-clad, wide-eyed student before a talk about feminist identification and porn. She explains that she came to the conference because she was intrigued by the idea of feminist porn. As a teenager she feels she was "addicted" to porn. She describes having several boyfriends who were also addicted. "But I think it's great that now we can have this," she says. "If I have sons, I want them to watch feminist porn."
At a cocktail reception after conference, a group of attendees buzzed about how one day, we might not even need to call it "feminist porn," because it will simply be "porn" — the ethics and diversity feminist pornographers bring might actually become mainstream. And a topic that came up during one panel was that feminist pornographers — traditionally interested in "non-porny" body types — should not discriminate against "typical" blonde, boob-jobbed performers who also have a right to make money and to work in ethical porn.
During the keynote speech, Taormino says it's time to move the discussion to a big audience: "This a moment. We are having a moment of critical mass. We need to take this message and spread it beyond these walls... I want to see us in a space that is accessible and double this size by next year. And you are the foot soldiers who are going to make it happen."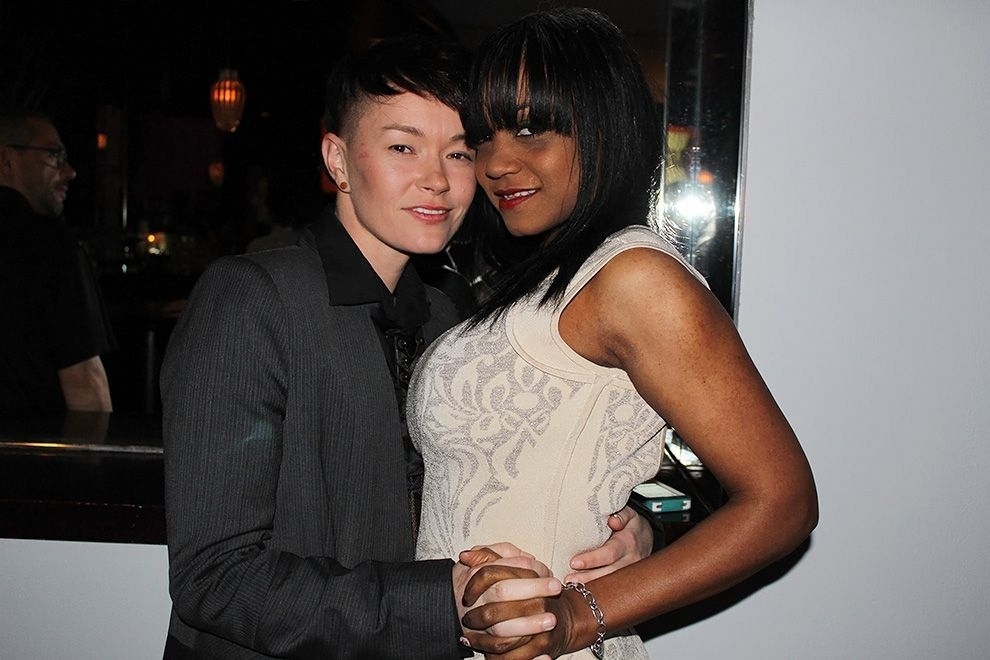 Later that night, the crowd unwinds at a sex party held at Studio 10, a new queer-friendly, sexy space in Toronto. The party (while not officially part of the FPAs) was listed on the awards' website. Familiar faces from the weekend crowd the small space wearing significantly less clothing than earlier at the conference. Stripped down to fishnets and skivvies, they grip cups of wine, abuzz with nervous sexual energy, the buildup of watching porn all week.
Courtney Trouble has taken off her dress and is DJing the party while nude; the lights feel lower as the space relaxes. Bodies begin to melt into each other against walls, on sofas and sex swings lit by pink and blue neon lights. In the bedroom, bodies on a large bed move in sync to Ciara's "Ride": "They love the way I ride it / They love the way I ride it." As more people fill the space, it becomes impossible to distinguish gender and sexuality; bodies wriggle in sets of twos and threes. Above the bed on the ceiling is a large mirror, and every now and again someone looks up mid-act; grinning at the act of seeing themselves reflected back.
CORRECTION: An earlier version of this article misstated the current performing name of one of the actors pictured. It is Quinn Cassidy.