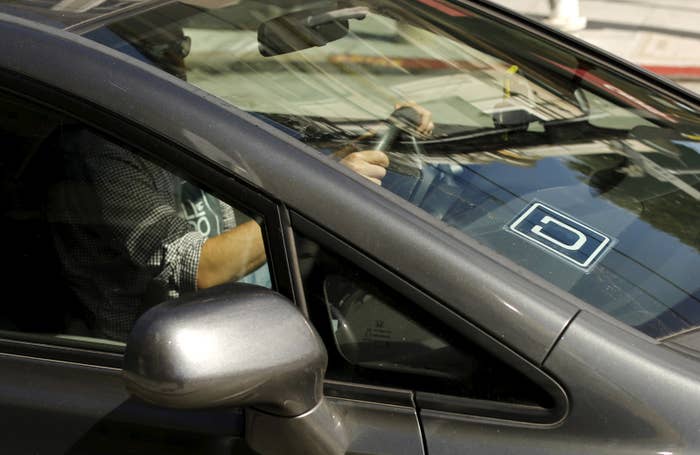 Uber is piloting new app features across the U.S. in an attempt to give passengers smoother rides. It plans to measure navigation and how a car swerves and accelerates to give drivers daily in-app reports with feedback on how they compare with other Uber drivers. The ride-hail giant told BuzzFeed News those patterns will eventually help build a real-time alert system for erratic or unsafe drivers, and it will inform its research on how self-driving cars should behave.

In several cities, the Uber app will also send drivers speeding alerts for highways — but not local roads because Uber doesn't know where those speed limits change. Monitoring how quickly or slowly cars accelerate and drive will help Uber detect anomalies, like drivers who tend to speed or hit the brakes too hard.
The product managers for these features worked closely with the self-driving car team to figure out how Uber can use its existing fleet of drivers to collect more data on how cars should (and shouldn't) move in different locations and scenarios.
Monitoring these factors will also help Uber fact-check bad ratings from passengers. Sometimes passengers report to Uber that their drivers were speeding. Now, instead of relying exclusively on someone's word, Uber said it will be able to refer back to data collected by the app in cities where the pilot is running — something it had not been able to do before it began testing this feature in November in Houston. Now, it's expanding to more cities.
The daily report will pop up on the driver app and give grades for "smooth brakes" and "smooth accelerations," with specific feedback, such as "several harsh accelerations detected," according to a sample screenshot provided to BuzzFeed News.
Uber told BuzzFeed that for the near future, it doesn't plan to deactivate drivers who score lower on its safe-driving metrics. Instead, the company hopes that drivers will be incentivized to ride a little more cautiously if they know they're being watched. The goal, Uber said, is to build a system for figuring out which drivers don't match the typical patterns for its other drivers in their city. Maybe they swerve more harshly and more often than others, for example. Then the company can investigate further.

In addition to the movement of the car, Uber will be looking at the movements of devices themselves. Some drivers hold their phones while they're driving, or rest them on their laps. In about 20 U.S. markets, the app will log how much the phone moves. If Uber notices a driver's phone moves too much, the app will ping him or her to purchase a phone mount to dock it on the dashboard. Docking the phone reduces the risk it'll fall on the ground midway through a ride, and it leaves both hands free to hold the wheel.
Uber will also send drivers who are on the app during early morning hours or late at night "recharge reminders." The notifications will be based on the time of day, not how long the driver has had the app on or how many consecutive rides they have driven.