Uber's leadership is 78% male and 22% female, according to a new diversity report released by the company today.
The report — Uber's first ever — comes about a month after Uber launched an internal investigation into sexism allegations, after a female former engineer posted a viral account alleging systemic sexism and sexual harassment at the company.
According to the report, tech leadership — those with director-level positions or higher — is 88.7% male and 11.3% female.
Overall, Uber is 63.9% male and 36.1% female, as of March 2017.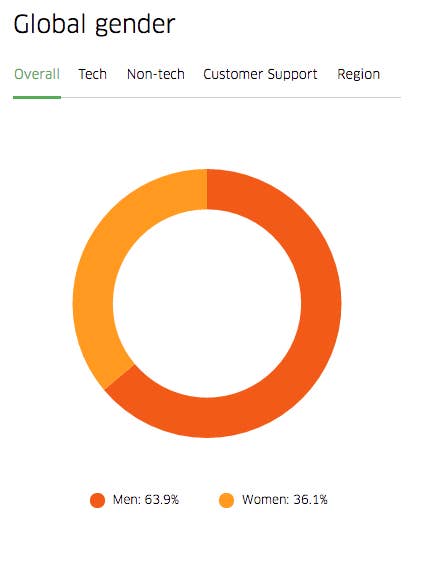 For comparison, Twitter's latest diversity report said the company was 37% female as of December 2016.

But in tech roles, the gap widens to 84.6% male and 15.4% female.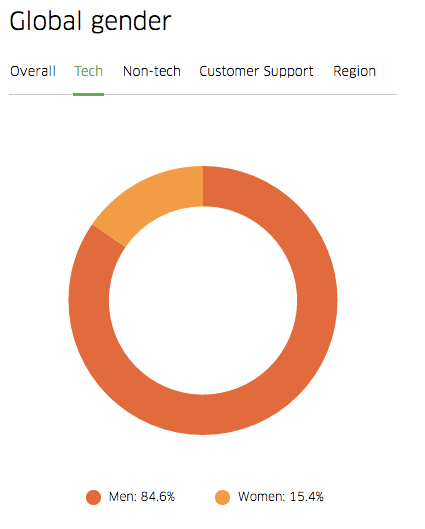 In non-tech roles, staff is 44.4% female and 55.6% male.
The report also covered race. Uber's US workforce is 49.8% white, 30.9% Asian, 8.8% black, 5.6% Hispanic, 4.3% multiracial, and 0.6% "other."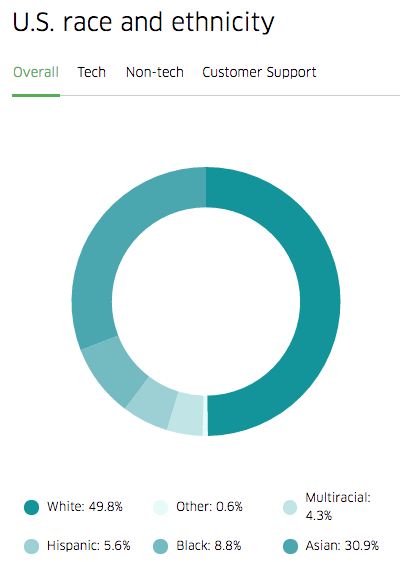 Bloomberg reported last week that Uber's own recruiters were denied access to its diversity data, stymying their efforts to hire more women and people of color.

US leadership overall is 76.7% white, 20.2% Asian, 2.3% black, and 0.8% Hispanic. Uber said it has no black or Hispanic people in tech leadership roles.

Tech leadership in the US is 75% white and 25% Asian.
In January, civil rights leader Jesse Jackson wrote a letter to Uber asking the company to release diversity data on the heels of its hiring of Bernard Coleman III as head of diversity and inclusion.
Liane Hornsey, Uber's chief human resources officer, said in a conference call with reporters last week that the company plans to hold new training sessions called "Why Diversity Matters," "How to Be an Ally," and "Building Inclusive Teams."
"This report is a first step in showing that diversity and inclusion is a priority at Uber," Uber CEO Travis Kalanick said in a statement provided by a spokesperson.
On Feb. 21, in Uber's first companywide meeting after sexism allegations became public, Kalanick apologized for leading the company to that point and promised staff that Uber would "do better." Two days later, women of Uber urged Kalanick to begin "listening to your own people" and start "admitting to ourselves as a company that we have a systemic problem," according to leaked audio obtained by BuzzFeed News. On Friday, The Information reported that Kalanick and a team of five Uber employees visited an escort bar during a work trip to Seoul in mid-2014, leading to an HR complaint from a female employee who felt uncomfortable.