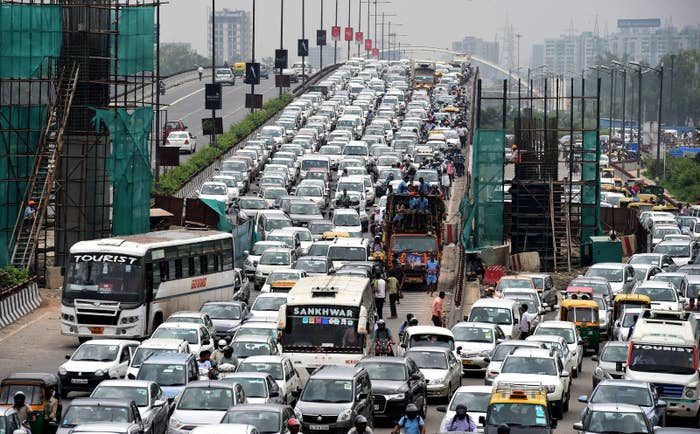 Uber has quietly assembled a team of engineers in India to work on the ride-hail giant's mapping and autonomous vehicle efforts. The size of the team and how its efforts dovetail with Uber's broader autonomous vehicle R&D could not be learned, but Amit Jain, president of Uber India, confirmed its existence to BuzzFeed News.
"All I can say about the team in Hyderabad is it is helping out with autonomous," Jain said. "It is focused on improving maps. Maps for us is one of the key critical aspects of our operations. How accurate are etas? How up-to-date are your maps? That's a team that's focused on maps and autonomous [tech] across the world."
In the last year, Uber has doubled down on its self-driving car efforts and launched pilot programs to put passengers in test vehicles. India, the ride-hail giant's second-largest market, accounts for 12% of Uber's trips worldwide and has become an increasing priority after Uber sold its China business over the summer. In July 2015, Uber said it would invest $1 billion in India. It has since grown into a team of about 1,000 employees in the country, with two engineering centers in Bengaluru and Hyderabad, where engineers work on localizing Uber's services to the Indian market – and some on supporting the company's global autonomous vehicle efforts.
But don't expect Uber to bring its autonomous vehicle pilot program to India — a country notorious for its traffic and rule-less roads — anytime soon.
"Autonomous in India is probably one of the most difficult challenges," Jain said. "It's not something I see in India in the next 10 years."
In the last year, Uber chief executive Travis Kalanick and all of his direct reports have made at least one trip to India, and several have visited twice, Jain said. During a panel discussion in New Delhi last December, Kalanick noted that "some of our autonomous work is actually happening in India," in Bengaluru and Hyderabad. Asked about the prospect of autonomous vehicles in India, he too said it's a ways off. "If there are major unexpected advances in artificial intelligence, they will happen sooner in India than you might expect."
"If there are major unexpected advances in artificial intelligence, they will happen sooner in India than you might expect."
"India will be one of the last places to get autonomy," Kalanick said. "The main reason is, have you seen how crazy people drive on the roads? It's going to be a long time before my scientists are going to build any kind of software that can drive on Indian roads."
In the last two years, Uber has invested heavily in its self-driving program and mapping efforts, embarking on a $500 million global mapping project, according to the Financial Times. In 2015, Uber opened an Advanced Technologies Center in Pittsburgh, which later became home to its first self-driving car pilot program. Last summer, Uber acquired automated trucking startup Otto and tapped co-founder Anthony Levandowski, who helped build Google's first self-driving car, to helm its self-driving efforts. In October, Uber announced that one of its self-driving trucks had completed its first delivery, hauling 2,000 cases of Budweiser across Colorado for Anheuser-Busch.
To staff its Advanced Technologies Center in Pittsburgh, Uber poached dozens of engineers from Carnegie Mellon University. The company's self-driving truck team works in a San Francisco warehouse about 1.5 miles from Uber's Market Street headquarters, and also has a space in Palo Alto. Uber further expanded its self-driving R&D efforts in December with the acquisition of Geometric Intelligence, an artificial intelligence startup the company said would work in part on self-driving car efforts.
Uber declined to answer questions about the size of the Hyderabad team and the nature of its autonomous vehicle work. Still, the Hyderabad team's existence alone shows that Uber's mapping and autonomous vehicle efforts are broader than the company's engineering hubs in San Francisco and Pittsburgh. "We have a global mapping team, including some folks in India working on maps-related projects, to improve pickups and drop-offs and the Uber core experience for riders and drivers," a company spokesperson told BuzzFeed News. "All our mapping efforts feed into our self-driving efforts."