Faraday Future Plagued By Lawsuits, Unpaid Bills Ahead Of Electric Car Reveal
The electric car startup is heading into a hyped-up reveal of its first production car after a year fraught with financial troubles, employee attrition, and lawsuits.
Next month, Faraday Future, the secretive electric car startup backed by Chinese billionaire Jia Yueting, is set to debut its first production vehicle at the Consumer Electronics Show. It will be a symbolic moment for the company — after all, it was at the same event last year that Faraday was lambasted for unveiling an overhyped concept car — and the hype has been commensurate. Over the past few weeks, Faraday has been aggressively teasing the car with a steady stream of mysterious tweets and short videos of a camouflaged prototype speeding through a desert.

But six former Faraday employees told BuzzFeed News the company is headed toward its big CES reveal following a year fraught with financial troubles, including mounting unpaid bills, lawsuits from a supplier and a landlord, and a distracting side project undertaken at the behest of its largest investor. The past year has also seen a slew of departures, including senior staffers.
"Month to month, the money was never there. Funds were lower than what Faraday needed to cover operational costs and commitments to suppliers," one former employee with knowledge of the company's finances told BuzzFeed News. Like most of the people interviewed for this story, the source spoke to BuzzFeed News on the condition of anonymity.
By July, Faraday had added $300 million in debt to its balance sheet as a result of missed payments to suppliers and vendors, according to a company document reviewed by BuzzFeed News. At the same time, it was already more than 30 days overdue on more than $100 million worth of payments to vendors and suppliers, according to a former employee familiar with Faraday's finances.
A Faraday spokesperson declined to comment on those figures and issues of employee attrition. "As a private company, we do not comment on financial matters. And as a matter of policy, we do not discuss personnel issues or comment on speculation or rumors," the spokesperson said.
Former Faraday employees with knowledge of the company's operations told BuzzFeed News its failures to make timely payments led some vendors to cease work on Faraday orders. Some have taken more drastic action.
Last Friday, the auto supplier Futuris filed a lawsuit against it for breach of contract. Futuris, which manufactures and tests seats for Faraday, alleges the company became delinquent on invoices over the summer and now owes Futuris more than $10 million, $7 million of which is more than 30 days overdue. Another lawsuit, filed last week by Beim Maple Properties — a property owner in Torrance, California — claims Faraday has missed $104,950.50 in rent payments for a warehouse. Lawyers for Futuris and Beim Maple Properties did not return requests for comment.
Faraday declined to comment on the lawsuits.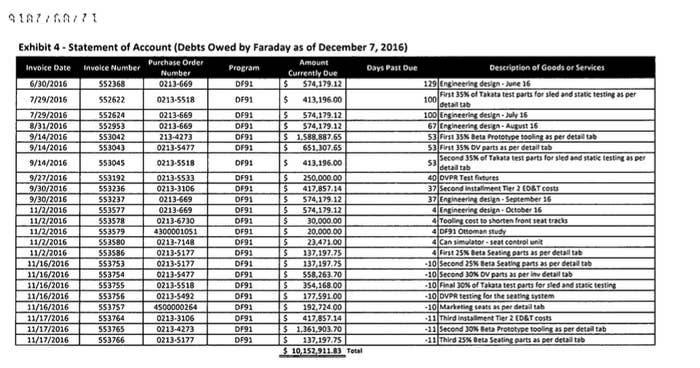 Since its founding in May 2014, Faraday has hired some 1,400 employees, poaching talent from legacy automakers and Silicon Valley stars alike. (A LinkedIn search for Faraday employees who previously worked at Tesla yields more than 130 results; a similar search for Apple returns about 60.) But after two years of operation, it has yet to name a chief executive. Faraday declined to say whether the company is conducting a search for a CEO.
Faraday's main financier is Jia, founder and chair of a holding company called LeEco, which has been dubbed the "Netflix of China." Publicly, there's a lack of clarity around the nature of LeEco's relationship with Faraday. But according to several former Faraday employees, the electric car startup – incorporated in Gardena, California – operates in practice as a branch of Jia's Chinese company LeEco, sharing resources.
There is some evidence to support that characterization. In December 2015, employees at Faraday's headquarters in Gardena, California, received a mandate from Jia: Design a prototype LeEco car that could be shown off publicly at a spring event in Beijing. According to several former employees, some of Faraday's designers were pulled off of their core projects to work on the vehicle. And in April 2016, LeEco unveiled a sleek, electric sedan called LeSee. On stage, Jia, who has been outspoken about his plans to usurp Tesla, touted LeSee as a LeEco creation as the white sedan glided across the stage to park in a mock garage. The audience couldn't see that the seemingly self-driving car was in fact being piloted from backstage via remote control.
Back in California, some Faraday employees were unsettled, sources told BuzzFeed News. Though they'd designed the car for LeEco per Jia's request, they were not given credit for doing so, and the company didn't receive payment in exchange. And the development of the LeSee had distracted them from work on Faraday's own vehicles. "[The LeSee project] certainly added pressure onto the design team. It crunched timelines," a former employee with knowledge of the project told BuzzFeed News. "It certainly made getting deadlines met that much more difficult." Faraday declined to comment on the project and the specifics of its relationship with LeEco. LeEco declined to comment on the project as well. In a statement to BuzzFeed News, LeEco said that the two companies are "strategic partners" by "bringing together global resources in several areas."
Meanwhile, cash wasn't flowing in from China as rapidly as Faraday had anticipated, putting the company under additional financial strain.
For a number of former Faraday employees — some who left as recently as this fall — the company's precarious financials became apparent soon after they joined. One former employee who resigned after less than a year said Faraday promised him a specific number of employees to build a team. But after he joined, the company cut that number by more than half. This former employee, an auto industry veteran, became uncomfortable working with Faraday's vendors because the company so often delayed payments to them. "A car is a big project. You are probably going to purchase thousands of different pieces of parts," that person said. "In the vehicle industry, you want to keep a very good relationship, a long-term relationship, with vendors. You're going to be in the market for years."
At times, Faraday's financial struggles left engineers hanging in the middle of their projects. One former engineer who joined Faraday early in 2016 arrived at work one day to find some of Faraday's equipment vendors putting orders on hold. The reason: a missed payment. The result: delayed design reviews. Faraday resolved the payment issue, but two months later, this engineer found himself facing the same problem. "We got a phone call from the vendor saying it hadn't received the payment for a second time, and it had ceased work," he said. In November, the former engineer said, employees were told some projects would be put on hold for six months until the company received more investment money.
Faraday declined to comment on missed payments to vendors and how they may have affected employees' work.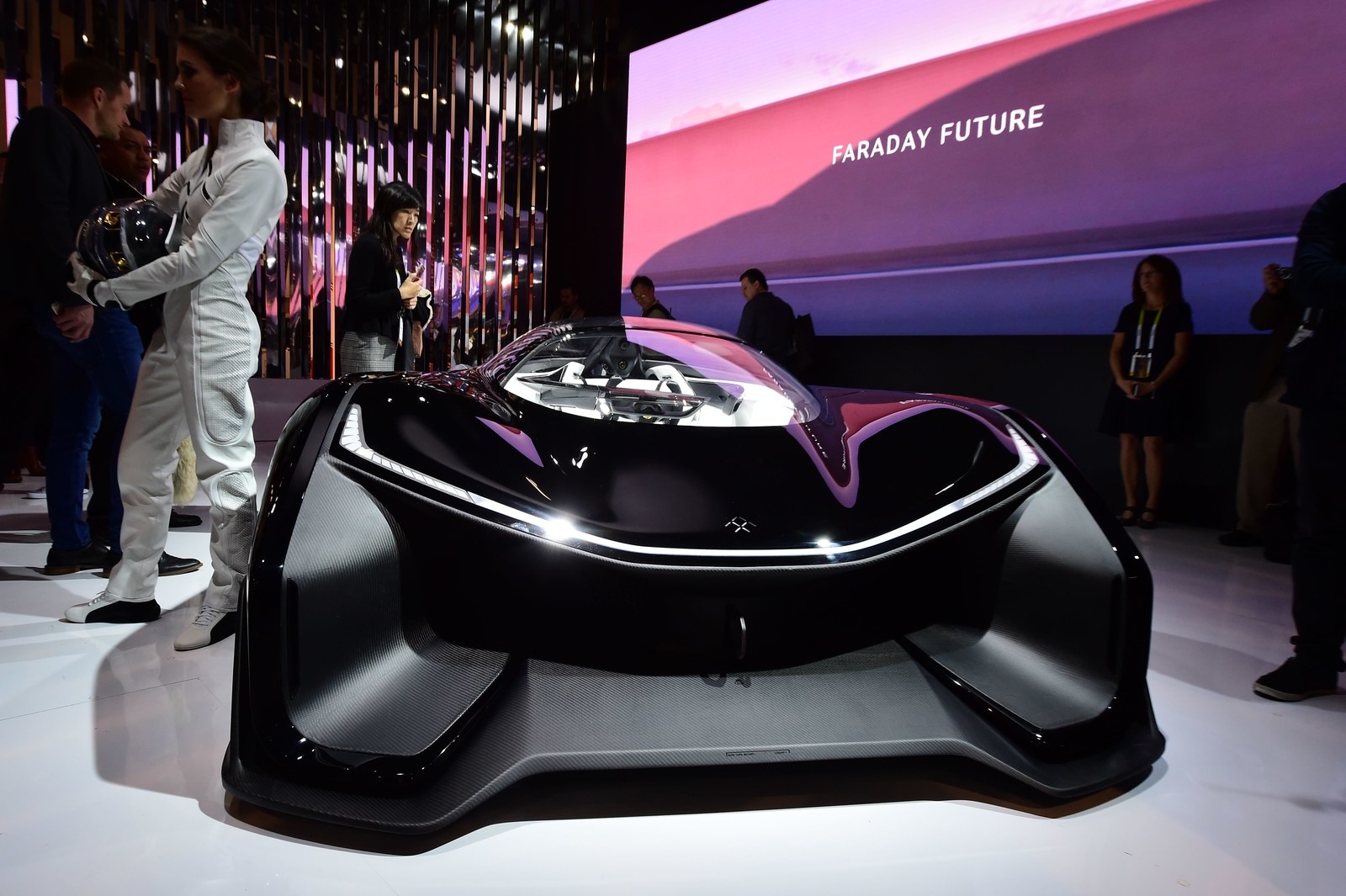 About 300 miles from Faraday's headquarters in California, the startup is grappling with another set of troubles.
In April, Faraday broke ground on a $1.3 billion car factory in North Las Vegas. The state of Nevada awarded Faraday $219.5 million in tax incentives as part of an economic development deal for the factory. The 3.4 million-square-foot factory was projected to create 4,500 full-time jobs in Clark County.
But construction on the factory has been stalled since October. In an Oct. 10 letter to Faraday obtained by BuzzFeed News, the construction firm AECOM wrote that the company was $21 million behind on its payments for September and that it would owe an additional $37 million for October and November.
"Faraday is temporarily adjusting their construction schedule with plans to resume in early 2017," AECOM said in a statement to BuzzFeed News. "We remain fully committed to our client and our employees working on this project, and we look forward to the facility's successful delivery."
In September, Jia's LeEco raised $1.08 billion for the LeSee plan, the company confirmed to BuzzFeed News. Then, two months later, Jia, Faraday's main financier, publicly acknowledged financial difficulties in a letter to employees published by Bloomberg News. "We blindly sped ahead, and our cash demand ballooned," he wrote. "We got over-extended in our global strategy. At the same time, our capital and resources were in fact limited." That same month, LeEco said it raised an additional $600 million.
Dan Schwartz, Nevada's state treasurer, told BuzzFeed News that Faraday had agreed earlier this year to biweekly phone calls with the treasurer's office to offer updates on the project's financing. He said those calls broke off in mid-November. "We asked for numbers about the financing and we just got a different story each time," Schwartz told BuzzFeed News. "I truly don't believe they have any money."

Steve Hill, director of the Nevada Governor's Office of Economic Development, took a more temperate position, saying in a statement provided to BuzzFeed News that "the State's agreement with Faraday anticipated a range of possible outcomes, offering Nevadans new opportunities if Faraday succeeds, while protecting the state in the event it did not."
With less than three weeks until Faraday's second CES appearance, just what form its first production vehicle will take is unclear. One former employee with knowledge of the company's planning said Faraday earlier this year set an internal target to show off about five prototypes at the Las Vegas event. Five former employees who recently left Faraday said the plan to show off a fully polished, driving production vehicle would be a challenge. As it was originally conceived, the futuristic car, tricked out with multiple touchscreens, would cost nearly $200,000, several former employees said.
Meanwhile, Faraday's marketing team appears to be hard at work. On its website, refreshed this week, a clock counts down the minutes to CES as a graphic shows a cloud of particles coming together to form a futuristic-looking car, as if by magic.
A Faraday spokesperson told BuzzFeed News the company is "is creating what we believe to be one of the world's most technologically advanced, game-changing electric vehicles. We have invested over $600 million in bringing our vision to life, and with a solid team of over 1,000 employees hard at work, we look forward to debuting it at CES 2017."
---
If you have information or tips, you can contact this reporter over an encrypted chat service such as Telegram, Signal, or WhatsApp, at 732-615-8367. You can also send an encrypted email to priya.anand@buzzfeed.com using the PGP key found here.