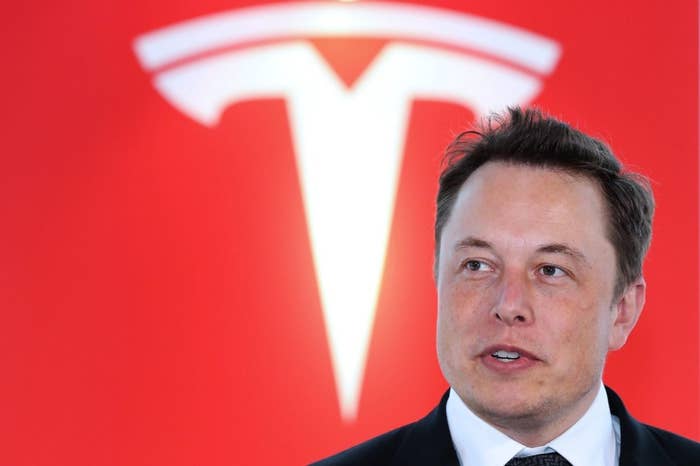 Elon Musk has said he wants to make Tesla vehicles so affordable almost anyone can buy one. But a few years from now, you might not have to, according to Tesla's "Master Plan, Part Deux." In it, Musk describes a future populated by ride-hailing fleets of Teslas and self-driving Tesla buses (and cargo trucks) — many of them solar powered.
Musk's plan, outlined Wednesday in a blog post, recasts private and public transportation on wheels as the synergy of Tesla's electric cars and home batteries, which he hopes to someday "seamlessly integrate" into "stunning solar roofs." And while much recent conversation around driverless vehicles envisions the eradication of car ownership (last year Lyft co-founder John Zimmer told BuzzFeed News, "The end of car ownership as we know it is coming fast"), Musk sounds a different note. He sees a world in which Tesla owners send their cars to pick up ride-hailing passengers when they're using them, and those of us who don't live near customer-owned cars request rides from a company-operated fleet of self-driving Teslas.
Like all of Musk's big bets, "Master Plan, Part Deux" hinges on everything falling perfectly into place.
But Master Plan, Part Deux offers no blueprint on how Tesla will meet these goals, and the company declined further comment on the matter. Like all of Musk's big bets, it hinges on everything falling perfectly into place. It assumes Tesla's shareholders will support the purchase of SolarCity, the solar energy company Musk helped found and serves as chairman of, to serve as the source of the solar component. (Musk told the Wall Street Journal he expects the acquisition to be approved by a two-thirds majority.) It also assumes legislative hurdles for self-driving cars will be overcome and that at some point soon Tesla's Autopilot feature, which is under federal investigation, will be "approximately 10 times safer than the US vehicle average." And it depends on the success of the Gigafactory Tesla is building in Sparks, Nevada, which the company projects will produce more lithium-ion batteries by 2020 than were produced globally in 2013.
And beyond all this, there's the competition to consider. Tesla joins Google, Uber, Lyft, and a myriad of startups in aiming to disrupt public transportation. Google has been testing driverless cars in California, Texas, Washington, and Arizona. Lyft is developing self-driving vehicles with General Motors. And Uber is launching partnerships across the US with cities and towns to subsidize the cost of rides, aiming to effectively become a nationwide public transit network, while also developing autonomous vehicles.
Now, Tesla has apparently been quietly developing electric buses that it says it will show off next year and which it claims will someday be autonomous. It is hardly the first company to put forth the idea of disrupting public transit with autonomous vehicles. But it has one thing these companies do not: Musk himself, a guy with an uncanny ability to sell BIG ideas to a vast audience and, for the most part, deliver on them.
"Before we were able to get the roadster out, they'd say you couldn't possibly make the car work," Musk said in an AllThingsD interview in 2013. "When we did, they said: Well, nobody's going to buy it. And people did. Then, when we announced the Model S, so many people called bullshit on that it was ridiculous. We were able to bring it to market, they said we wouldn't be able to produce at volume, we did that, and then they said we would never be profitable, and we did that in Q1. So I'm hopeful that people will observe that there is a trend here."
And there is something of a trend. Three years later, Tesla has delivered on Musk's Master Plan 1 promise to build more affordable electric cars: It has developed two additional models, the Model X and the upcoming $35,000 Model 3, and a network of nearly 4,000 superchargers to support their journeys across the US. Meanwhile, the company has also invested heavily in developing and improving the battery technology inside the Tesla and its Powerwall home-battery solution. Next week, it will host an opening party at its sprawling battery factory in Nevada, with production there expected to begin in 2017. It's worth noting as well that Musk once said his other company, SpaceX, would develop a reusable rocket. It did, and now the company is landing them on barges in the Atlantic Ocean.
But Tesla has had some struggles. The company's Autopilot feature, a driver-assist system with automatic steering, cruise control, and braking that Tesla calls an incremental step toward self-driving cars, is under federal investigation to determine whether it played a role in a fatal crash in May. And the company has had trouble meeting delivery expectations.
Tesla said in a letter to shareholders at the end of the first quarter in May that it planned to increase production to 500,000 vehicles annually over the next two years. Two months later, the company fell short of its own delivery expectations for the second quarter. Increasing production from a projected 80,000 to 90,000 vehicles this year to its goal of 500,000 in 2018 seems a challenge even without adding those self-driving buses and trucks.
Karl Brauer, a senior analyst at the auto research firm Kelley Blue Book, said stumbles like these could take some of the luster off Musk's Master Plan, Part Deux pitch, which, while heavy on big ideas and salesmanship, is lacking in executable detail.
"I think most people would agree that if you give even the average person billions of dollars and don't particularly hold them accountable for profit loss or timing, they'll accomplish things."
"I think most people would agree that if you give even the average person billions of dollars and don't particularly hold them accountable for profit loss or timing, they'll accomplish things," Brauer said. "I would argue that's what he's done. But ultimately you have to start playing by the traditional rules: delivering on time and delivering a high profit consistently."
If Tesla does accomplish all the goals Musk outlined this week, it could redraw the battle lines for public and private automotive transportation — a market that's already in upheaval. Nearly every major automaker has announced plans or partnerships to develop driverless vehicles, and Mercedes-Benz is testing a semi-autonomous bus in the Netherlands. Apple is secretly working on a self-driving electric car project that will reportedly be ready by 2019. In addition to developing their own driverless networks, Uber and Lyft have made rides cheaper with services like UberPool and Lyft Line, encouraging people to hail their cars instead of using traditional modes of public transportation. And Local Motors, a Phoenix, Arizona–based company that 3D-prints cars and buses, announced a partnership earlier this year to provide self-driving electric buses to the University of Las Vegas.
"I'm not sure how far along Tesla is," Brauer said, "but if Elon or anyone else thinks he's the only one who has conceived the idea of a self-driving mass transportation vehicles, he's wrong."
It could take Tesla three to five years to begin rolling out self-driving cars for its ride-hailing fleet, said Tim Bajarin, president of Creative Strategies Inc., a Silicon Valley market research firm. Until then, the company can't even be considered a competitor to Uber and Lyft. But Bajarin noted that those companies would be wise to take note of what Tesla accomplished after it put out its first master plan in 2006. (That plan included building a sports car, building a more affordable car, and then producing an even cheaper car than that.)
"He's actually fleshed out and delivered on that 10-year [plan]," Bajarin said. "If you're a competitor, you have to look at that closely."