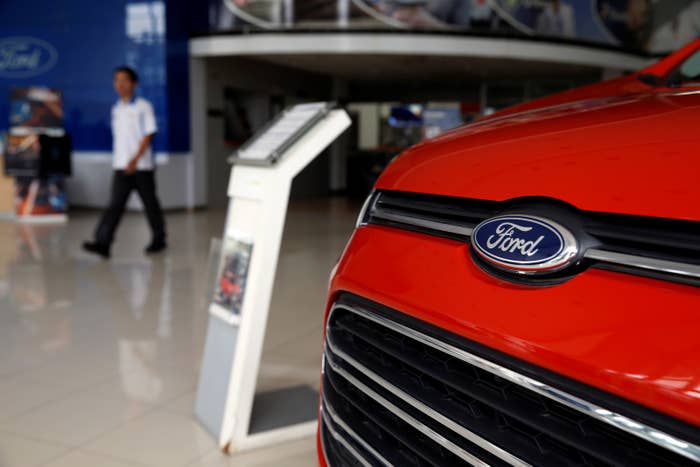 Ford announced a series of big investments in autonomous car technology on Tuesday, signaling that the old-school automaker is betting very seriously on self-driving vehicles as the future of personal transportation.
The company said it plans to put autonomous vehicles on the road in 2021 through ride-hailing fleets, and it will start selling them to individual drivers in the second half of that decade. To get there, Ford said it will double the Silicon Valley team it set up in Palo Alto a year and a half ago. Ford also announced Tuesday that it has invested $75 million into Velodyne, a company that makes light detection and ranging sensors, and it has acquired an Israeli machine-learning company called SAIPS that will help its autonomous vehicles learn about their environment.
The announcements come as many automakers and technology companies, from Tesla to Google, vie to be leaders in the self-driving vehicle race. Many companies have partnered in their efforts, for example, General Motors and Lyft. Ford would not say whether it will build its own ride-hailing platform or partner with established companies like Uber and Lyft. "There will be some things that we do on our own. There will be some things where we partner with others," Ford CEO Mark Fields told BuzzFeed News. "We have a lot of options and business models that we're working through."
Ford opened its Palo Alto office in early 2015 and has a staff of more than 130 people there. The company says it's working with more than 40 startups on new car technology. Ford has also invested in the Berkeley, California mapping startup Civil Maps, as well as Pivotal, a cloud-based software development company in San Francisco to boost its connected car efforts, this year. (Pivotal is working on Ford's Dynamic Shuttle pilot program, a ride-hailing experiment it's testing on its campus in Dearborn, Michigan. Employees use it to travel between buildings during the day.) And in March, Ford created a subsidiary called Ford Smart Mobility to "design, build, grow and invest in new mobility services."
These investments and efforts show how the legacy car company is trying to match pace with newer automakers like Tesla, the many other upstarts that have cropped up, and ride-hailing companies such as Uber and Lyft — who are all also working on driverless cars. Tesla said last month that once it unveils autonomous vehicles, owners will be able to add them to a ride-hailing fleet and send them off to pick up fares, or request self-driving Tesla rides if they don't want to drive.
Raj Nair, Ford's chief technical officer, told BuzzFeed ahead of Tuesday's announcement that personal ownership of Ford's self-driving cars will become an option in the second half of the decade after the vehicles are introduced in 2021. By the time they're available for sale, people will be used to them and they'll be cheaper to make, he said.
"Certainly there will be some kind of market for personal ownership...as you significantly reduce the cost," Nair said.
The old-school automaker regularly notes its history in manufacturing innovation when it talks about self-driving cars. "From our standpoint, our view is autonomous vehicles could have the same societal impact...as Ford's moving assembly line did," Fields said.
And one thing Ford does have compared to Tesla and other upstarts in the self-driving is scale. When the company says it will put autonomous vehicles on the road, it means it will do it in droves. "We're not going to be talking about a couple hundred units like some science project," Fields said.