Thousands of drivers working for Uber and Ola in the Indian capital New Delhi have been on strike for more than 72 hours, throwing the city's transport system into chaos.
This is what they're demanding from the ride-hailing companies: reduced working hours, better monetary incentives, higher base fare, and accident insurance among other things.

Surge-pricing — sometimes as high as three times the usual fare — kicked in over the weekend as thousands of cabs from both services went offline. Auto-rickshaws and traditional radio cabs — legacy forms of transport that have been hit hard by Uber and Ola — made a killing, even as the Delhi government rushed to provide extra buses to stranded commuters.
Hundreds of drivers have been protesting at Jantar Mantar, a popular protest site in Central Delhi over the weekend. At least two people who were on hunger strike have been hospitalised, BuzzFeed News has learned.

Drivers want Uber and Ola to bump up the base fare from Rs. 6 a kilometer to Rs. 21 a kilometer — in line with what traditional radio cabs charge in the city. They also want both services to cut back on the commission that they take on each ride — typically between 20% and 30%, and provide accident insurance to drivers.
In response to the protests, Uber filed a court order against the two largest unions representing drivers in New Delhi in the Delhi High Court, which was granted on Monday. An Uber spokesperson told BuzzFeed News: "We welcome this court order, which prohibits unions, their leaders, and anybody else from obstructing the activities of Uber driver partners as they go about their business. We hope it will enable drivers to get back behind the wheel, something many have been telling us they wish to do. We're sorry that our service has been disrupted and for any inconvenience this has caused."
"Our demands are not unreasonable," said Manoj Kumar Verma, spokesperson at the Sarvodaya Drivers Association, one of the two drivers' unions that Uber filed a court order against, and which claims to represent over 150,000 drivers in New Delhi. "We used to make between Rs. 80,000 and Rs. 100,000 a month earlier. Now we are lucky to make Rs. 30,000."
Over half a dozen Uber and Ola drivers that BuzzFeed News spoke to said that the key reason for the sharp dip in earnings was that both Uber and Ola have stopped doling out monetary incentives in the last two months. An incentive is a flat fee that both companies give out to drivers in exchange for meeting daily targets such as completing a minimum number of rides or driving a minimum distance.
"When we first signed up, [Uber and Ola] promised us that we would make lots of money," an Ola driver told BuzzFeed News on the condition of anonymity. "That's not true anymore. Ola and Uber have not even acknowledged our demands yet. They don't care if we live or die."
Uber declined to answer BuzzFeed News' questions about incentives, but provided the following statement: "We're sorry that our service has been disrupted and for any inconvenience this has caused. Serving riders, drivers and cities is core to our mission and we are working hard to ensure that drivers are able to get back behind the wheel and riders can get from A to B conveniently, reliably and safely."

The company is showing the following message in its app to riders.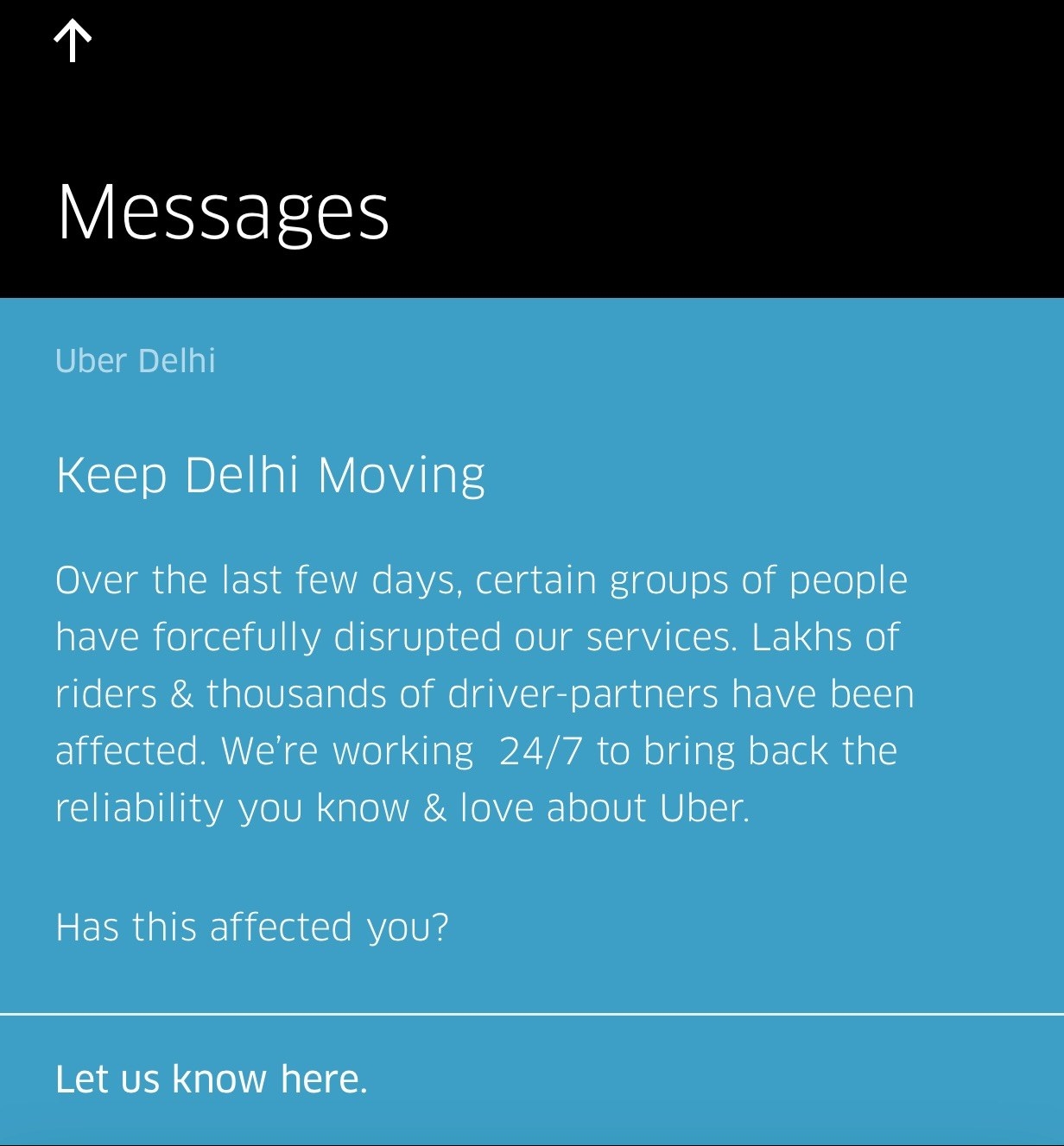 Ola told BuzzFeed News that the company would not comment on the protests. It has been sending out the following text message to customers in New Delhi: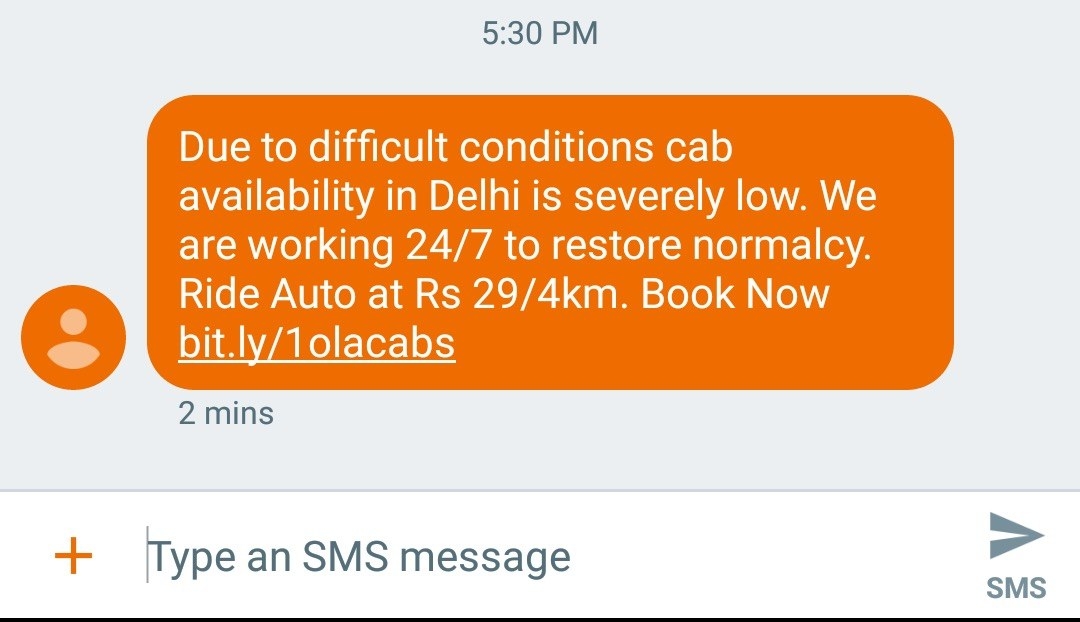 New Delhi's transport minister Satyender Jain told Reuters that he is planning to meet the striking drivers on Tuesday to resolve the issue. "I am going to hear all the sides and then we will set new rules soon," he said.
This is not the first time that Uber and Ola drivers have gone on strike in India. Last year, Ola and Uber drivers in Hyderabad called for a five-day strike to protest against low earnings. And in January, drivers in Bengaluru, Uber's largest market in India, went offline for a day to protest against dwindling earnings and long working hours.
Meanwhile, the New Delhi protests threaten to spread — once again — to Bengaluru and Chennai. According to the Economic Times, more than 50,000 drivers in Bengaluru and 5,000 drivers in Chennai are planning to strike on Feb. 15.