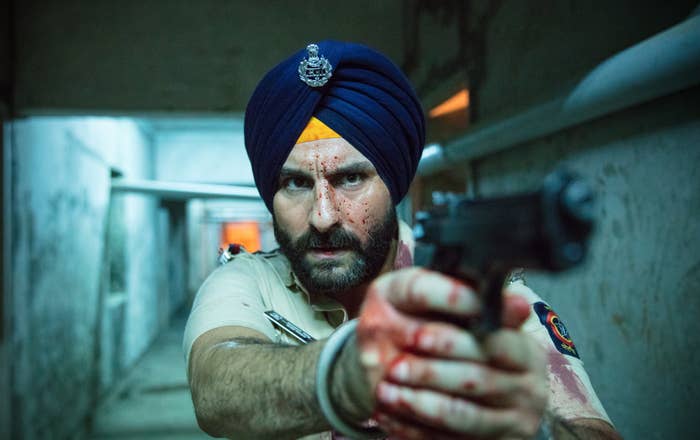 Sacred Games, Netflix's newest original show and the company's first original series produced in India, debuted in 190 countries — nearly every place where Netflix is available — on Friday. The show is in Hindi but has been dubbed into four international languages, including English, and has subtitles available in 24.
It's a crime thriller based on a critically acclaimed novel about a weathered cop and an enigmatic gangster set in the gritty urban sprawl of Mumbai. Netflix has produced a handful of smaller films in India in the past, but it's taking an aggressive gamble on Sacred Games, a project that features some of Bollywood's biggest stars and two of Bollywood's biggest directors. Netflix has already ordered it for four seasons, and it's Netflix's biggest production so far in India, whose nearly 500 million internet users are an important market for the company.
The company is promoting the series with enormous billboards in major Indian cities — something it rarely does with its shows in the US. Indeed, Netflix has been hyping Sacred Games ever since the service launched in the country in 2016. "We want to make Sacred Games a great, global success like Narcos," Netflix CEO Reed Hastings told reporters during his first visit to India at the time. Narcos, a hybrid Spanish-English show based on the life of drug kingpin Pablo Escobar, has been one of Netflix's biggest shows since it debuted in 2015. Netflix seems to follow a similar formula with Sacred Games.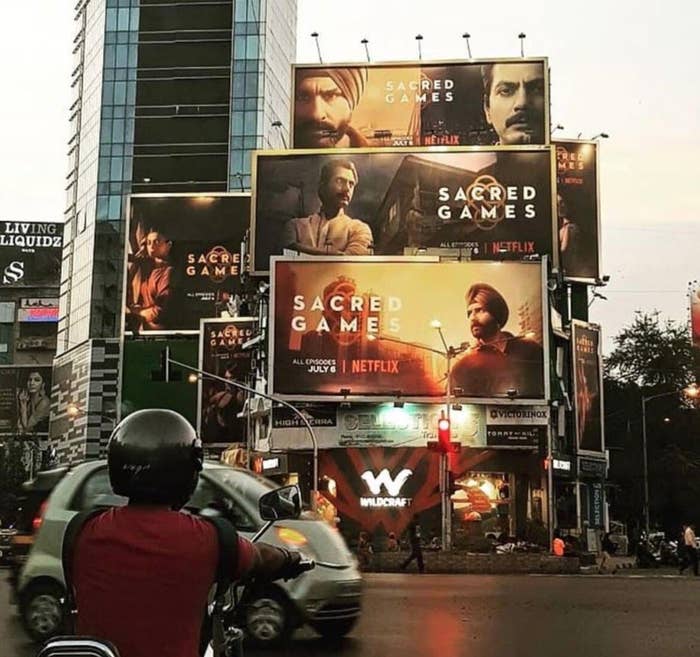 Netflix desperately wants to dominate streaming in India, but it has more than 30 competitors in the country thanks to aggressive telecom wars that have slashed data prices to pennies. Some of them include local production houses like Balaji Telefilms, which has more than 2.5 million paying subscribers, according to a recent CNBC report. Amazon Prime Video, one of Netflix's biggest rivals in the US, is also pouring money into India and rapidly churning out original content, like a series about cricket, and a reality show featuring prominent Indian stand-up comedians. And Hotstar, a streaming service controlled by 21st Century Fox, which gives away most of its content for free, reportedly has more than 75 million subscribers.
By comparison, estimates of Netflix's Indian subscribers are more modest, at 300,000. That's almost certainly because of its price: A Netflix subscription in India costs about $7 a month, compared to $15 a year for Hotstar and Amazon Prime Video each.
Still, few other streaming services have managed to capture as much cultural cachet in Indian entertainment as quickly as Netflix seems to have done with Sacred Games. The series launched to relatively strong reviews from nearly every large Indian publication. "Sacred Games [shows] what India is capable of cinematically," said the Hindustan Times. Scroll.in called it a "superbly crafted thriller with topnotch performances." And Indian Twitter was pretty hyped too.

Beyond that, experts say that Netflix's biggest contribution to Bollywood may be that, with shows like Sacred Games, it's starting to empower writers and filmmakers in a 100-year-old industry.
"Serialized storytelling like Sacred Games is a writer's medium, and, unlike the West, Bollywood has traditionally given short shrift to writers," said Raja Sen, a film critic who recommends shows for Indians to watch online each week in an Indian business daily. "Someone really needed to change the game in India in terms of on-screen storytelling, and Netflix has done that. Every single person I know in the Indian entertainment industry is rooting for this show to work."

Sen admits that Sacred Games "does not hold a candle to Narcos." But more importantly, he said, "the fact that we're now seeing a big-budget show on a global service like Netflix out of India is a huge step forward for everyone."
And Netflix isn't trying to win over just India with its new show.
"Our expectation is that a show like Sacred Games will not only be important for India but also the world," Erik Barmack, Netflix' vice president of international originals, told BuzzFeed News. "Over 50% of our audience in the last two quarters is international," said Barmack. "A vast majority of them have watched a show that's not in English. Going forward, we're just going to have more and more people watching us whose primary language isn't English, and who just watch content from across the globe that's either dubbed or subtitled. They're just going to be looking for the best stories." In the last few years, Netflix has had hits from foreign countries with original shows like Fauda (Israel), Dark (Germany), The Rain (Denmark), and La Casa de Papel (Spain).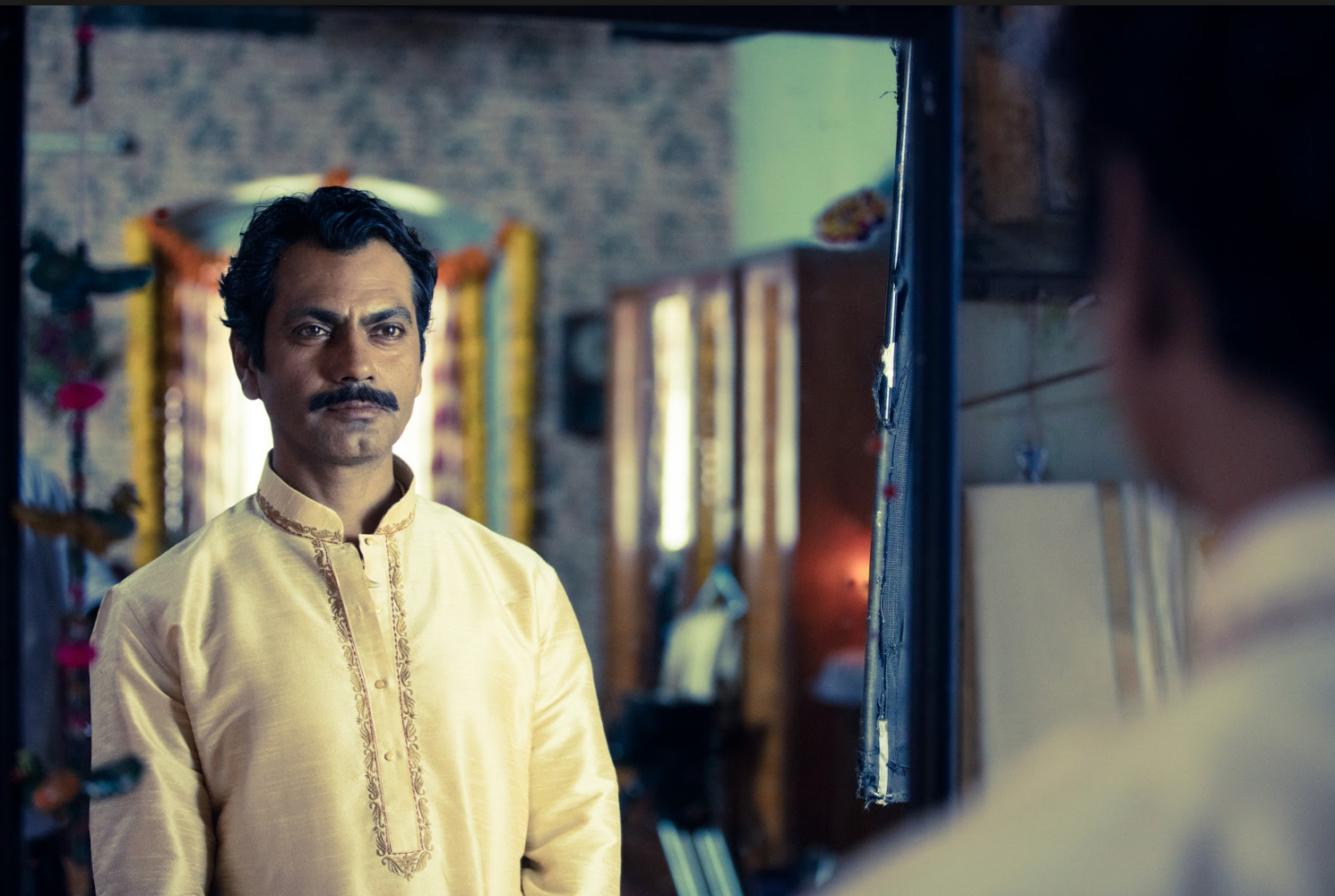 Creating movies and shows for streaming services like Netflix has also freed up Indian filmmakers long suffocated by the country's infamous Central Board of Film Certification, popularly known as the "censor board," which is a government body responsible for certifying films that frequently faces public ire for censoring movies. Sacred Games sprinkles swear words generously in its characters' lines, and it's full of violence, including an opening scene featuring a Pomeranian plummeting from a high-rise and splattering on the pavement as a voiceover says: "Do you believe in God? God doesn't give a fuck." These kinds of details in a show would usually attract extra scrutiny from India's censor board.

"Whenever there were censorship issues, I have still fought with the censor board and got my films out," Anurag Kashyap, one of Sacred Games' directors, recently said. "The difference [with Netflix] is that I didn't have to fight with anyone. It saved me a couple of months of my time." Kashyap's 2007 film about bomb blasts in Mumbai based on true events was banned by the censor board for three years.
This is just the start for Netflix in India. The company has already announced its pumping more money into Indian content, including an adaptation of Booker Prize–winning Indian author Aravind Adiga's 2016 novel Selection Day about cricket, expected to debut next year. And last week, the company announced that its next big Indian series would be an adaptation of Midnight's Children, a 1981 novel by Indian author Salman Rushdie.
"Sacred Games is big, but it's not something they're betting their India strategy on," said Sen. "Even if this one doesn't work for some reason, there are going to be bigger, grander shows. I think they're in it for the long haul."
CORRECTION
Sacred Games has been dubbed in four languages and has subtitles available for 24. An earlier version of the story misstated those numbers.