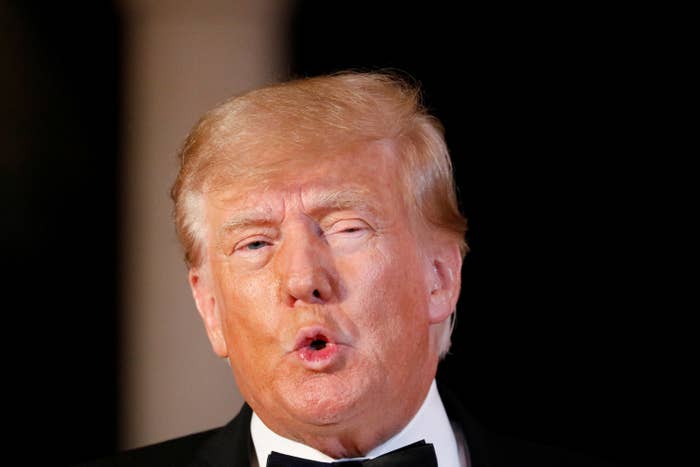 Meta will reinstate the Facebook and Instagram accounts of former president Donald Trump "in the coming weeks," the company announced on Wednesday. The move comes two years after the social networks banned Trump for praising rioters who stormed the US Capitol on Jan. 6, 2021.
"The public should be able to hear what politicians are saying so they can make informed choices," Nick Clegg, Meta's president of global affairs, wrote in the company's announcement.
Trump announced in November 2022 that he will run for president again. His campaign had formally petitioned Meta to reinstate him on the platform, NBC News reported earlier this month. Since his suspension, Trump's profile was accessible on both Facebook and Instagram but couldn't be used to create new posts or run ads.
Trump's accounts will have "new guardrails in place to deter repeat offenses," Clegg said. If the former president posts anything that violates Meta's speech policies, his posts will be removed, and he will be suspended once again for anywhere between a month and two years, depending on the severity of the violation. Meta may also limit the reach of his posts and prevent them from being shared or promoted.

In May 2021, the Facebook Oversight Board, a group of outside academics and other experts assembled by Meta to make high-level policy decisions, upheld Facebook's decision to suspend the former president. However, they strongly criticized Facebook's handling of it, noting the suspension was vague and undefined. The Oversight Board gave Facebook six months to reevaluate.
Facebook's ban was the first time a major social network kicked Trump off its platform. Twitter followed a day later. But in November, Twitter's new owner Elon Musk restored his account. Trump, however, hasn't tweeted since then.
Trump reacted to the news Wednesday night on Truth Social, the platform he founded.
"FACEBOOK, which has lost Billions of Dollars in value since 'deplatforming' your favorite President, me, has just announced that they are reinstating my account. Such a thing should never again happen to a sitting President, or anybody else who is not deserving of retribution!" he wrote. "THANK YOU TO TRUTH SOCIAL FOR DOING SUCH AN INCREDIBLE JOB. YOUR GROWTH IS OUTSTANDING, AND FUTURE UNLIMITED!!!"
During his time as president, Trump spread hate and lies to a massive audience on Facebook. He ran ads that invoked a Nazi symbol, justified violence against Black Lives Matter protesters by saying "when the looting starts the shooting starts," compared COVID-19 to the flu long after the dangers of the new disease became clear, and spread false information about the election, which seeded the ground for the insurrection.
Facebook largely avoided taking action against the former president until after Jan. 6. It added warning labels to some of his posts, despite evidence those labels were ineffective. Executives justified leaving his posts up despite outcry from employees.
"We believe the risks of allowing the President to continue to use our service during this period are simply too great," Zuckerberg wrote on Jan. 7, 2021. At the time, the CEO said the ban would last "at least the next two weeks until the peaceful transition of power is complete."
Meta's decision will have ripple effects not just in the US but worldwide, Imran Ahmed, the CEO of the Center for Countering Digital Hate, told BuzzFeed News.
"He'll go back to being a superspreader of misinformation on social media," Ahmed said. "It will send a very direct message that the impunity continues, that there are no consequences for malignant behavior."
In a statement on Wednesday, Wendy Via, president of the Global Project Against Hate and Extremism, said Meta's decision would empower not only Trump, but far-right leaders around the world.
"Facebook's decision to let Donald Trump return to the platform is incredibly dangerous. Time and time again, we've seen Trump's lies and rhetoric spread hate, incite violence, and undermine democracies," she said. "With its nearly three billion active users, Facebook's move to welcome Trump back shows its willingness to be complicit in the spread of hate and extremism."
Jane Lytvynenko and Ryan Mac contributed to this report.