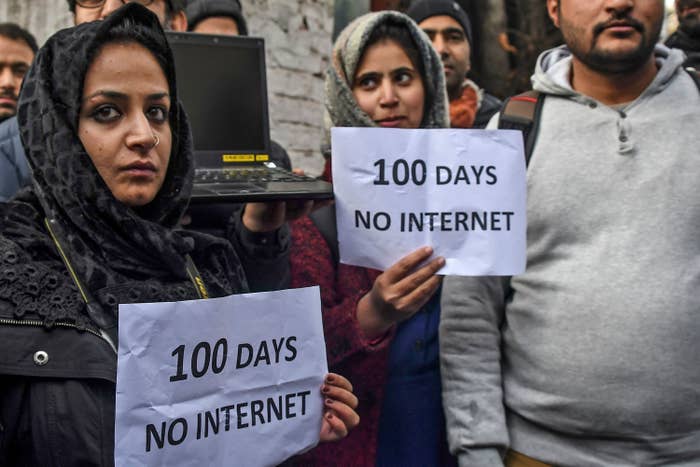 Cisco, an American networking company, has denied reports that it is working with the government of Jammu and Kashmir in India to build software to prevent Kashmiris from accessing social media websites in the region.
Internet access in Kashmir has been restricted since Aug. 5, after the Indian government revoked an article in the country's constitution that granted the region a degree of autonomy and shut down access to prevent dissent and open rebellion.

"Cisco denies reports from India regarding Cisco involvement in restricting access to social media websites," a company spokesperson told BuzzFeed News. "Cisco strongly supports free expression and open communication on the Internet, and our policies and practices are well-established in this area. We build our products to comply with global standards and sell our products globally. We do not customize our products in any way to enable censorship."

The Print, an Indian publication, claimed on Tuesday that Cisco was working with the government of Jammu and Kashmir to prevent internet users there from accessing social media websites through wired broadband. The report said Cisco would help authorities in the region "build a firewall" and that its employees were currently in Kashmir to "build a stopgap arrangement." It also said local authorities were in the process of buying "firewall technologies" from Cisco to enforce internet restrictions.
Cisco has been criticized in the past for enabling censorship and surveillance in authoritarian regimes. A 2008 Wired report showed the company had a 90-page internet document detailing how it could help the Chinese government build the "Golden Shield," also known as the Great Firewall of China, a version of the internet heavily censored by Chinese authorities.
After nearly six months of shutting down the internet entirely, India's government allowed people in the region partial access to a few hundred government-approved websites at severely throttled speeds. Social media platforms, however, continue to remain blocked.
As a workaround, Kashmiris have been using VPNs, software that lets you mask your location on the internet to bypass local restrictions. Last month, authorities in Kashmir started filing complaints against people using such software under a law that lets them punish offenders with up to seven years in jail.
The shutdown has disrupted life in the region, a decades-old conflict zone that lies between India and Pakistan. In December, a report released by the Kashmir Chamber of Commerce and Industry said the lockdown had cost the local economy more than $2.4 billion.
This is a developing story. Check back for updates and follow BuzzFeed News on Twitter.