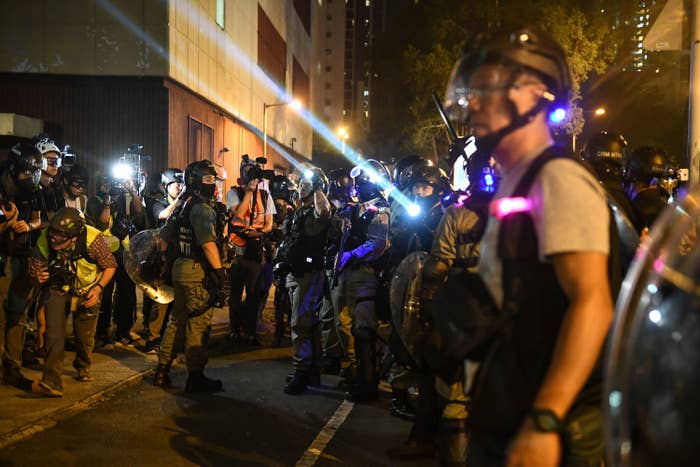 Apple removed from its App Store on Wednesday a popular crowdsourced mapping app called HKmap.live, which let people in Hong Kong track police during the country's ongoing pro-democracy protests.
The removal has sparked outrage from critics who have accused the company of kowtowing to the Chinese government.

Apple removed the app days after the company was criticized in Chinese state media for aiding "rioters" in Hong Kong. An editorial in People's Daily, a government-run newspaper, said: "Letting poisonous software have its ways is a betrayal of Chinese people's feelings."
In a statement late on Wednesday, Apple said:
We created the App Store to be a safe and trusted place to discover apps. We have learned that an app, HKmap.live, has been used in ways that endanger law enforcement and residents in Hong Kong. Many concerned customers in Hong Kong have contacted us about this app and we immediately began investigating it. The app displays police locations and we have verified with the Hong Kong Cybersecurity and Technology Crime Bureau [CSTCB] that the app has been used to target and ambush police, threaten public safety, and criminals have used it to victimize residents in areas where they know there is no law enforcement. This app violates our guidelines and local laws, and we have removed it from the App Store.
In response, the developers of HKmap.live tweeted that there was "0 evidence to support CSTCB's accusation" and added that "HKmap App never solicits, promotes, or encourages criminal activity. HKmap App consolidates information from user and public sources, e.g. live news stream, Facebook and Telegram."
China is Apple's second-most important market after the United States. The company generated $52 billion — a fifth of its sales — from Chinese customers in the last year alone, and it also manufactures most of its products in the country.

For years, Apple has responded to Chinese pressure. It has deleted hundreds of apps from its App Store in China, including the New York Times in 2017, for violating local regulations. This week, the company removed the Taiwan flag emoji for users in Hong Kong who updated to its latest iPhone operating system, iOS 13, and removed the app of news outlet Quartz from the Chinese App Store over Quartz's coverage of the Hong Kong protests.
China's government has put pressure on American companies in the last few weeks for supporting the ongoing protests in Hong Kong, which Chinese authorities say are a separatist movement that threatens the stability of the country.
Last week, China's state broadcaster CCTV and other Chinese partners said they would stop cooperation with the NBA's Houston Rockets after the team's general manager Daryl Morey supported the Hong Kong protests in a tweet, which he since deleted.