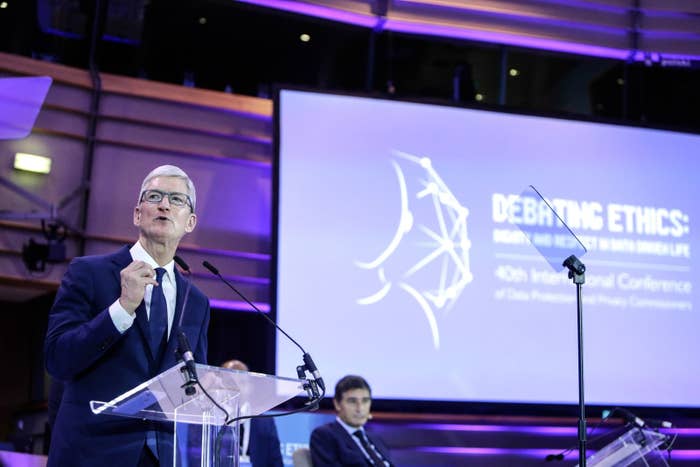 Apple CEO Tim Cook on Wednesday expressed concern about the indiscriminate collection of people's data by technology companies, and called for a new law to mitigate the intrusion of big tech firms into people's lives.

"We see vividly, painfully how technology can harm, rather than help," he said, speaking at a conference in Brussels, adding that platforms can "magnify our worst human tendencies … deepen divisions, incite violence, and even undermine our shared sense or what is true or false."
"This crisis is real," Cook said. "Those of us who believe in technology's potential for good must not shrink from this moment."
Cook was giving the keynote speech at the 40th International Conference of Data Protection and Privacy Commissioners at the European Parliament, in front of some of the world's most powerful regulators. Among the delegates are the European Union's top lawmakers and policy experts.

Cook said that Apple is "in full support of a comprehensive, federal privacy law in the United States," the first time the company has expressed support for strong privacy laws in the United States. He also praised the EU's recently passed tough privacy rules — known as the General Data Protection Regulation (GDPR) — that allow regulators to fine companies up to 4% of their global revenue unless they give users more control over what happens to their personal data.
Cook did not directly name Facebook or Google in his speech, but said that he was concerned that companies make "countless decisions" on the basis of "our likes and dislikes."
"Taken to its extreme, this process creates an enduring digital profile that lets companies know you better than you may know yourself," he said. "Your profile is then run through algorithms that can serve up increasingly extreme content, pounding our harmless preferences into hardened convictions."
Apple has long positioned itself as a company that cares about the privacy of its users, and has claimed that it does not collect identifiable information of people who use its products to target ads like Facebook and Google do.
"The truth is, we could make a ton of money if we monetized our customer — if our customer was our product. We've elected not to do that," Cook said in March when he was asked to comment on the Cambridge Analytica scandal, when it emerged that the British political firm that worked on President Trump's 2016 campaign had inappropriately accessed the private data of up to 87 million Facebook users.
When asked how he would have handled the incident, Cook replied, "I wouldn't be in that situation."